Podcast: Play in new window | Download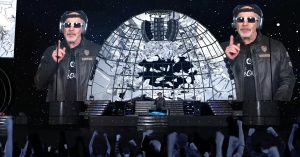 Dr. Stephen Klasko is a transformative leader and advocate for a revolution in our systems of health care and higher education. He has been a university president, a dean, a CEO, and an obstetrician, and now pursues his vision for the creative reconstruction of American healthcare by bridging traditional academic centers with entrepreneurs and innovators. His passion is using technology to eliminate health disparities and offers everyone the promise of health assurance. Dr. Klasko is also a lifelong DJ who believes that the message in the music can give us the courage to tackle a broken, fragmented, unfriendly, expensive, and inequitable healthcare system.
In this episode, Dr. Klasko merges with his alter ego "Stevie K the DJ" to discuss his new book, "Feeling Alright: How the Message in the Music can Save Healthcare" published by ACHE. Feelin' Alright leverages the emotional power of song lyrics to inspire healthcare executives to envision and build a more accessible, high-quality, and equitable healthcare system. Using music as a metaphor, Dr. Klasko encourages us to examine what is problematic in the existing healthcare model and to take tangible steps toward a more consumer-centered healthcare experience.
Infused with the passion inherent in music, this interview motivate healthcare leaders to take the lead in building a better healthcare system!
Episode Bookmarks:
01:20 DJ Eric "The Dream" Weaver introduces Dr. Stephen Klasko (aka Stevie K the DJ)!
03:30 Support Race to  Value by subscribing to our weekly newsletter and leaving a review/rating on Apple Podcasts.
04:30 Using the power of music to inspire a more optimistic world.
05:30 Dr. Klasko discusses his prior career as a DJ and how getting fired started him on the path to medicine.
06:30 Using music at Jefferson to inspire his others to find hope in overcoming the pandemic, financial tsunami, and systemic racism.
07:00 "Choice of Colors" by Curtis Mayfield and the Impressions (healing during the George Floyd protests)
07:45 "Courage to Change" by Sia become a theme song for frontline workers and their heroic response to the COVID-19 pandemic.
10:00 Health care delivery during the pandemic was a war and how music helped to see a brighter day.
10:45 "We have to stop saying we are the best healthcare system in the world."
11:00 "Medicine's Dilemmas: Infinite Needs Versus Finite Resources" and the "Iron Triangle" of Healthcare
11:30 The performance of stocks as evidence for flawed thinking around healthcare disruption.
12:30 Kaiser Permanente and Geisinger come together to launch Risant Health and expand access to value-based care.
13:00 Payer-Provider Alignment in Medicare Advantage
13:45 Cityblock Health leveraging capital investment to build a Community Health Worker model for population health.
14:30 Taking population health, social determinants, predictive analytics, and health equity to the mainstream of healthcare.
14:45 "Keep the Customer Satisfied" by Simon & Garfunkel as inspiration for health assurance to rebuild trust and equity in a broken system.
17:00 In healthcare, do we really view the people as the customer?
18:00 The healthcare system is setup to enrich the people in control.
18:30 "The concept behind health assurance is that costly sick care will give away to affordable, personalized, and preemptive care, partly through genomic sensors and AI-based digital therapies."
19:00 The future of Jefferson as a health system without a location.
20:00 Livongo and Jefferson Health — a strong, sustainable partnership between technology and providers to remake medicine.
21:00 Poor consumer segmentation in American healthcare (viewing patients monolithically).
22:45 Radical change needed! (collaboration, concentration on health disparities, creativity, and portfolio diversification)
24:00 Dr. Klasko's prediction for the future market landscape of health systems and hospitals.
25:00 "Mr. Roboto" by Styx bemoans the plight of 'modern man' oppressed by technology and is a cautionary tale for the use of tech-enabled healthcare.
27:30 The interface between technology and humans ("When offline meets online, what happens to the human in the middle?")
27:45 Elon Musk and Generative AI
28:00 The importance of recognizing change in society when selecting and training medical students.
29:00 How do we create humans that are more human than robots, instead of more robotic than robots?
29:45 Retraining doctors and faculty who "joined a cult" when entering medicine.
30:00 The lies to providers that technology would make their life easier.
31:30 Building a relational bridge between healthcare leaders and generative AI.
32:00 Failure of IBM Watson vs. Success of Aidoc (why it is important to augment – not replace human intelligence).
33:00 "I am Changing" by Jennifer Hudson from the movie Dreamgirls – a theme song for American healthcare delivery in the 2020s.
35:30 "Hospital CEOs need to think like Target and Walmart trying to compete with Amazon."
37:45 Why hospital billboard ads and commercials make no sense!
38:30 The new marketing in healthcare is all about consumerism (helping patient navigate, offering convenience, inspiring loyalty).
39:45 "We need to demonstrate value by giving consumers a single point of contact to create a seamless experience across the continuum."
40:00 The Amazon acquisition of OneMedical is emblematic of a failed primary care model that lacks consumerism.
41:00 The inevitable failure of Chief Marketing and Growth Officers that are aging white men.
41:45 Examples of innovation:  Strongline (staff safety) and Guild (upskilling the workforce)
43:00 Dr. Austin Chang and his incredible work as a Chief Medical Social Media Officer at Jefferson.
44:00 Overcoming the "poor me" mentality (embracing payer-provider alignment, lower costs, consumerism,Jand portfolio diversification).
44:30 "For the Love of Money" by The O'Jays speaks to the destructive impact that a singular focus on money and profit can have on individuals and society at large.
44:30 The Maryland All-Payer Model – mandated global budgets for hospitals achieved great success.
46:30 Dr. Klasko discusses the concept of a single payer by state model.
47:45 Fear and greed caused by the flow of money into politics.
48:30 Direct patient marketing of expensive, specialty drugs.
49:00 Spending 4X more for obstetrical care than other countries (with far worse outcomes).
50:00 The dilemma of expecting a system to change when salaries depend on it not changing.
51:00 Our healthcare system does absolutely great! (for plaintiff's lawyers, specialists, pharma and insurance industries, EMR companies, PBMs, and patients with unlimited resources who have the best insurance)
52:00 The unconscionable deaths of people during the pandemic who died at home when telehealth companies made record profits.
53:00 The need for companies to fail.
54:00 "Born This Way" by Lady Gaga as an anthem for self-acceptance and celebrating diversity.
55:30 Dr. Klasko on how zip code and living conditions mean more to life expectancy than one's genetic code.
56:30 Dr. David Nash and his landmark population health research on Social Determinants of Health.
57:00 "In a practical world, a health system CEO is incentivized to keep their population as healthy as possible."
57:30 The radical shifts that took place at Jefferson Health to improve health equity.
60:00 Solving for food deserts through bar coding and drone delivery.
61:00 The challenge of focusing on SDOH interventions when fee-for-service revenue declines.
62:00 "The Myth of Trust" by Billy Bragg as a somber reminder that people have lost trust in institutions.
63:00 Lack of trust in the healthcare system (citing the failure of GPS technology to improve health)
64:30 Distrust with genomics testing and the privacy of data.
65:30 Patients being able to monetize their own data when participating in clinical studies.
66:30 Nurses who feel that CEOs do not care about them.
67:00 Reinstating healthcare as a public good with servant leadership at the helm.
68:00 "Don't Stop Believin'" by Journey
69:00 The future of 3D printing, RPM, and digital medicine in serving humankind alongside compassionate providers
70:00 Dr. Klasko describes a future scenario in 2033 where technology could prevent a global pandemic.
73:00 Optimism for the future of health assurance with currently available technologies.
74:00 "Will it Go Round in Circles" by Billy Preston as reminder that we do not want to reform healthcare 360 degrees!