On the Race To Value, leaders from the Institute for Advancing Health Value interview the top healthcare executives and entrepreneurs to discuss healthcare's value economy. Race to Value is the show to connect you with other healthcare leaders working to create better value in health, including provider organizations —hospitals and health systems, physician practices, and post-acute providers — health plans, pharmaceutical and life-science firms, health information technology firms, medical device manufacturers, and a multitude of other stakeholders. We are the ideal resource for leaders of healthcare organizations looking to transition to and thrive in the new reality of value-based care.
The race to value is not unlike any other social movement. As a nonprofit organization focused on industry transformation, the Institute is here to catalyze a movement to value-based care. Patients are being harmed by the current healthcare system which is fraught with perverse financial incentives and structural distortions. Additionally, physicians are experiencing moral injury because they cannot care for patients in the way in which they intended when they began medical training. With its Accountable Care Atlas, a development guide for competency implementation, the Institute is working with healthcare organizations all over the country to create the workforce of tomorrow.
There is a better way. The Race to Value podcast is here to bring to you the brightest minds making waves in the industry with their leadership and innovation. Our mission is to harness their brainpower to facilitate transformation in our country's healthcare system. Come join us to listen to these disrupters as they share their vision to reorder the healthcare universe. Now is the time to get inspired — we can win this race to value.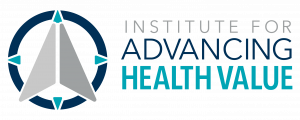 The Institute for Advancing Health Value, formally known as The Accountable Care Learning Collaborative, brings together the nation's leading accountable care organizations, top performers, and industry leaders who know what it takes to succeed in the value-based care environment.
Through industry collaboration, we have identified and continue to refine the organizational care delivery capabilities needed for provider organizations to succeed in risk-bearing payment models. The shared knowledge is synthesized in the Health Value Navigator — the next iteration of the Accountable Care Atlas.
The Institute is a non-profit, peer-learning, member organization focused on accelerating the transition to value-based care. We have identified the organizational care-delivery competencies needed for providers to succeed in risk-bearing payment models. As the value-based care movement progresses, organizations are transitioning from "what to do" to "how to do it."