Podcast: Play in new window | Download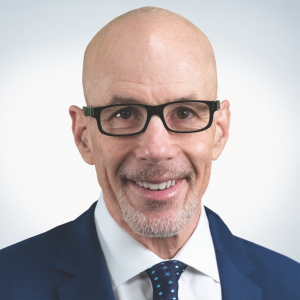 Dr. Stephen Klasko is the President and CEO of Thomas Jefferson University and Jefferson Health. His newest book, co-authored with venture-capitalist Hemant Teneja, is a manifesto that advocates for bringing consumerism, affordability, and rational economic behavior to the healthcare sector.UnHealthcare: A Manifesto for Health Assurance is a declaration to usher in a new age of digital of mobile consumerism in the healthcare industry and introduces the concept of "health assurance" – a gamechanger that would force a redesign of the system. His vision is for a consumer-centric, data-driven, cloud-based healthcare system designed to help us stay well: we would need as little "sick care" as possible.
This episode explores the principles behind the manifesto and health assurance. Built on open technology standards, empathetic user design, and responsible AI, the vision for health assurance will only be realized through creative partnership between professionals in traditional healthcare and technology companies.  As these two worlds of healthcare and technology innovation merge, we can transform our fragmented, expensive, and inequitable healthcare system into one of improved health and decreased cost. Join us as we explore the role of health assurance in the race to value!
Bookmarks:
05:37 "Health care has not only escaped the consumer revolution –we've lost touch with what patients really need."
06:12 Dr. Klasko discusses what he learned from Steve Jobs and how he "changed the world" in 3 years
08:00 Jefferson Health and the "new math" of innovation and strategic partnerships
08:55 Partnership with Silicon Valley entrepreneur Hemant Teneja
09:12 "Mass production and economies of scale is giving way to mass personalization at scale"
09:36 Livongo and how it "treats people with diabetes, not as patients, but as people who that want to thrive without diabetes getting in the way".
10:00 "Costly sick care will give way to affordable, personalized, and preemptive care with genomic sensors and AI-based digital therapies.  That will be the true revolution in healthcare."
10:40 Health Assurance as an emerging movement towards consumer-centric, data-driven healthcare
11:12 How the Presidential election cycle only seemed to focus on how we pay for the expensive, fragmented, and inequitable system – not how we fundamentally disrupt and transform it
13:12 Dr. Klasko tells the story of the future pandemic of October 2030 and how Health Assurance stopped it in its tracks
15:25 The "Amazon moment" of healthcare and how it redefines competition (future competitors are those who can bring health to home)
16:03 Dr. Klasko discusses JeffConnect (the telemedicine platform used by Jefferson Health)
16:37 Current business models for providers, insurance companies, and pharma are dead!
17:37 The 4th Industrial Revolution of AI and its impact on the future of care delivery
18:43 The use of wearables in cardiology care
19:53 Moving away from the current sick care model and making the health system easier
20:25 "The secret sauce at Jefferson Health is that getting to people while they are people, and not patients."
21:24 Consumer segmentation needed for patient-centeredness
22:32 The real revolution will take place when patients reach the "mad as hell, not going to take it anymore" moment
25:58 The consumer mistrust in FAANG (Facebook, Amazon, Apple, Netflix and Google) to manage personal health data
26:23 Dr. Klasko provides his take on Haven Healthcare (the JV between Amazon, Berkshire Hathaway and JPMorgan Chase)
27:07 Healthcare disruption by startups should not be about moving fast and breaking things
27:40 Jefferson is moving entire digital innovation and consumer experience team to General Catalyst, a multi-billion dollar venture capital firm
28:25 "The future for the traditional healthcare ecosystem is going to be creative and strategic partnerships."
29:00 Traditional vendor-customer relationships will not solve most of the problems large health systems are trying to solve
29:45 Health systems co-developing products with startups should share in both the risks and the rewards
30:20 Partnerships with startups will allow health systems to share in the trillions of dollars that will be spent on the digital transformation
32:33 Racial disparities in care outcomes with COVID-19
33:30 Bernie Sanders on fixing the "Sick care, hospital-driven, insurance-driven, pharma-driven, corporate-driven, fragmented, expensive, and inequitable healthcare system"
34:10 Frustration with Presidential election when it comes to self-congratulatory political talking points for a job well done
34:30 Referencing the work of Dr. William Kissick and the Iron Triangle of Health Economics
35:10 Disruption to increase access, increase quality, and decrease cost will be painful!
35:36 "Nobody has the courage to do anything other to question how to pay for a fragmented, expensive, and inequitable system…and then hope the system will transform"
36:16 The failure of the ACA because it expanded the middleman. Disruption means doing something different with insurers and pharma.
38:10 Reforming how much we pay specialty physicians (ortho, derm, neuros should not make 8-12X times more than primary care)
38:35 Considering "dark and dangerous" aspects of the 4th Industrial Revolution (AI, drones, robotics, genomics, etc.)
39:55 Responsible innovation must make sure not to codify biases (e.g. AI and policing)
40:42 Social determinants of health must stop being an academic thought exercise.  We must put money to this if SDOH equates to 80% of health!
41:49 How to eliminate food deserts by aligning incentives with public welfare and implementing drone delivery
43:33 Implementing remote monitoring to lower costs associated with pregnancy (and also improve outcomes)
44:40 Enlightened health policy must meet with payment models in order to allow entrepreneurial disruption of the health system.
44:57 Upton Sinclair quote as a hallmark for what is wrong with healthcare ("It is difficult to get a man to understand something, when his salary depends on his not understanding it.")