Podcast: Play in new window | Download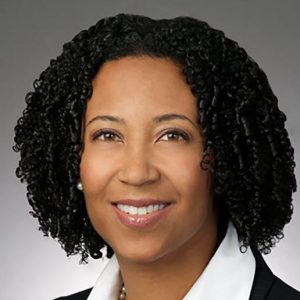 For all of you leaders out there on a value-based care journey, it is not lost on any of you that health value has become synonymous with health equity. We are at an inflection point in our society in the recognition that everyone needs a fair and just opportunity to attain their highest level of health. Achieving this will require ongoing societal efforts to address injustice, overcoming socioeconomic barriers to health, and eliminating preventable health disparities. But we cannot do that as a healthcare industry without the proliferation and scale of payment models that align incentives so we can realize true change for the better. On the Race to Value this week, you will hear from one of the foremost leaders on the national scene who is shaping the landscape for accountable care delivery that can advances health equity.
Dr. Dora Hughes is someone who has taken this charge to lead in service to the underserved so that we may realize the dream of a more equitable and healthy society. She is the chief medical officer at the CMS Innovation Center at the Centers for Medicare & Medicaid Services (otherwise known as CMMI). She leads the Center's work on health equity, provides clinical leadership and input on models, serves as the Innovation Center's primary liaison with medical and clinical stakeholders, and provides leadership to the Innovation Center's clinician community. In addition, Dr. Hughes is part of the CMS Innovation Center's Senior Leadership Team, helping to provide enterprise-level leadership and strategic direction to the Center.  In this interview, we discuss the elevated national consciousness to advance health equity, how ACOs and other risk bearing entities can succeed with a health equity strategy, and the work being done by the Innovation Center to redesign alternative payment models for equity.  We spend considerable time discussing ACO REACH and value-based Medicaid transformation as well.  This is certainly a conversation you should listen to as you plan for success in your Race to Value!
Episode Bookmarks:
01:30 Health Value has become synonymous with Health Equity — everyone needs a fair and just opportunity to attain their highest level of health.
02:30 Introduction to Dora Hughes, M.D., M.P.H., the chief medical officer at the CMS Innovation Center (CMMI)
04:30 If you control for all variables that may contribute to health disparities, African Americans still get the worst quality of healthcare of any demographic in the country.
05:30 The first pillar of CMS' Strategy Plan is Health Equity
06:30 Cara James, Ph.D., president and CEO of Grantmakers in Health: "I'm someone who's working on equity before it became cool to work on equity."
07:00 Referencing the seminal findings of the Heckler Report in the 1980s that investigated racial and ethnic disparities in the United States.
08:00 Momentum has been building towards addressing health inequities, despite the historical lack of national prioritization.
08:30 "It really took the pandemic and police brutality to blast the issues of health inequities into the national consciousness."
09:00 Disparities go beyond COVID (e.g. black disparities in maternal health, colorectal cancer, kidney disease)
09:45 "Executive pay is now being tied to reduction in disparities. You wouldn't have heard that 10 years ago or even perhaps five years ago."
10:00 Referencing CCSQ Deputy Jean Moody-Williams: "For those of us engaged in health equity, this is our moment, but it is only a moment."
10:30 Actions Needed: collecting and analyzing demographic and health data,  knowing patients individually and at the population level, identifying disparities, implementing evidence-based interventions.
11:45 "It takes vibrancy, resiliency, and an indomitable spirit to tackle disparities and scale progress at a national level."
13:00 CMMI's work to address Social Determinants of Health (SDOH), e.g. ACOs, Accountable Health Communities (AHC) Model
14:30 80% of what contributes to health reflects non-medical or social determinants of health (e.g. healthy eating, stable housing, educational economic opportunity, jobs)
15:00 "To maximize our patients health, we as providers have to think about our role both inside and outside the health system."
15:45 The revolutionary nature of the AHC model in fostering healthcare and community partnerships to plan SDOH interventions.
16:30 Results from the AHC Model showing a 9% reduction in emergency department use among participants.
17:00 "Our understanding of healthcare has evolved. We are not going to be able to achieve our health goals without addressing health related social needs."
17:30 The flaw of Medicare FFS that does not allow providers to code for SDOH interventions.
18:00 The flexibility of MA benefit design and capitated payments in advanced Medicare APMs supports hiring of social workers and CHWs.
18:45 Dr. Hughes responds to criticism from providers that SDOH interventions are "out of my lane" when it comes to health care delivery.
19:30 The need for health policies to address food deserts, lack of affordable housing, weak transportation infrastructure, etc. at the community level.
20:00 Dr. Hughes describes how CMS and other agencies are working to support culturally-competent and linguistically-appropriate care.
20:45 Resources: "A Physician's Practical Guide to Implementing Culturally Competent Care" (CMS), "Think Cultural Health" (OMH), and "Multicultural Health Care" (NCQA)
22:00 Is implicit bias within current payment models contributing to health inequities?
24:00 Referencing Dr. Hughes' and Melissa Majerol's recent blog in Health Affairs: "CMS Innovation Center Tackles Implicit Bias"
25:00 How the estimated glomerular filtration rate (eGFR) leads to erroneous results and findings of kidney disease in African Americans.
26:00 Another example of how a heart disease risk calculator may incorporate racial bias into diagnosis of disease.
27:30 Identifying potential sources of bias before the launch of new payment models.
29:30 The longstanding history of bipartisan support for the movement to VBC and accountable care.
30:00 The 2021 performance year marks the fifth consecutive year that the MSSP has generated net positive savings to CMS. (See recent Race to Value podcast and Institute Brief)
31:30 Dr. Hughes responds to concerns about the reduced growth and participation in the Medicare ACO program and how this challenge is addressed in the CMMI Strategy Refresh.
33:00 Addressing health equity and ACO growth through external partnerships like the Health Care Payment Learning & Action Network (LAN) and provider site visits.
35:00 Developing a CMS-wide vision for Accountable Care expansion (Referencing recent NEJM Article on "Expanding Accountable Care's Reach among Medicare Beneficiaries")
35:45 The ACO program is a chassis for testing innovation center models in achieving 2030 accountable care goals.
36:00 CMS has proposed scaling successful features of the ACO Investment Model (AIM)and will leverage ACO REACH more broadly in years to come.
37:30 The ACO REACH program unlike other APMs to date, has made health equity a bedrock of payment model design.
39:30 Dr. Hughes on healthcare complexity, PCP and specialist fragmentation, and the challenges of reforming the system to better care for underserved communities.
41:00 MSSP ACOs and ACO REACH models are helping providers coordinate care and improve health outcomes for Medicare beneficiaries.
42:30 How the ACO REACH model provides flexibility to healthcare providers in how they deliver and they coordinate care (e.g. telehealth, diabetes preventive care, dental care, pharmacy integration)
44:30 "ACO REACH is forging new ways to address the health inequities underserved communities experience."
44:45 Health Equity Action Planning and Health Equity Benchmark Adjustments under ACO REACH.
46:00 Dr. Hughes addresses concerns expressed by critics of the ACO REACH model.
50:30 Dr. Hughes provides perspective on CMS's newly refined eligibility criteria and design characteristics for ACO REACH and why it matters to advance health equity.
55:45 Dr. Hughes discusses the work that CMS is doing to advance accountable care to Medicaid beneficiaries and how they are engaging with safety-net providers.
62:00 Parting thoughts from Dr. Hughes on how CMMI is engaging beneficiaries and caregivers in conceptualizing, designing, and testing payment models.