Podcast: Play in new window | Download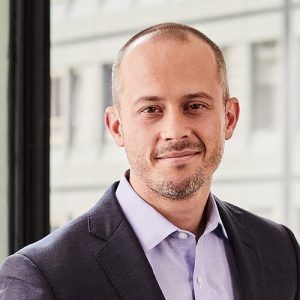 Oak Street Health has an amazing vision to rebuild Health Care as It Should Be: Personal, Equitable, and Accountable. The business was launched with a belief in value-based care that was patient-centered, evidence-based, and ensured equal opportunity for good health outcomes across populations, despite the economics being unproven. The business model depends on global capitation and allows the best service for patients in some of the poorest and most vulnerable communities. The high touch, relationship-based, tech-enabled primary care model includes support with medications, transportation, social work, home visits, and more – the sickest 10% of patients receive 78% of Oak Street's dollars.
This week, our guest is Dr. Griffin Myers, CMO and co-founder of Oak Street Health. In his own words, the challenge is not providing treatment but winning patients' "trust and building relationships," something Oak Street has demonstrated successfully with its ability to rapidly scale, to a network of 90 centers in 15 states. The Oak Street Platform is redefining Primary Care by bringing technology-enabled, value-based care to the seniors that represent the highest proportion of healthcare spending in the country. Winning the race to value will depend on many more following in the footsteps of these leaders!
Episode Bookmarks:
05:35 The "insane" journey of starting a company that takes full-risk on very sick populations
05:55 "The downstream microeconomics of fee-for-service reimbursement has created a janky, inequitable, low quality health care system."
06:30 The importance of segmenting your patient population within a payment model that is better aligned with care outcomes
06:40  "We take care of community-dwelling older adults with multiple chronic conditions and adverse social determinants."
06:50 Full risk, global capitation enabled the development of the Oak Street Health platform.
07:00 Oak Street platform: 1) Community-Based Primary Care Centers, 2) Proprietary Technologies, 3) Value-Added Services to Primary Care
07:35 Dr. Myers discusses how the culture at Oak Street, coupled with the power of global capitation, drives value-based care results.
08:45 Oak Street's Results: 50% reduction of hospital admissions, 52% reduction of ED visits, 35% reduction in 30-day readmission rates, 5-star quality ratings, and a 91 NPS
10:40 Dr. Myers discusses the concept of relationship-based care and how it improves outcomes for underserved populations.
11:20 Referencing Viktor Frankl's "Man Search for Meaning" and how deeply meaningful and trusting relationships provide purpose
12:05 "Trust is the core input to us being able to help patients navigate adverse social determinants."
12:10 Critical Success Factors: 1) Spending more time with patients with a consistent presence from a longitudinal care team, 2) Deep sense of accountability ("a promise"), 3) Culturally-Competent Care
12:55 "Having people who live in the neighborhoods to which we serve that share a cultural connection with patients helps form trusting relationships."
13:30 "A value-based model is simply superior technology compared to fee-for-service. Value allows you to incubate and foster relationships to drive outcomes."
14:40 Inspiration from John Lewis ("Try to be the pilot light not the firecracker.") when it comes to building a safer, higher quality, more equitable, more affordable health system.
17:35 Referencing the HBS Case Study: "Oak Street Health: A New Model for Primary Care"
17:45 The role of the Clinical Informatics Specialist at Oak Street
18:30 Dr. Myers discusses the evolution of EHR technology at Oak Street and the development of Canopy (winner of the 2021 EHR Innovation Award)
19:40 The Value Flow of the Canopy EHR: "Data, Insights, and Action"
20:15 Deep and long-term relationships between the patients and providers that allows for enhanced data capture.
20:30 Referencing the recent NEJM Catalyst Article on Oak Street Health: "Interpretable Machine Learning Models for Clinical Decision-Making in a High-Need, Value-Based Primary Care Setting"
21:00 Surpassing off-the-shelf algorithms for patient risk stratification through enhanced data capture in a relationship-based primary care model
21:45 Dr. Myers discusses the difference between Machine Learning and Artificial Intelligence
22:15 Reducing readmissions by 15% with virtual hospital rounding of patients using a data-driven checklist
25:20 Dr. Myers discusses the core value of health equity at Oak Street Health
26:15 "Health disparities are the opportunity in value-based models."
27:40 Being deliberate about addressing health equity requires three things: 1) Be Local, 2) Focus on Cultural Competence, 3) Prioritize Health Equity and Incorporate in your Values
29:45 The exacerbation of health disparities with COVID-19 and how Oak Street's innovative care delivery model met needs for underserved communities
30:40 Oak Street delivered 185,000 COVID-19 vaccines across communities
33:25 Dr. Myers discusses Oak Street's approach to behavior health integration
33:55 Inspiration from Rumi ("Keep your gaze on the bandaged place. That's where the light enters you.") when it comes to addressing suffering due to poor behavioral health
34:30 Referencing the IMPACT Study and the Collaborative Care Model (CoCM) in creating successful integration between primary care and behavioral health care
35:25 Cost savings from BH Integration doesn't come from reduced admissions related to mental health (it instead comes from improved wellbeing that reduces downstream spending on organic illness)
37:15 Dr. Myers discusses "What it means to be Oaky" and Oak Street's approach to workforce development and company culture
39:55 Oak Street Health earns the "Joy in Medicine" recognition from the AMA in fighting physician burnout through "enlightened clinician leadership"
41:15 Dr. Myers discusses how Oak Street Health is doing in physician satisfaction and retention
44:20 Dr. Myers on the transition to telemedicine during the pandemic and where it fits in within a high touch primary care model
46:10 Dr. Myers discusses the rising role of retail-based primary care and references Oak Street's partnership with Wal-Mart
47:20 "How beautiful is it that we now have a space in this country where organizations are putting blood, sweat, tears, and capital to serve vulnerable and low-income communities?"
44:80 Inspiration from Viktor Frankl: "Everything can be taken from a man but one thing: the last of the human freedoms—to choose one's attitude in any given set of circumstances, to choose one's own way."
49:10 Parting thoughts on celebrating the optimism of the moment and seeing hope for the future of value-based care