Podcast: Play in new window | Download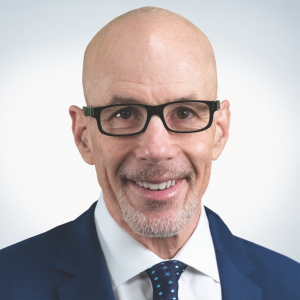 Welcome back for part 2! This episode further explores Klasko's vision of health assurance, an industry that focuses on consumer's health, and that is enabled through innovative partnerships between health care and technology organizations. Patient's expectations are shifting toward a system of care that is empathetic, communicative, creative, and responsive – those providers, policy-makers, payers, and other partners who align with these principles will be the winners in the race to value!
Dr. Stephen Klasko is the President and CEO of Thomas Jefferson University and Jefferson Health. His newest book, co-authored with venture-capitalist Hemant Teneja, is a manifesto that advocates for bringing consumerism, affordability, and rational economic behavior to the healthcare sector. UnHealthcare: A Manifesto for Health Assurance is a declaration to usher in a new age of digital and mobile consumerism in the healthcare industry, and introduces the concept of "health assurance" – a gamechanger that would force a redesign of the system. His vision is for a consumer-centric, data-driven, cloud-based healthcare system designed to help us stay well: we would need as little "sick care" as possible.
Episode bookmarks:
03:18 The FHIR Interoperability Standard and Blue Button are "necessary but not sufficient" to bring about widespread consumerism and democratization of health data
03:30 Consumers will eventually wake up when they "no longer feel like patients"
04:00 Consumers have way too much respect for the healthcare system because they are too forgiving when it fails
04:40 Patients always assume their doctor is the best, and doctors can take advantage of this by not being patient-centered
04:54 Dr. Klasko shares a personal story of a friend who always chooses the best service option in every transaction, but then naively chooses to have his heart surgery wherever the PCP tells him
06:10 Dr. Klasko shares an anecdote on how patients will not often heed the advice of a second opinion because of fear that their primary physician will judge them
06:40 How the younger generation will be more demanding as a health care consumer and how the younger physicians are embracing thus
08:05 Data interoperability is an issue where health policymakers have been "asleep at the wheel"
08:15 The World Economic Forum tells Dr. Klasko, "There were two industries that escaped the consumer revolution – banking and healthcare.  Now you are alone."
09:20 Dr. Klasko describes how nonsensical telehealth medical licensure restrictions are
09:45 Data and interoperability are unnecessarily limited by ridiculous and overly strict laws, including HIPAA.
09:59 "Data needs to be interoperable. It is just absolutely crazy that we have to get most of the data we need from insurance companies."
10:21 "My view of the future is that the patient owns their own health data."
10:30 Getting permission from doctors to share their own data is straight out of the 1970s
11:20 "Interoperability challenges between different EHR systems is another absurd reality."
11:25 Commure is an example of an SSO, FHIR-layer, health assurance company which "overcomes the tyranny of the traditional EMR"
12:13 "Health assurance will require consumers demanding it, open interoperability standards, enlightened health policy, and entrepreneurs working with the healthcare system in a way they haven't before."
13:20 Moral injury and suicide rates among doctors due to a monolithic, rigid and impersonal system of care
14:14 "Med schools choose doctors based on science GPA, MCATs, and organic chemistry grades…and then we wonder why doctors aren't more empathetic, communicative, and creative."
14:45 Med Schools are based on an antiquated 1970's model that emphasizes memorization in an era before digital computing, iPhones, and AI
14:55 "When you select doctors on self-awareness, empathy, communication skills, and cultural competence, you triple the diversity of your workforce and make much more happier doctors."
15:10 The non-creativity bias in the medical profession and how that limits blue sky innovation in healthcare
16:10  Jefferson's Onboarding and Leadership Transformation (JOLT) program that aims to change the traditional thinking of leaders
17:40 "The use of continuous, real-time data in the provision of medical care will allow providers to use their time more effectively to address the human needs of patients and address SDOH."
18:50 Dr. Klasko condemns the design of the traditional patient physical and how it ignores overall brain health, emotional, social, and spiritual needs
19:35 Dr. Klasko's business thesis regarding the "economies of unscale" and how his manifesto relates to the movie "Jerry Maguire"
20:04 Klasko's Conundrum:  How will Dr. Klasko will take one of the fastest-growing academic medical centers in the nation and completely unscale it so Jefferson can turn into "healthcare with no address"?
21:50 Starting the move to value and health assurance with Jefferson's employees, using more virtualized care and shifting more procedures into the ambulatory setting
22:34 Jefferson's early-stage implementation of Livongo
23:06 How doing the right thing will often eat into operating margin in the short-term
23:40 Jefferson's collaboration with Aramark
24:00 There are only two choices: Be like Sears, Penney's, Macy's and live in the short-term or live in the "Amazon moment"
26:36 Dr. Klasko shares how bewildering healthcare news headlines are where health systems are reporting significant losses during COVID and health plans are reporting record profits
27:27 "The concept of medical loss ratios is antithetical to any kind of efficient system."
29:00 The model of the middle man is fundamentally wrong
29:20 UHC's Optum and its work in digital transformation, primary care, and changing consumer behavior as an example of moving from "dog wagging the tail, to the tail wagging the dog, to the tail that ate the dog"
29:50 Strategically-aligned payer-provider partnerships (ex: UPMC, Kaiser, Intermountain)
30:00 Partnership with Blues plans (ex: Ochsner and Louisiana Blue)
30:20 "The only way we avoid Medicare-For-All is to have strategically-aligned payer-provider alliances."
31:13 The 4th Industrial Revolution:  how medical science will be disrupted by AI, internet of things, 5G, 3D printing, robotics, CRISPR, and gene editing
32:21 "We tend to overestimate the effect of a technology in the short run and underestimate the effect in the long run". – Roy Amara
32:40 The Jefferson Institute for Bioprocessing (specialized education and training institute for biopharmaceutical processing) and the Jefferson Vaccine Center (vaccine research for infectious diseases and cancer)
33:12 Genetic testing for cancer diagnosis (e.g. Thrive, Grail)
34:40 Jefferson's partnership with Color Genomics for genetic subtyping of newborn babies to diagnose underlying conditions and propensity for disease development
35:50 "We do a lot of things in healthcare that are just turning things around 360o.  I'm excited about working with innovators and disrupters like Hemant Teneja and others in the traditional healthcare ecosystem to truly start that true transformation."