Podcast: Play in new window | Download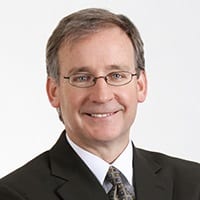 When you hear about value-based care, do you get tired of hearing about concepts without tangible best practices?  Do you ever wish you could just acquire insights from a leader who navigated a successful value journey?  If you want to learn from one of the best in the "value game", look no further than Dr. Bill Wulf, the CEO of Central Ohio Primary Care (COPC). Dr. Wulf is a respected leader in the value movement and leads the largest physician-owned primary care group in the United States.  During his leadership tenure, COPC has grown to over 480 physicians and 83 locations in central Ohio. The growth of the practice has empowered a successful value journey, with COPC caring for 75,000 senior patients in full-risk arrangements with Medicare Advantage and ACO REACH in partnership with Agilon Health (and the current move to full-risk in commercial plans with employers in partnership with Vera Whole Health).
Dr. Wulf describes a value journey that has been over two decades in the making.  It started with a merger in the late 90's to create a fully-integrated primary care practice platform. And then in 2010, a Patient-Centered Medical Home (PCMH) transformation led to unprecedented success in full-risk Medicare Advantage.  COPC has built upon their MA success to now partner with large employers in full-risk programs, and they are also one of the new participants in the ACO REACH program. In this interview, Dr. Wulf goes into great depth on the care delivery innovations that were made possible by prospective payment and capital investment. He discusses hospitalist and ER care coordination programs, home-based care delivery, after-hours primary care access, telehealth, onsite clinics at employer locations, and the importance of data-driven insights from a unified EHR. You will also hear about how COPC has benefited from successful partnerships to build an even more effective infrastructure for population health outcomes. Most importantly, you will hear how COPC playing the "value game" helps their independent physicians take better care of patients!
Episode Bookmarks:
03:30 The origin story of Central Ohio Primary Care (COPC) – the nation's largest independent primary care practice that is leading in VBC
05:30 Dr. Wulf describes how a practice merger in the late 90's led a successful hospitalist program, contracting strategy, and ancillary services model
07:00 Post-merger growth of practice because of better contracting rates and ancillary services revenue
07:30 "Our growth in the last 10 years has been a result of us playing the "value game" in helping physicians take better care of patients."
08:00 This year COPC is integrating 3 practices (30 physicians) at a time when there aren't as many independent PCPs available.
09:00 COPC's commitment to physician independence, where physicians have the freedom to care for their patients without interference.
09:30 Beginning the value journey through the decision to transform into a Patient Centered Medical Home (PCMH)
11:00 How physician independence leads to freedom to make data-driven referrals that improve population health outcomes.
12:00 A unified Electronic Health Record (EHR) led to the identification of the "best" doctors in the practice.
13:00 "The best physicians in the practice were not the busiest ones…but these physicians (pre-value journey) were making the least income."
13:45 "Our best physicians were creating value for the payer, employer, and the government, but they were not recognized for value in a FFS world."
14:30 Dr. Wulf describes how Level 3 PCMH recognition led to value creation ("a stepping stone")
16:00 PMPM payments from commercial and MA plans led to programs that improved outcomes with high-risk patients.
16:30 COPC's Hospitalist Program (100 physicians) and ER Care Coordination Program
17:00 Nursing care coordination that leads to effective post-discharge planning and transitions of care from the hospital.
17:30 Home visits to patients from nurses and social workers that prevent a hospital readmission.
18:30 COPC's VBP Portfolio Progression that shifted from FFS to shared savings arrangements and then risk-based, prospective payments.
20:00 COPC has 75,000 senior patients in a full-risk arrangement through Medicare Advantage and ACO REACH.
20:45 Deciding to focus on Medicare Advantage early on (instead of becoming a MSSP ACO) by leveraging PCMH relationships in local market
21:30 The recognition that partnership was needed to advance practice to full-risk Medicare Advantage
22:30 Dr. Wulf explains how COPC chose Agilon Health as a partner to support its value journey in MA.
23:30 Commercial prepayments now also carry a risk component.
24:00 20-50% of COPC's physician compensation is tied to value in some way.
24:45 Strategic partnership with advanced primary care provider Vera Whole Healthwhich recently merged with healthcare data company Castlight Health
26:00 Dr. Wulf explains COPC's disruption-focused strategy in the large dysfunctional, self-insured employer healthcare space.
27:15 "Company CEOs don't buy health; they buy insurance.  By partnering with an employer to impact TCOC spend, our practice can change the dynamic."
28:00 Providing employers with onsite health clinics, health coaching, behavioral health services, and after-hours access to care.
29:00 Agilon Health has grown to over 250k Medicare Advantage members and over 90k attributed Direct Contracting beneficiaries (referencing Steve Sell podcast)
31:00 Dr. Wulf explains how partnership with Agilon's technology, process standardization, and capital investment drives scale in global risk capitation models in Medicare Advantage.
32:30 "The challenge with CMMI value-based programs is that they are not long enough to recognize full value."
32:45 Leveraging risk stratification to drive care delivery innovation for chronically ill, high need seniors.
33:45 Contracting expertise and passion are key ingredients to COPC's partnership with agilon health.
34:45 Lower Hospital Admissions: 156 Admits per 1,000 (average Medicare ADK rate is 300+)
35:50 Lower Hospital Readmissions: 10-11% (average Medicare readmit rate is 18-19%)
35:00 "Because we are investing in the outcomes, we can provide a level of care that few can."
36:00 COPC's participation in the Comprehensive Primary Care Plus (CPC+) Advanced APM in the traditional Medicare program.
37:45 CPC+ prepayments (just like earlier experience with MA) led to investment in programs that led to better patient outcomes.
38:00 Dr. Wulf describes how the ER Care Coordination program allowed practice to send 400 patients home (instead of getting admitted).
39:00 Only 1 in 7 patients surveyed had attempted to call their PCP before going to ERà this led to nurses answering phones after hours!
40:00 Fall Risk Prevention and Smoking Cessation programs started with CPC+ funds.
41:00 COPC is now in the full-risk ACO REACH program in partnership with Agilon.
42:00 Starting with the ACO REACH program, CMS plans to be embed health equity into all payment models, with more focus on improving health outcomes in underserved populations.
43:30 COVID-19 brought health inequities to the forefront, and (finally) the new ACO REACH program has the potential to address it.
45:00 >40% of COPC clinics are located in underserved areas
45:15 "CMMI is taking us in the right direction to address health inequities through ACO REACH."
46:00 COPC has been successful in expanding its integrated care network through skilled nursing, end of life, and 24/7 care to continue the population health journey.
47:30 How clinical integration can improve patient experience, eliminate care fragmentation, enhance information sharing, and ultimately improve patient outcomes.
48:45 Partnership with Leading Reach to digitize referrals and improve specialty referral management.
49:00 "We need to integrate specialists into value. Healthcare waste leads to unnecessary patient suffering."
50:00 Dr. Wulf provides an example of how COPC used data to profile specialists by quality performance.
50:30 Partnerships to improve care in MSK and Oncology care.
51:00 COPC rapidly created and implemented a telemedicine program — within 1 week — during the pandemic.
53:30 The failure of HealthSpot and how COPC learned that patients are amenable to telehealth.
55:00 In primary care, telehealth is best utilized in a follow-up visit for a medication change.
56:00 "Telehealth, outside of a patient relationship and a longitudinal health record, is a low-level of care."
57:30 Telehealth will continue to grow.  COPC is expecting 10-15% utilization in the long-term.
59:30 Dr. Wulf provides his parting thoughts on the movement to value-based care.
60:30 "If we just focused on waste, we could transform healthcare."