Podcast: Play in new window | Download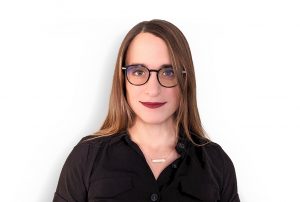 Gender-affirming care offers a model for all of health care, one that is patient-centered and based on the human story.  In this episode, you will learn about "The Truth and Beauty of Gender-Affirming Care" from a leading transgender health provider and value-based care thought leader.
Dallas Ducar is the founding CEO of Transhealth Northampton. In this role, Dallas brings experience constructing clinical, research, and education services in community-based, gender-affirming, healthcare systems. She combines this leadership experience with frontline clinical experience in emergency, inpatient, and outpatient care. Prior to assuming the CEO position, Dallas served as the Clinical Lead for Mental Health Services at the Massachusetts General Hospital Transgender Health Program, where she worked with an interdisciplinary team to provide novel gender-affirming care.  In her career, she has advised international research groups in best practices and has carried out community-based participatory action research programs dedicated to empowering gender-diverse voices in a community setting. As a nationally recognized leader in transgender health, Dallas is on a personal crusade to improve the quality of care for gender-diverse individuals.
Topics covered in this episode include gender-affirming care, health equity, social determinants of health, mental health in the transgender community, culturally-competent care, mindfulness and meditation, telehealth expansion, pediatric transgender care, insurance barriers, and the recognition of transgender rights as civil rights.
Episode Bookmarks: 
05:40 Overcoming gender dysphoria to realize "gender euphoria" as her truest self
07:40 Using her "trans superpowers" to become a more resilient human being
09:10 Dallas speaks about the period in her life when she was transitioning in Charlottesville, VA
12:00 Recognizing the opportunity to address trans rights in the healthcare arena
14:50 Dallas explains the concept of gender-affirming care and how it is an example of patient-centeredness and compassion
15:40 "What is gender-affirming care? It is patient-centered, whole-person care that addresses every part of one's life that intersects with gender."
16:40 "The simple truth and beauty of gender-affirming care is that it affords every human being the freedom to be who they are."
17:10 Dallas explains the value-based care delivery model of Transhealth Northampton, the nation's first independent comprehensive trans health care center
17:40 Gender-affirming care that delivers value (ex: improved behavioral health outcomes, less suicidality, more effective SUD treatment)
19:40 "Patients in a value-based gender-affirming care model have lower healthcare spending, higher patient satisfaction, and improved clinical outcomes."
20:40 What is Health Equity?  (a definition from the Robert Wood Johnson Foundation)
21:10 Transgender individuals are more likely to be in the lower income brackets with 44 percent of trans community living on an income of $35,000 or less
22:10 Published Reporting of trans discrimination in healthcare (Referencing the Center for American Progress Report)
23:40 Dallas discusses the observed impact of trans discrimination in healthcare and the interrelatedness of SDOH barriers
25:40 The importance of culturally-competent care and the provision of care by people with the same "lived experience"
27:40 Expanding access to gender-affirming care with telehealth
28:40 40% of the transgender community have attempted suicide in their lifetime (9X the attempted suicide rate of the entire US population)
30:10 Dallas speaks of the importance of behavioral health integration in the primary care setting
32:40 Dallas explains why providing care in a "celebratory and open-hearted queer-friendly healthcare environment" improves outcomes
34:10 The importance of families staying together within a gender-affirming care model
35:40 Dallas discusses how mindfulness and meditation can help those in the LGBTQ community
40:10 Dallas' political advocacy in reforming interstate licensure rules and why expanding telehealth is vital to the trans community
46:10 Dallas debunks myths about gender-affirming care for pediatric populations and explains what this type of care actually is
51:10 Insurance-related barriers to gender-affirming care and reimbursement issues for healthcare organizations
57:40 Dallas on how transgender rights and how we foster acceptance within our deeply divided and polarized country
61:40 "Gender-affirming care is a profound expression of patient-centered care – one that is really based on the human story…"