Podcast: Play in new window | Download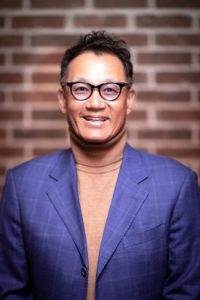 Fee-for-service healthcare has destroyed the physician-patient relationship by de-personalizing care delivery.  Patient encounters are looked at as transactions, instead of as opportunities to forge long-term healing relationships. Consequently, the healthcare system delivers inexorably bad cost and quality outcomes, and  primary care is marginalized in lieu of high cost specialists who perform procedures. This has created a perfect storm for physician burnout and moral injury, and we can only regain the humanity of health care by reinstating the primacy of the physician-patient relationship and empowering independent primary care physicians.
Dr. David Pak is an entrepreneurial Internal Medicine physician leader with over 25 years of direct patient care.  His medical practice (Pak Medical Group) is a leading example of a patient-centered, holistic, relationship-based, tech-enabled model that is transforming the lives of seniors. Dr. Pak is an entrepreneur with masterful skill at aggregating local market physicians to build value-based models of care.  He has formed an ACO and Medicare Advantage risk-bearing entity (Zenith Independent Physicians Network) that is moving primary care practices to fully-capitated risk. Dr. Pak is passionate about the personalization of primary care, technology enablement through remote patient monitoring, perpetuation of physician independence through value-based programs, and the creation of Human AI staffing support models that can transform care delivery and physician culture.  While he is an expert on value-based care and care delivery innovation, he is also a proponent of medicine revisiting its roots to a more simpler time where relationships were paramount.
This episode is a must-listen for entrepreneurial primary care physicians who seek independence through value-based care. By following Dr. Pak's approach, they can reclaim their joy in medicine and propel their practices to business success in the race to value.
Episode Bookmarks:
01:30 Introduction to Dr. David Pak and his healthcare ventures (Pak Medical Group, Zenith IPN, and Eleos Staffing)
04:30 Dr. Pak's early success as a physician entrepreneur that resulted in his practice to Humana
05:30 Dr. Pak speaks to his career as an entrepreneur in creating value-based, innovative care delivery models for seniors
07:00 "Fee-for-service is a broken model that rewards bad behavior that is not conducive to good outcomes."
08:00 Holistic patient care only occur in a full-risk medical practice. Will this lead to mandated APMs?
10:00 The explosive growth and enrollment trajectory of Medicare Advantage.
11:00 Learning how to succeed in Medicare Advantage from more advanced models in Florida.
12:15 Identifying vulnerable populations in Medicare Advantage through appropriate risk adjustment coding.
13:00 Delivering customized care delivery care models for different segments of the MA population.
14:30 The need for primary care physician autonomy and independence to overcome current financial challenges.
15:30 Is a massive corporate takeover of primary care necessary for PCPs to succeed in capitated revenue models?
18:00 Comparing PMPM reimbursement to traditional FFS reimbursement and overcoming the physician "education gap" in risk
18:45 The importance of physician leadership and education in value-based care
20:00 It is possible for PCPs to get off the "hamster wheel" (and it doesn't require a corporate takeover)
21:30 The need for independent physicians to take on a capital partner to support their value journey.
23:00 Dr. Pak explains the importance of physician education and a robust risk-based contract portfolio.
24:00 The aggregation of primary care physicians in local markets.
25:00 "The road to value-based care should be paved by physicians…especially primary care physicians."
25:30 The difficulties in meeting ROI expectations from PE investors and why physician aggregation is crucial to success.
26:30 Avoidance of PCP commoditization and why hospital-led ACOs may not be an ideal long-term solution.
27:00 Finding "anchor physicians" in local markets as an aggregation strategy
27:45 How PE-led hospital acquisitions of primary care drives up prices and leads to poorer outcomes.
29:00 "M&A is easy; it is the integration that is a nightmare because investors may not understand the local market."
30:00 The PE-led physician "land grab" in Texas and the challenges of physician integration due to lack of EHR interoperability.
32:00 Creating a data infrastructure in the independent PCP landscape within a local market.
33:30 Will AI robots replace healthcare providers?
34:30 The difficulties in automating personalized healthcare, and the opportunities for technology-enabled standardization.
35:30 Solving for physician burnout and moral injury is critical to avoid a mass workforce exodus.
37:30 A tearful patient testimonial for Dr. Pak's medical practice
38:00 The biggest mistake made by physicians is thinking they are the "be all end all" of the medical practice.
39:00 "Healthcare is the only industry that doesn't have a CRM program.  We are in a service industry, yet we don't operate like one."
40:00 The paramount importance of patient communication, patient access, and care coordination in building a support infrastructure in a medical practice.
41:30 Building a customer service-focused culture and the "Marcus Welby model" is not possible in a corporatized medical practice.
43:30 What is the difference in primary care access between an underserved American community and a third world country?
45:00 How Pak Medical Group leverages Remote Patient Monitoring in the delivery of patient-centered care (Institute members can download Case Study here)
47:30 How can Amazon and FedEx track packages across the country, but we can lose patients inside a hospital?
48:00 Fallacy #1: "You can't teach an old dog new tricks" (seniors can adapt to technology!)
49:00 Fallacy #2: "Good health care can only be delivered in-person" (how wearables facilitate remote engagement)
50:45 Deploying mobile units and telehealth in building an asset-light care delivery model.
52:30 An overview of the Zenith Independent Physician Network, a risk-bearing entity of independent primary care physicians that Dr. Pak founded.
54:00 Dr. Pak describes how common it is for ACOs not to provide data reporting and financial transparency to partner physicians.
56:00 The 3 hallmarks of building a good Risk-Bearing Entity (i.e. infrastructure and contracts, financial transparency, performance report cards)
57:30 Creating physician leadership at the pod-level in various regions throughout the ACO's geography
58:30 An overview of Eleos Staffing, a value-based care Human AI (staffing and automation) company that Dr. Pak founded.
61:30 Wrapping human capital around software, workflows, and processes to create automation.
63:30 Efficiencies in referral management, insurance verification, prior authorizations, scribing, and chart prep by using a virtual healthcare associate (Human AI)
65:00 How Human AI reduced physician burnout and improved ACO performance results.
67:30 Creating a care delivery environment for physicians to find job in their work through personalized relationships.
69:30 Moral injury occurs when physicians are forced to abandon their duty to care for patients in the best way possible.
70:30 Getting to the grassroots and fundamentals of medicine.