Podcast: Play in new window | Download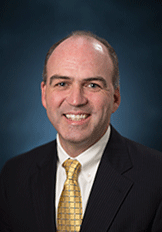 North Carolina seems like an unlikely laboratory for value-based care. It refused to expand Medicaid coverage under the Affordable Care Act and ranks in the bottom third among states in measures of overall health. North Carolinians are experiencing stagnant or worsening population mortality rates and substantial health disparities, with 15% percent of residents living below the poverty line, and over one million (10% – 9th highest in the US) North Carolinians uninsured. Health care costs are rising, crowding out other state budgetary priorities and limiting wage increases. But the state has embarked on one of the country's most ambitious efforts to transform how health care is defined and paid for. Accountable Care Learning Collaborative co-founder Dr. Mark McClellan, CMS Administrator during the George W. Bush administration, has publicly stated the "No state is moving as far and as fast as North Carolina."
UNC Health is leading that charge. Mark Gwynne, DO, is the President and Executive Medical Director of UNC Health Alliance (statewide CIN) and UNC Senior Alliance (NextGen ACO): his leadership, results, and vision for the future provide Race to Value listeners a rich viewpoint for value. The physician-led CIN unites independent and employed providers in a program that drives collaboration and communication across the health care continuum to improve quality of care, control health care costs, and work in partnership to provide coordinated care  Their recent performance has reduced the cost of care for 140,000 Blue Cross NC members, earned $17.5 million in quality and shared savings payments, and achieved a 100% quality score. The NextGen ACO is one of only a few academic organizations participating in the highest-risk alternative payment model and ranks #1 nationally for quality.
Bookmarks:
3:55 The state of Value-Based Care transformation in North Carolina in juxtaposition with the state's health outcome challenges
4:49 "North Carolina: The New Frontier For Health Care Transformation" (Dr. Mark McClellan: "No state is moving as far as fast as North Carolina.")
7:03 "We've created a pretty good substrate for our payer partners across market segments where we are really starting to see the scale that we need to catalyze this kind of work."
7:28 The tipping point for value-based care transformation of 35-40% needed to capitalize on investments and leverage the altruism of providers
8:00 The key to value-based success in NC is based on Partnership (e.g. partnering with forward-thinking payers)
8:35 UNC Health Alliance and its recent outstanding performance of $17.5M in shared savings and 100% quality score in the Blue Premier program
11:13 Dr. Gwynne discusses how Blue Cross NC is approaching its collaboration with his CIN and what the national payer community can learn about partnership with providers to transform care delivery
12:01 Transparency in calculating benchmarks and MLR and making quality targets achievable
13:54 Investing in a robust infrastructure around clinical quality improvement and establishing improvement collaboratives among primary care practices
14:23 Pivoting an internal infrastructure to focus on outcomes with appropriate patient outreach, provider education, facilitating improvement efforts in practices, and making EMR adjustments to support the work
16:25 The economic effects of COVID-19 on the PCP community and the Blue Cross NC "Accelerate to Value" stabilization program
21:17 Dr. Gwynne discusses how primary care practices should be looking at capitation in the years to come
23:15 Dr. Gwynne shares his perspective in balancing shared savings distribution to providers with capital re-investment (UNC Health Alliance distributes 80% of Shared Savings to its providers across all contracts)
23:47  Making key investments in data analytics, systems to support health equity, intensive case management services, point-of-care interventions, provider engagement, and the financial infrastructure to manage risk contracts
27:50 Dr. Gwynne discusses the importance of behavioral health integration in the primary care setting, along with a population health focus on behavioral health
30:03 Strategies for BH Integration: embedding behavioral health providers in primary care, partnering with psychiatrists in managing medications and doing case reviews, and leveraging data from screenings and patient registries
32:58 Access to remote clinical social workers to address behavioral health issues in seniors living in rural communities
33:30 Partnering with Blue Cross NC and Quartet Health for proactive risk identification of behavioral health issues along with a referral system to facilitate access to services
34:45 Substance use disorder, pain management and opiate use, and the use of Medication-Assisted Treatment (MAT) therapy
37:50 Dr. Gwynne discusses how UNC Senior Alliance (a Next Generation ACO in its 4th year) first entered into the "ACO World" by diving right in to CMS' highest-risk payment model!
39:07 The performance results of UNC Senior Alliance over the years showing persistently high clinical quality across populations and market reductions in total cost of care compared to benchmarks
40:05 3-day SNF waiver, telemedicine, and transportation programs as keys drivers to improve health outcomes in the NextGen ACO
41:15 "Redesigning care to improve clinical quality and decrease total cost of care are actually two sides of the same coin.  Both of those often lead to better health outcomes."
42:08 The future of UNC Senior Alliance as it ponders continuation as a NextGen ACO versus moving into the Direct Contracting model where capitation can be paired with other contracts
43:26 Partnership with Medicare Advantage plans and moving away from P4P to ACO models
44:44 The need for clinical integration and the NEJM study that found that the average Medicare patient saw a median of two PCPs and five specialist physicians per year.
46:00 "The core principle of clinical integration, and a clinically integrated network, is coordinating care."
47:16 Addressing high ED utilization amongst COPD patients through enhance coordinated care that resulted in a 40% reduction in ED visits!
50:00 The importance of a clinically integrated network being physician-led to build out the value business across hospitals
51:32 Dr. Gwynne puts perspective on the Medicare ACO results that show physician-led ACOs perform better (compared to than hospital-led ACOs) by explaining that integrated health systems are really in the best position to reduce unnecessary utilization and address total cost of care
53:41 Dr. Gwynne discusses patient-centered care and the implementation of a Patient Advisory Councilto empower the patient, give them a voice to influence and direct their own care, and drive improvements in the primary care setting
58:39 The need for the Quadruple Aim and how to overcome a "siege mentality" described by Dr. Robert Pearl
1:00:22  "I fundamentally believe that primary care is the foundation of the health care system… One of our most important jobs is to ensure that providers on the frontlines can focus on patient needs, and we can relieve as much the non-essential burden as possible."
1:02:00 The importance of the interdisciplinary care team to assuage the burden on primary care providers
1:03:00 The example of unmet social drivers of health and the need for partnership between primary care and the broader community (e.g. food insecurity)
1:04:00 "The future of value-based care is allowing our doctors to provide the comprehensive care that they know what they want to provide – and sometimes can't – because lack of resources."
1:05:00 The importance of learning organizations and peer learning to make health care better across America