Podcast: Play in new window | Download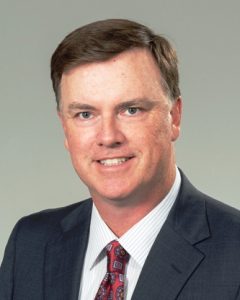 Sixty years ago, May 1961, President John F. Kennedy challenged the American nation in a speech to Congress, asking them to commit to "landing a man on the Moon and returning him safely to the Earth." Eight years later, that bold goal was realized – in July 1969 Apollo 11 landed and returned safely with a crew. President Kennedy's moonshot goal is an important reminder of courageous leadership that sets an inspiring goal that pushes us to think and achieve boldly.  That is not unlike the 10-year vision of Ochsner Health to transform the health of Louisiana, taking it from 49th out of 50 in America's Health Rankings to a ranking of 40 by 2030.
As a native Louisianan, Dr. David Carmouche is committed to transforming the health outcomes of his state.  Dr. Carmouche serves as President of the Ochsner Health Network, the accountable care network of the massive Ochsner Health System. The health system is committed to a value-based strategy and its CIN has generated returns north of $100M in its value-based contract portfolio over the last few years.  In this episode, Dr. Carmouche shares meaningful lessons from his value journey covering such topics as physician leadership in the value movement, partnerships with employers, community resilience, precision medicine and social determinants of health, and Ochsner's 40 by 30 vision to transform health in the state.
Episode Bookmarks:
04:00 Dr. Carmouche's leadership purview (and reflections from his glory days on the gridiron???)
07:20 Dr. Carmouche speaks to the national pursuit to value-based payment and looming Medicare insolvency
09:10 The experimentation phase of value-based care and the next-level commitment to pursue the most viable APMs
10:10 Subsidizing government contracts (Medicare, Medicaid) with commercial payers to spot margin and why that is no longer tenable
12:00 Dr. Carmouche discusses the financial results of Ochsner's value-based contract portfolio
13:00 Board-level and CEO commitment to value as a strategy for population health and long-term economic success
13:25 Investment in care capabilities and realignment of incentives within large employed physician group as keys to success
14:10 The 'muscle memory' of owning a health plan and how that created orientation to risk at Ochsner
14:40 The importance of leadership in driving success in value-based payment with improved outcomes in patient communities
15:45 The three verticals of Ochsner Health's business:  Care Delivery, Risk Operations and Insurance, and Digital Services
16:30 How Ochsner Health manages fee-for-service dependency in its legacy business model with its commitment to value
19:10 Building partnerships with insurance brokers and fully-insured employers to support appropriate steerage and drive cost savings
21:15 Creating economic alignment with self-funded employers and the challenges of creating meaning gainshare opportunities
22:50 Negotiating care management fees with self-funded employers as in interim step to full-risk
23:30 Dr. Carmouche discusses the network agreement they reached with Wal-Mart to provide high value care for employees across Louisiana.
26:45 "From Competition to Collaboration" – Dr. Carmouche's contribution to a book that outlines the Health Ecosystem Leadership Model (HELM)
27:00 Dr. Carmouche reflects on the diverse experiences in his career that allowed him to learn about the different sectors of the healthcare ecosystem
28:15 "No one sector of the healthcare ecosystem can create significant value alone"
29:15 How an interaction with Dr. Paul Grundy inspired Dr. Carmouche to make the biggest impact possible in improving the health of Louisianans
31:00 Blending physician leadership with the business understanding of different sectors in the healthcare economy to drive value creation
34:00 How Ochsner worked to ameliorate the scourge of COVID-19 in New Orleans and lessons of community resilience from Hurricane Katrina
36:00 Rapid deployment of a virtual care model to deliver primary care and behavioral health services (going from 3,000 visits to 100,000 visits in one year)
36:40 Digital medicine program to provide full-service virtual remote monitoring and management of hypertension and diabetes
37:40 The disparate impact of COVID-19 on disadvantaged minority populations
38:20 Louisiana is next to last in health status of all 50 states and why it is so difficult to solve for social factors like poverty, education, and health literacy
39:40 The endless opportunities for population health and why Ochsner will have failed if Louisiana's health rankings do not improve over time
39:50 Coordinating with state government, private investment, and communities through the 40 by 30 initiative
40:20 $100 million investment to address Louisiana's most critical health needs
43:20 The physician culture of Ochsner Health that emphasizes teamwork
44:30 Dr. Carmouche discusses the moral injury that is happening to physicians because of administrative bureaucracy
45:30 Revising physician compensation so that it focuses less on RVU production and more on value-based care performance
46:30 Eliminating burdens in physician workflow through automation and point-of-care alerts
47:30 Growth in primary care that is attributable to compensation alignment and optimized care delivery model
49:30 Dr. Carmouche speaks to the connection between evidence-based care and precision medicine
50:20 Collecting social determinants data from health risk assessments to drive care processes and community-based interventions
51:30 Developing AI and machine learning algorithms to have more precision in predictive models
52:00 The application of population health-based genomics testing and genetics counseling to improve care outcomes
53:20 Leveraging digital medicine tools and wearables for chronic disease management
56:30 "Personalized care within a population health agenda is the way of the future."
58:30 How moving to "asset-light" hospital models with fewer beds would have made us ill-prepared for pandemic response
59:30 "We can't afford the fixed cost, asset-heavy healthcare delivery system that has been the hallmark of U.S. healthcare in the last 100 years."
63:00 This vision of Warner Thomas, President and CEO of Ochsner Health
64:30 How improving health equity and transforming the workforce will deliver the promise of value in Louisiana
66:20 "We didn't make it to the moon in ten years without someone putting a stake in the ground."