Podcast: Play in new window | Download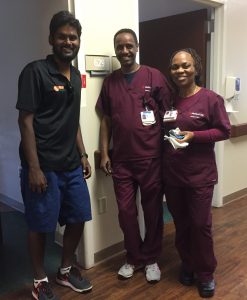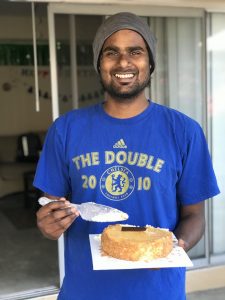 It was Thanksgiving 2016 and Sugandan (Su) Barathy was a normal college student in Texas, with finals and graduation in the weeks ahead. His future was bright with a comfortable job already secured, but a car accident changed his life. Though seriously injured, the medical professionals sent him home twice as a result of negligent care. Consequently, Su experienced avoidable complications and needless pain – but the blatant errors and deficiencies of the health care system are distant followers to the foremost lessons of Su's healing journey. During a nearly month-long ordeal in the ICU, Su experienced mental and spiritual pain and suffering, as well as loneliness and neglect. Only kindness, love, and gratitude brought him from the brink of complete despair to a place of joy.
As health care professionals we each have an obligation to develop a holistic, patient-centered mindset that goes beyond repairing a broken body. We must practice healing the broken spirit. True healing power comes from kindness, love, and gratitude. These are the healers of the soul.
"At times, our own light goes out and is rekindled by a spark from another person. Each of us has to think with deep gratitude of those things that have lighted the flame within us." – Albert Schweitzer
"When we are no longer able to change a situation, we are challenged to change ourselves."― Viktor E. Frankl
"Gratitude turns what we have into enough, and more. It turns denial into acceptance, chaos into order, confusion into clarity…it makes sense of our past, brings peace for today, and creates a vision for tomorrow." —  Melody Beattie
"Thankfulness is the beginning of gratitude. Gratitude is the completion of thankfulness. Thankfulness may consist merely of words. Gratitude is shown in acts." Henri Frederic Amiel
Episode bookmarks:
1:47 Introduction to the episode – A Message of Love and Healing for this Season of Thanksgiving
3:04 The Car Accident that happened one day before Thanksgiving and a Health System that Failed
4:55 "I don't feel like I was acknowledged."
6:00 Nurses shopping online for Black Friday deals when leaving the ER with an untreated ruptured spleen and broken ribs
6:45 Ten days of immense pain and suffering after leaving the ER with negligent care
7:10 Su goes to the student clinic and sent to the ER…on his own accord, without an ambulance
8:05 The "horrific walk" to the ER after ten days of suffering with pneumonia, pulmonary edema, ruptured spleen, and broken ribs
9:00 The ER doctor is shocked that Su was able to walk to the hospital in his condition without being transported by an ambulance
9:20 Emergency surgery!
10:00 The poorly designed environment of care is not conducive to Su's healing post-surgery
11:11 "I felt like the care that was given to me was transactional and check-the-box medicine"
12:05 "My body was being taken care of, but there was no one to listen to me and care for my needs beyond the physical level."
13:05 "A very dark place where no one was listening to me"
13:20 "It was me alone in this battle to heal rather than a team that can help me heal through this."
13:40 All alone in the hospital and finding out his grandmother just died
14:20 The care team was detached from Su's emotional wellbeing and is not at all patient-centered
15:20 The power of human relationships and its effect on healing of the soul
16:00 "Without emotional support, you are broken."
16:30 "The extra ounce of courage from within" that comes from the expressed love of others
18:00 Pain recognition as part of the healing
19:00 Culturally relevant care from one nurse that prevented an opioid addiction
23:00 "Feeling the pain made me feel alive again, gave me the courage to fight, and gave me the connection to the present to truly heal."
24:15 The darkest nights of the soul in the ICU
25:00 "At times our own light goes out and is rekindled by a spark from another person. Each of us has cause to think with deep gratitude of those who have lighted the flame within us." (Albert Schweitzer)
25:15 The healing begins due to the selfless act of kindness and love from a stranger
26:40 "A powerful gesture of the universe….the love and affection of a kind stranger healed me also."
28:07 "I am the person that I am today because of that prayer."
29:32 The healthcare industry heals the body, but often fails the soul.
30:20 "A holistic approach to healing is what I feel is truly needed in healthcare."
31:34 Value-based care is about reimaging the healthcare system
33:20 Being discharged from the hospital on Christmas Day – the Greatest Gift
34:20 Gratitude from an horrendous healthcare ordeal, "I was brought back to the spirit of Christmas and joy."
35:30 "I have so much gratitude for the team that took care of me and the stranger that prayed over me."
36:14 "I was given the gift of spirit, joy, thankfulness, and gratitude that I will take with me for the rest of my life."
36:34 "Had I not gone through the negligence of the health system, I wouldn't have experienced the kindness of that stranger".
37:20 Su's new life:  a new life in San Francisco, playing soccer at a higher level, spreading the joy of soccer and love in San Quentin prison ("A Boy named Su")
38:55 Su's recommendation to healthcare executives – Take Care of the Nurses!
40:55 The healing continues through the sharing of this story
41:50 Su shares the story of his grandmother who passed away during his hospitalization
43:03 "There is light at the end of the tunnel.  If I can be that person that bring you out of the darkness, I am here for you."