Podcast: Play in new window | Download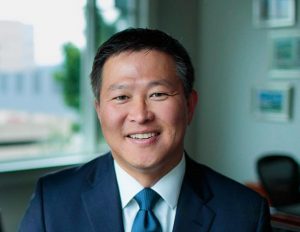 As one of the leading integrated health systems in the country  — serving more than 3 million residents throughout 45 counties in Pennsylvania and New Jersey with 30,000 employees, nine hospitals, 1,600 employed physicians, 13 hospital campuses, 70 primary care sites, two research centers, and a 550,000-member health plan — Geisinger has become a standard for value-based payment innovation and care delivery transformation.
Geisinger was also an early adopter of value-based payment as a member of the Keystone Accountable Care Organization (ACO), which is a group of nearly 5,000 physicians and advanced practitioners and 9 hospitals who deliver over $800 million annually in coordinated healthcare services to more than 80,000 Medicare patients in Pennsylvania.  Additionally, Geisinger has been engaged in Medicare's Bundled Payment for Care Improvement program since 2014, and currently has more than $140 million in healthcare services delivered as part of Medicare's Bundled Payment for Care Improvement Advanced (BPCIA) program.
Our guest this week is Dr. Jaewon Ryu, M.D, J.D, President and CEO of Geisinger. Dr. Ryu has led the system with a spirit of innovation and transformation, driving new approaches to some of healthcare's most complex problems, including primary care redesign, home care and senior-focused, concierge healthcare centers for those 65 and older. His commitment to making health easier by improving outcomes, engagement and affordability are evident in his work and make him an exemplar in the race to value.
Episode bookmarks:
05:30 Dr. Ryu describes Geisinger's Value Journey that has been taking place over the last 35 years
06:30 "Value-based care allows us to innovate around care models by marrying the payment with delivery."
08:15 Dr. Ryu provides advice to other health systems looking to invest in an infrastructure for population health
11:30 Dr. Ryu discusses how "Primary care is the backbone of the delivery system" and why it is so important in managing chronic disease
13:10 The Abigail Geisinger Scholars Program that offers medical students entering the Geisinger Commonwealth School of Medicine free tuition if entering primary care
14:30 The importance of Geisinger physicians understanding its different care models (e.g. Geisinger 65 Forward, Geisinger At Home, LIFE Geisinger)
17:30 Dr. Ryu discusses the impact of the COVID-19 pandemic on frontline providers and staff and importance of workforce resiliency during challenging times.
19:00 How Geisinger's Value-Based orientation positioned it favorably during the COVID-19 pandemic (e.g. upstream capabilities and care at home program)
20:00 How strong partnership with employers, school districts, and nursing homes created a pandemic response ecosystem to improve community care
21:00 "Our value-based care orientation provided us with a public health lens to better care for our communities during the pandemic."
23:30 How the Steel Institute for Health Innovation provided human-centered design thinking, AI/ML, automation, and other innovations to further catalyze VBC at Geisinger
28:30 Dr. Ryu describes the importance of risk stratification and population segmentation in providing better care to seniors with chronic disease
29:30 Geisinger 65 Forward clinics that provide VIP-level personalized care and appointments, longer visits, one-stop shopping, and social and educational activities for seniors
30:45 Unlike other high-touch senior-focused primary care models, Geisinger 65 Forward is fully-integrated with the health system
32:40 How primary care redesign at Geisinger focusing on team-based care improved clinical outcomes
35:20 Dr. Ryu on how we need to move care away from "Field of Dreams" facilities (i.e. the "if you build it, they will come" model) towards a more asset-light model of care delivery
36:45 Geisinger At Home as a national example for home-based care delivery
40:30 Dr. Ryu describes what Geisinger is doing to take upstream actions in address SDOH (e.g.Fresh Food Farmacy to provide nutritious food and diet coaching for diabetics)
42:00 Reducing HbA1c's by 40% in diabetic population by addressing food insecurity and nutrition! ("Food has proven to be more impactful than medicine.")
44:30 Geisinger's use of NeighborlyPA to help refer patients to social, health, and human services in the community
46:30 Dr. Ryu describes Geisinger's MyCode Community Health Initiative, a precision health and genomics program that analyzes DNA to diagnose medical conditions earlier
52:30 "Necessity is the mother of innovation" when it comes to reforming health policy to create better value in healthcare.
53:30 Dr. Ryu provides perspective on the future of health policy and the value-based care movement.
56:30 Dr. Ryu describes Geisinger's strategy for direct contracting with self-insured employers as a Center of Excellence and narrow network.