Podcast: Play in new window | Download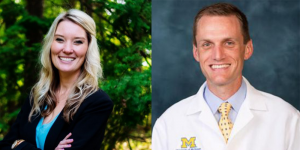 The Physician Organization of Michigan Accountable Care Organization (P.O.M. ACO) is a statewide ACO in the Medicare Shared Savings Program that has saved the Medicare Trust Fund more than $199 Million to-date. It is a physician-led partnership in operation since 2013 that supports more than 5,000 providers serving approximately 60,000 Medicare beneficiaries.  P.O.M. ACO aligned with the University of Michigan Health System, whose Faculty Group Practice participated in a Medicare demonstration project that paved the way for ACOs under federal health care reform years ago.  This is an outstanding Accountable Care Organization led by Dr. Tim Peterson and Kendall Cislo who are featured in this week's episode of the Race to Value.
In this interview, you will learn how P.O.M. ACO has been successful by enabling localized solutions, in partnership with their provider network and beneficiary population, to improve care outcomes.  We discuss how the ACO engages their beneficiaries through committee and Board participation, how primary care providers and specialists work together to build "localized" population health programs, and how care management interventions can provide meaningful outcomes in both rural and urban settings.  This is an important interview for ACO leaders to listen to who are looking to establish improved relationships with both providers and patients to drive more effective care management interventions in caring for seniors and underserved populations.
Episode Bookmarks: 
02:00 Physician Organization of Michigan Accountable Care Organization (P.O.M. ACO) —  a statewide ACO that has saved more than $199 Million
02:40 Introduction to Dr. Tim Peterson (Population Health Executive for Michigan Medicine and ACO Executive and Chairman for P.O.M. ACO) and Kendall Cislo (Chief Operating Officer at P.O.M. ACO)
05:30 How ACO success has been determined by collaboration between a faculty academic practice and groups of independent physicians
10:00 Dr. Peterson discusses some of the unique public health and chronic disease challenges facing urban and rural Michiganders and how medical management programs of P.O.M. ACO meets patient needs
12:00 "Part of our ACO success has been the enablement of local solutions to address local problems."
12:45 Recent study on patient perceptions of ACOs: Only 7 percent of 55- to 64-year-olds and 4 percent of those over 65 reported ever hearing about value-based care!
13:40 How beneficiary engagement and "the voice of the beneficiary" impact quality improvement and the Triple Aim
15:30 Why the economics of value-based payment shouldn't matter to patients (focus on quality care and out-of-pocket burden most important)
17:30 Utilizing a beneficiary engagement advisory committee as a key strategy for performance success
21:40 "The goal of our ACO is not to build a centralized infrastructure – it is instead to build localized solutions with our network of providers."
24:30 Engaging patients to raise awareness of high cost (low value) specialists in the area
25:40 Partnering with dialysis centers to more effectively engage patients with kidney disease
28:30 "The key message to remember in healthcare is that we do everything for the patient.  What would you do for a patient if it was your Mom."
31:20 Engaging physicians to more effectively collaborate with them in population health and quality improvement strategies
34:30 Collaborative conversations to improve risk adjustment coding documentation to more adequately reflect burden of illness in the patient population
38:00 Building local market capabilities for pharmacy integration in rural primary care practices
40:30 Annual Wellness Visits as opportunities to address what is most important in a patient's life and how that has transformed the ACO
44:30 The importance of clinical integration in improving care coordination and why specialist participation in an ACO is a performance advantage in improving patient outcomes
47:30 Primary care and specialist collaboration to improve utilization associated with inpatient hospitalizations and readmissions
50:30 Addressing health equity through localized problem-solving and practice-based population health interventions
51:30 "Clarity of data" to better understand beneficiary issues with social determinants of health
52:30 Using ACO beneficiary input to craft partner-based solutions to address social isolation and loneliness
54:00 Asking the inverse question of what services are being under-utilized and how "positive healthcare utilization" can be used as a lever to move away from overutilization of other services
56:00 Dr. Peterson (an Emergency Medicine physician and an ACO executive) explains how we should define "failures" associated with ED utilization
60:00 Parting thoughts from Kendall and Dr. Peterson on the future of the value-based care movement