Podcast: Play in new window | Download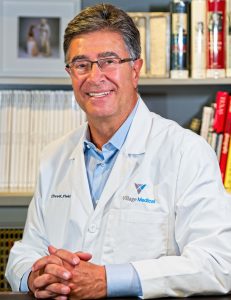 Joining us on the podcast this week is Dr. Clive Fields, the Co-Founder and Chief Medical Officer for VillageMD. Dr. Fields is a leader of high influence in the value economy, having been named to Modern Healthcare's lists of the 50 Most Influential Clinical Executives and the 100 Most Influential People in Healthcare.  His company, VillageMD, is a leading, national provider of value-based primary care services that partners with physicians to deliver high-quality clinical care and better patient outcomes, while reducing total cost of care. In the years since Dr. Fields co-founded the company, VillageMD has grown to 15 markets and is responsible for more than 1.6 million patients. In 2021, VillageMD received a $5.2 billion investment from Walgreens Boots Alliance, which is looking to expand its healthcare offerings with VillageMD as a partner. This significant multi-billion investment will accelerate the opening of at least 600 Village Medical at Walgreens primary care practices in more than 30 U.S. markets by 2025 and 1,000 by 2027, with more than half of those practices in medically underserved communities.
The Race to Value is honored to have Dr. Fields share his perspective on the opportunity for consumer-centric care delivery in our country.  We discussed important issues such as health equity, digital transformation, integrated pharmacy, home-based care delivery, multipayer contracting, health policy, and employer healthcare costs. Don't miss out on this important interview so you can learn what it takes to succeed for the future of value-based care!
Episode Bookmarks:
01:40 Introduction to Dr. Clive Fields and VillageMD
05:00 The intersection between value-based care delivery and consumerism
07:00 "Value-based health care success requires affability, availability and ability."
08:40 Using a team-based, proactive, risk-stratified approach to care to deliver the best outcomes
09:00 Are we using the term "value" incorrectly in the industry?
10:00 VillageMD's recently announced partnership with Walgreens and how it will provide scalability
12:00 How outcomes-based reimbursement can improve health equity in underserved communities
13:00 The transformative impact of the value movement on primary care
16:00 The acceleration of virtual care and the role it plays in a consumer-centric care delivery
18:00 What will virtual care look like in the post-pandemic era?
18:45 How the economics of global capitation drives improved health outcomes
20:00 The role that pharmacy integration plays in value-based care
21:45 Dr. Fields discusses how pharmacists should be utilized in the ambulatory care setting
23:00 Lessons learned from pharmacy integration and how that informed VillageMD's collaboration with Walgreens
24:20 How pharmacist intervention can improve both provider and consumer experience by switching to formulary-equivalent drugs
26:45 Referencing recent McKinsey & Company study that projects up to $265B in facility care shifting to the home setting by 2025
27:45 Village Medical at Home – a leading example of home-based care delivery
28:40 "The lack of home-based care is partly related to the hubris of physicians."
29:30 Dr. Fields reflects on how office-based care contributes to a misinterpretation of social barriers
31:45 Care in the home as the safest and most comfortable option
34:00 How VillageMD has cares for all patient populations (not just particular high-risk segments)
36:20 "We built a model that actually expands doctors' panels – not limiting them to a certain product or payer."
37:45 Managing risk across different populations with segregation by SDOH and risk determination (not payer status)
39:30 Referencing Dr. Fields' most recent Op-Ed in Modern Healthcare addressing the criticisms of the Direct Contracting model
40:30 Dr. Fields provides commentary on the hyper-politicized debate related to public-private partnerships in the Medicare program
43:00 How a program like Direct Contracting can improve care for patients in underserved communities
46:00 Dr. Fields on how employers our now reaching an inflection point in addressing unsustainable healthcare costs
47:30 Brokers, payers, and providers working together to collaborate with large, self-funded employers
48:00 The co-location of primary care clinics with employer groups
50:00 The total addressable market for VillageMD is projected to grow 7% annually through 2025 to $1.4 trillion
50:30 Why Dr. Fields feels "overly bullish" about the state of the value-based care movement (outcomes-based reimbursement)
52:30 How VillageMD is positioning itself for the future of outcomes-based reimbursement with a model that can replicate at scale
54:45 VillageMD will have at least 50% of primary care locations in underserved communities
56:45 Parting comments from Dr. Fields and how to find out more about VillageMD