Podcast: Play in new window | Download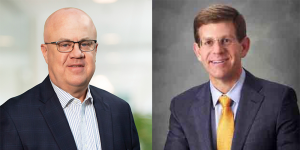 Are you ready for the risk-based tsunami on the horizon?  If you are a frequent listener to this show, you understand just how seismic this shift to value-based care really is and why we need the right culture, people, processes — fueled by capital – to spawn care delivery innovation.  It is in reimagining care delivery that we can truly deliver on the aims of improved outcomes, lower cost, better patient experience, and equity for all populations. Joining us in this Race to Value this week are two outstanding leaders in the value movement, Drs. Brian Silverstein and Yates Lennon.  We discuss how organizations should be preparing for the risk-based tsunami on the horizon through care delivery innovation.
Dr. Brian Silverstein is the Chief Population Health Officer for Innovaccer, a leading healthcare technology company committed to helping healthcare care as one. He is an expert in value-based care delivery and health system transformation with vast experience in helping providers improve population health initiatives.  And joining him in this interview is Dr. Yates Lennon, the President of CHESS Health Solutions – a population health MSO empowering physicians and health systems to make the transition to value-based care. Dr. Lennon has extensive experience in quality, practice transformation, and physician engagement and has been instrumental in teaching health systems and providers across the country how to transform patient care and shift to value-based payment. If you are looking to understand the state and science of value-based care, look no further than this conversation with two of the leading minds in industry transformation!
Episode Bookmarks:
01:30 The seismic shift towards value-based care and the risk-based tsunami on the horizon.
02:00 Introduction to Dr. Brian Silverstein and Dr. Yates Lennon
04:30 Progressing in the value journey by understanding the landscape
05:45 Dr. Lennon provides an overview of the value ecosystem with varying adoption of risk in provider organizations.
07:00 "The days of sitting on the sideline are running out.  It is time to get started with value-based care if you haven't already."
08:00 The State and Science of Digital Maturity at U.S. Healthcare Providers (a recent report from Frost & Sullivan, commissioned by Innovaccer)
09:30 Dr. Silverstein on the legitimacy of the value movement with perspective on how digital infrastructure impacts the pacing of adoption.
10:45 The differentiation of the technology stack utilized by providers accepting full risk-based payment.
12:00 Traversing the value landscape with emerging changes in payment model design focused on the reduction of health disparities.
13:30 Dr. Lennon on how VBP and population health technology tools are perfectly suited to address problems in health disparities.
14:00 Codifying the health equity design of the ACO REACH payment model into operational programs.
14:30 Ensuring access to care in a medical home – an example from Atrium Health Wake Forest Baptist
15:30 "Access is important in value-based care when attempting to address health equity."
16:00 Focusing on the quality and performance improvement measures that can improve equity.
16:30 Clinical workflow optimization and the use of Community Health Workers to conduct patient outreach.
17:00 Leveraging community resources to address Social Determinants of Health (SDOH).
17:30 findhelp (formerly Aunt Bertha) and Unite Us as examples of technology platforms that can improve SDOH interventions and community partnerships.
18:15 Lifestyle coaching to improve health outcomes with dual eligible populations.
19:00 Dr. Silverstein explains how traditional healthcare will not able to improve population health outcomes in a silo.
20:00 The correlation between a patient's zip code and their overall health and wellbeing.
20:30 Dr. Lennon provides perspective on how the creativity of value-based care will improve models for patient engagement and care delivery.
21:30 Organizations that are in a "payment straddle" trying to figure out where the fee-for-service curve and the value curves can intersect.
22:30 Capitalizing on both FFS and VBC through Annual Wellness Visits (AWVs), Advanced Care Planning (ACP), Chronic Care Management (CCM), and Transitional Care Management (TCM).
24:45 "I can't emphasize enough how important providing patient access is for primary care physicians in value-based care."
25:30 The importance of coding and documentation in risk stratification and compliance.
26:00 Making quality "second nature" by leveraging teams to close care gaps.
26:45 The challenges of finding a competent workforce and retaining physician independence to ensure care delivery innovation.
28:30 The plight of primary care and the struggle to retain independence.
29:00 Referencing recent article from Dr. Mai Pham on how a hybrid payment model will be a lifeline for primary care physicians.
30:00 Dr. Silverstein discusses the inherent complexity of value transformation and the importance of local market dynamics and the art of timing.
32:00 Dr. Lennon on the climate for value-based payment in the North Carolina market and PCP considerations to reach a critical mass in value.
33:00 Should independent PCPs consideration a physician aggregation model to pool lives and access capital?
34:00 Managing contract availability with available cash flow and the timing of investment decisions.
34:45 The difficulties of ensuring holistic patient care delivery while simultaneously maximizing fee-for-service revenue.
37:00 Dr. Lennon discusses the insufficiency of Risk Adjustment in truly understanding the needs of vulnerable populations.
38:00 Educating providers on risk adjustment coding on the connection between good patient care and financial accountability.
39:30 Optimizing an EHR workflow for risk adjustment data capture and clinical data visualizations at the point-of-care.
40:45 Dr. Silverstein on the importance of accurate risk adjustment coding to appropriately plan population health interventions.
42:00 Dr. Lennon discusses the need to importance of coding accuracy to eliminate compliance scrutiny.
42:30 The shift in changing the mindset of FQHCs to focus on diagnosis code specificity.
43:00 How point-of-care tools embedded in the EHR can improve risk adjustment data capture.
43:45 "EMRs and digitization in patient care is just the beginning – not the end state." (referencing the use of transaction engines from other industries)
44:30 Focusing more on patient care than the sophistication of tech stacks will ensure long-term success.
45:30 Are mandated risk-based payment models the right thing to do in ensuring value-based care adoption?
47:00 Dr. Silverstein on the "multi-level complex Chess" of payment model innovation and provider adoption.
48:30 Dr. Lennon speaks against the mandating of APMs in the current healthcare delivery environment.
49:00 The beauty of the natural progression of value-based care innovation at the physician-level.
50:30 Dr. Lennon reflects on the inability of fee-for-service to create sustainable population health models.
52:30 Drs. Lennon and Silverstein speak about controversies associated with Medicare Advantage upcoding and potential abuses in value-related plans.
55:30 Why don't we shift the industry coverage of Medicare Advantage to the benefits and opportunities of the program?
57:30 The burdensome regulations that hinder those providers who are not the bad actors. (ex: the SNF 3-Day rule, home-based infusions)
60:00 Referencing recent report from Morning Consult, commissioned by Innovaccer onThe State and Science of Value-Based Care.
61:45 Parting thoughts from Drs. Lennon and Silverstein on the moral imperative of value transformation.