Podcast: Play in new window | Download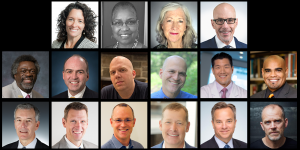 Race to Value listeners — April is National Minority Health Month, and this year, the HHS Office of Minority Health is focusing on the disproportionate impact the COVID-19 pandemic is having on racial and ethnic minority communities.  This Bonus Episode is a compilation of viewpoints on health equity and racial disparities of care from some of our former guests in the past year.  We hope you take the time to listen intently to their message.
Certainly over the last many year we have been exposed to the great inequities that have existed in our society for far too long.  We have one major obligation we have to each other…that is to tell the truth.  And the truth is, there are so many inequities in our society for minorities, including the manifestation of institutional racism within our nation's health system. As leaders in value-based care, we have to be accountable to the endeavor that we are about. We endeavor to, in fact, ensure every patient receives the best treatment possible so they can live the life they are intended to live. That we endeavor to create the opportunity for health equity, and that is true regardless of race, ethnicity, gender, sexual orientation, or otherwise.
We hope you find meaning in this Bonus episode and gain awareness for how important health equity and social justice is to win this Race to Value.
Episode Bookmarks:
1:39 Daniel Chipping introduces National Minority Health Month and its' focus on COVID-19 impact on minority communities
2:10 Dr. Eric Weaver delivers a special message on overcoming institutional racism in our nation's healthcare system
3:29 Dr. Farzad Mostashari reflects on the murder of George Floyd and how it was a reckoning for social justice (and health equity)
6:33 Dr. Lerla Joseph discusses how she has devoted most of her life committed to health equity, how ACOs are a vehicle for change
12:30 David Smith provides a powerful social commentary on how pervasive systemic racism is in our society and his awakening as a white male
18:41 Christina Severin on the country's reckoning, how her white privilege as conditioned her to be a racist, and how health centers can address inequities
23:10 Dr. Ernest Grant on the public health crisis of systemic racism, the disproportionate burden of disease related to SDOH, and how nurses can call for change
30:19 Dr. Stephen Klasko on how the zip code of communities ultimately determine health, and how the pandemic has raised awareness of inequities
31:46 Christina Severin on how the calling for racial justice, coupled with the pandemic, has created urgency to "bridge the digital divide"
33:36 Dr. Gordon Chen on the social injustice of different lifetime expectancy rates between white and minority communities
36:04 Shannon Brownlee on how Black Lives Matter has forced hospitals to focus on health equity
38:24 Dr. Mark Gwynne on how investment in data analytics can help ACOs identify opportunities in populations where there are disparate outcomes
39:11 Dr. Christopher Crow on how health equity in communities can be addressed through reforms in education, health, and business
40:27 Cheryl Lulias on building community-based coalitions to address health equity
42:10 Robert Sepucha on the disproportionate burden of kidney disease in minority populations
42:57 Dr. Edwin Estevez on the vulnerability of the Hispanic population on the Texas/Mexico border and how his ACO focuses on nutrition and health literacy
46:17 Mike Funk on how health plans can address disparities in minority communities
48:15 Dave Chase on the opportunity for social impact investment to creative cooperative structures in disadvantaged communities
48:53 Dr. Mark McClellan on health policy approaches to address health equity
49:30 Andrew Croshaw on how the Biden Administration will define value through health equity