Podcast: Play in new window | Download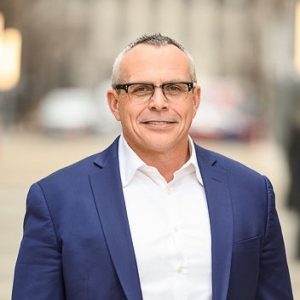 The movement to value-based care will necessitate a major paradigm shift in how physicians practice medicine. They can no longer be "cowboys" in the wild west of fragmented, uncoordinated care delivery where information technology is focused on fee-for-service. Instead of cowboys, we need "quarterbacks", communicating with an interdisciplinary care team and facilitating hand offs across the care ecosystem. In this environment, information technology is like the offensive line, protecting the physician and creating the opening for a meaningful play.
Our guest this week is Dr. Matt Lambert, Chief Medical Officer of Curation Health, an advanced clinical decision support platform for value-based care that drives more accurate risk adjustment and improved quality program performance by curating relevant insights from disparate sources and delivering them in real time to clinicians and care teams. Author of two books, and with more than 20 years of experience as a clinician, CMIO, and change leader in value-based care, Matt's insights will expand your vision of health value!
Episode Bookmarks:
4:00 Physician Workflow Optimization in the movement to Value-Based Care (Cowboys vs. Quarterbacks)
6:30 VBC is requiring providers to optimize workflow to support team-based care (the Quarterback role)
7:00 APIs will enable EHR systems to evolve over time to better support value-based care
7:30 Curating meaningful information (and minimizing noise) to providers at the point-of-care
8:00 Using AI to decrease cognitive load for providers
8:20 "Healthcare doesn't have a data problem. It has a clinical workflow problem."
9:00 Physician Burnout ("a public health crisis that urgently demands action")
10:30 How VBC is changing regulations and documentation standards for electronic health records
12:00 "The CMIO role is the bridge, it's the translator between the clinical world and the technical world."
12:25 NLP models often overwhelm providers with data that is not meaningful
12:45 Reducing disruptions and hard stops in provider workflow with technology-enablement
13:00 Dr. Lambert discusses his own personal experience with physician burnout
14:45 Simplicity as the ultimate form of sophistication and the artful design of clinical documentation solutions
17:00 How healthcare technology companies come short when they don't have strong clinical leadership
18:00 Expanding focus beyond point-of-care to clinical documentation integrity teams
18:30 HCC recapture for risk adjustment and how algorithms can help capture new HCCs
19:30 Using NLP to identify new diagnoses from discharge summaries
20:30 Dr. Lambert discusses a use case for HCC coding optimization with RAF lift to improve ACO performance
21:45 How HCC coding optimization can improve patient engagement and better address SDOH
24:20 Referencing Trenor Williams, MD and his work in SDOH and social risk intelligence
24:45 Social applications of the risk adjustment model
25:45 The impact of COVID-19 on the future of value-based care
26:00 Referencing his recent HIStalk article on subscription revenue models
26:15 Post-pandemic interest from providers in subscription models and VBC
27:00 Deferred care during the pandemic and how that will affect population health
27:50 Risk adjustment over FaceTime and over the telephone
28:30 The similarities between post-COVID healthcare in US and the National Insurance Act of 1911 in the UK
29:30 Post-viral syndrome and long-term sequelae related to COVID-19
33:00 Eric Neil (Chief Information Officer, UW Medicine):  "There are no old and bold CIOs!"
33:45 Providers have the best technology at home but are averse to new HIT solutions in the ambulatory care setting
34:00 A design flaw of the EHR Meaningful Use program that encouraged only platform adoption
34:30 How the Pareto Principle applies to Health Information Technology and workflow automation
36:00 The evolution of technology to develop superior products that are by a CDI prior to the physician.
36:20 Referencing the Microsoft acquisition of Nuance to deliver new cloud and AI capabilities across healthcare
36:50 Alexa use cases in healthcare and the thoughtful design of a use case for voice recognition and AI
38:00 Being thoughtful about investing in an IT infrastructure for population health in the ambulatory care environment
39:20 Referencing Dr. Lambert's book, Unrest Insured
41:00 Comparing COVID-19 with the 1918 Influenza pandemic
41:45 The early origins of health insurance in 1929 and how that compares to current subscription models
44:00 Responding to the pandemic with deregulation of healthcare and the future of Medicare Advantage
47:30 Provider exhaustion and fatigue with COVID-19
49:00 The importance of team-based care to revitalize the PCP landscape
50:15 Home-based primary care and the shifting of incentives to full-risk models
53:00 Leading physician behavior change through alignment of incentives
55:00 Implementing new models of care and retraining the workforce for VBC
56:00 Sustainable provider compensation models related to Medicare Advantage