Podcast: Play in new window | Download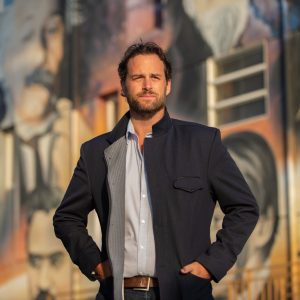 Community-based health transformation can be unleashed by uniting traditional allopathic medicine with lifestyle medicine.  To achieve a vision for population health, we will never change things by fighting the existing reality – we must instead innovate to render that old model obsolete.  On a mission to flatten the curve of healthcare costs, James Maskell has spent the past decade innovating at the cross section of functional medicine and community. To that end, he created the Functional Forum, the world's largest integrative medicine conference with record-setting participation online and growing physician communities around the world. His organization and bestselling book of the same name, Evolution of Medicine, prepares health professionals for this new era of personalized, participatory medicine. His new project, HealCommunity, follows his second book "The Community Cure", makes it easy for clinics and health systems to deliver lifestyle focused care effectively and frictionlessly. He is a high-demand speaker and impresario, being featured on TEDMED, HuffPostLive and TEDx, as well as lecturing internationally.
In this episode, you will learn about the impact of social isolation on chronic disease, functional group medicine, the development of a community layer as a foundation to the population care pyramid, Empowerment Group models, Human Social Genomics and precision medicine, behavior health and psychedelic therapies, and the power of lifestyle-enabled value-based care. Tune in this week to hear from a leading population health economist on a mission to win the Race to Value!
Episode Bookmarks:
01:30 Introduction to James Maskell (Community Builder and Healthcare Entrepreneur)
02:00 Books (Evolution of Medicine and The Community Cure) and theHealCommunity project
02:30 "Community is the most powerful force to transform health.  And Medicine has been slow to adapt to this reality…"
04:30 R. Buckminster Fuller: "You never change things by fighting the existing reality. To change something, build a new model that makes the existing model obsolete."
05:00 Blue Zone Regions and the Roseto Effect
06:00 Is Chronic Disease Reversible?
06:45 "The biggest driver of all-cause mortality is loneliness and social stress."
08:00 "The combination of Lifestyle Medicine and Group Medicine are the potential foundation of the population care pyramid."
08:30 How can insurance be restructured to rebuild the community layer?
09:30 Honoring our ancestry by resolving the isolation of modern living
09:45 The thesis by Raghuram Rahan that technology has ripped apart the fabric of traditional communities
12:00 Inspiration from Dr. Jeffrey Geller and his work with Empowerment Group Models, delivering care and providing social support to underserved populations
14:30 Innovation of medicine at the cross section community and health empowerment (the solution to loneliness)
16:15 Billing, reimbursement, and privacy challenges in implementing group visits
17:30 Value creation and the elegance of the empowerment group model
19:00 The social paradox: people's willingness to share private information on Facebook rather than within a community health model
19:30 Development of skills and competencies for Group Medicine
21:00 The collective trauma of the pandemic has changed the way people engage together
22:30 Removing friction points in group medicine through virtual visits
23:30 The impact of human social genomics in precision medicine, disease prevention, and personalized care pathways
24:45 George Slavich, PhD and his work in Human Social Genomics
25:00 The cellular-level impact of stress and depression related to the loss of a social community
26:00 Is Group Medicine really the opposite of Precision Medicine?
27:30 The vision for Precision Public Health and the work of Dr. Christopher Mote
30:30 America's Behavioral Health crisis and recent Mass Shootings
31:30 A comorbid behavioral health disorder makes a chronic disease cost 2-3 timesmore!
32:00 Emerging research in Psychedelic Medicine delivered in integrative mental health clinics (such as ketamine-assisted psychotherapy)
33:00 An economic perspective on the research related to Group Medicine and theBiopsychosocial Model
35:30 The promise of Psychedelic Therapy on PTSD and other major depressive disorders
36:45 Combining Psychedelic Therapy with Lifestyle Medicine delivered in groups
38:00 Functional Medicine and Knowledge Transfer (the doubling of medical knowledge every few months)
39:30 The hope for the future lies in the value-based care movement
40:00 Functional group medicine outperforms traditional hyper-individualized medicine in treating chronic disease (Cleveland Clinic Study)
42:00 Increased interest in functional medicine due to COVID-19
43:30 The competitive advantage and market economics of the community health model
46:00 Refocusing value-based payment reforms that emphasize clinical models for disease prevention and lifestyle medicine
47:45 Creating a "Lifestyle Medicine ACO" (e.g. Vytalize Health, self-funded employers)
49:30 The work of Dr. David Unwin in reversing Type 2 Diabetes and lowering healthcare costs
52:45 Leading advocates for Lifestyle Medicine (e.g. Dr. Dean Ornish, Dr. Mark Hyman, the ACLM, Mayor Eric Adams)
54:00 "Lifestyle Medicine is the future of Value-Based Care."
55:00 How Governor DeSantis is focused on lifestyle medicine to address COVID-19
56:30 Lifestyle therapeutic interventions (e.g. plant-based eating, physical activity, restorative sleep, stress management, avoidance of risky substances, social connectivity)
58:45 What kinds of social determinants of health can effectively be addressed in the healthcare setting?
60:00 Digital transformation, Dr. Robert Pearl, and the benefits of telemedicine
61:00 Innovations in localized food growing and community-based group cooking
63:00 The threat of the Social Media Metaverse on mental health
67:45 More about James Maskell's work in Value-Based Care and connecting with him on LinkedIn