Podcast: Play in new window | Download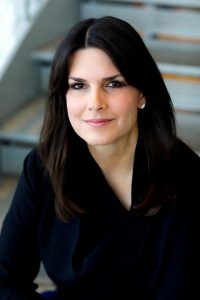 The concept of "accountable care in the safety net" was introduced in a Dartmouth Study published by the Commonwealth Fund back in 2013.  In that study, there were 4 critical success factors outlined for a coalition-based Medicaid ACO: 1) aligned leadership through a shared vision, 2) strong governance, 3) a unified strategy for using data, and 4) a sophisticated care coordination infrastructure.  MHN ACO has exhibited excellence in all four of those areas.
Since 2009, Medical Home Network has served as a beacon for healthcare transformation and collaboration. Established as a formal provider collaborative working to improve healthcare delivery and access for individuals most in need, today MHN leverages a suite of innovative technologies, healthcare expertise, and a passion for improving the provider and patient experience to create practice-based programming that integrates Chicago's delivery system, transforms on the ground delivery and achieves real results.
Cheryl Lulias launched and serves as CEO of the 1st Medicaid ACO in Illinois. The MHN ACO is provider owned and governed by leaders from 12 health care organizations, representing nine federally qualified health centers and three hospital systems. In an ever-changing healthcare landscape, MHN ACO has established itself as a beacon high value, high impact integrated delivery system in the safety net ensuring patients receive better care where and when they need it.
Bookmarks:
4:01 "History of Accountable Care in the Safety Net"  (Reference to Commonwealth study on FQHC coalitions forming ACOs)
5:38 Cheryl shares the history of Medical Home Network and its journey in health value
7:42 Creating a standardized, whole-person model of care centered within a digitally connected, clinically integrated delivery system
8:35 Cheryl discusses MHN ACO's results ($50 million in savings, 24% reduction in inpatient hospital days, 25% reduction in readmissions, 8% reduction in ED visits)
9:51 FQHC resiliency during the COVID-19 pandemic crisis and scaling up of telehealth and virtual care
13:46 Adjusting MHN's AI-powered risk stratification model to identify community members at high-risk for hospitalizations from a COVID infection
16:15 The devastating impact of COVID and the scourge of violent crime, drug overdoses, and suicides impacting Cook County
17:40 Establishing ADT connectivity and real-time alerting with 30 hospitals through MHN Connect Health Information Network
18:21 Data liquidity, supercharged AI predictive models, and the creation of a 360o patient view by integrating data from claims, pharmacy, and health risk assessments
21:04 How prediction of "rising risk" informs MHN's whole approach to care management
26:10 Cheryl explains MHN's collaborative care program that utilizes a decentralized, team-based approach where interdisciplinary care teams are embedded at the practice level
28:26 Cheryl shares a patient success story
31:17 Cheryl counters the skepticism of artificial intelligence by sharing the results of her collaboration with Closed Loop AI
35:22 MHN's commitment to advance health equity and reduce disparities of care through the Racial Equity Rapid Response Team
36:41 The impact of systemic racism and threat it poses on the health of our communities
43:03 Holistic integration of primary care and behavioral health at Medical Home Network
45:43 Cheryl's strategy in forming a Board that decoupled ownership and governance and created a balance of power between the health centers and the hospitals
49:37 MHN's commitment to workforce development for care coordinators and community outreach workers
51:23 The challenges associated with provider and care team burnout in developing the workforce
53:48 MHN's launch of a MoreCare, a Medicare Advantage Special Needs Plan in partnership with Cook County Health
57:09 Cheryl describes the future of medicine and what we need to do to fix a broken healthcare system