Podcast: Play in new window | Download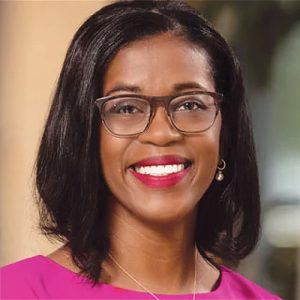 Our guest this week is Dr. Tamarah Dupervahl-Brownlee, Chief Health Officer for Accenture, and recently, Chief Community Impact Officer for Ascension. A Physician leader with 20+ years of experience practicing medicine, she has served in various healthcare leadership roles that focus on optimizing the physical, mental, and financial health and wellbeing of communities.
Dr. Dupervahl-Brownlee is fiercely determined to create and implement strategies for people to thrive and live healthy and well. Throughout her career, she has served as a champion for providing high quality healthcare and advancing health equity that has impacted thousands of lives.  In recognition of that work, she was named by Modern Healthcare as one of the Top 25 Women Leaders in 2021 and one of the Top 25 Minority Leaders in Healthcare in 2020.
She is nationally recognized for her leadership in collaborating with partners across the industry and nonprofit community to advance community health improvement initiatives, with a particular focus on health equity. Her strong patient-centered approach to medicine, with a special interest in women, children, and underserved populations, makes her a clear leader in the race to value.
Episode Bookmarks:
05:30 Dr. Dupervahl-Brownlee speaks to her personal leadership journey
07:30 Lessons in servant leadership and the importance of "stepping out of one's self" and investing in others
08:15 The influence of Dr. Dupervahl-Brownlee's mother, an immigrant from Haiti, who laid a great foundation for her to pursue a career in medicine
11:00 "The pandemics of both COVID-19 and social injustice show us just how inextricably linked we are as people. This is the time to examine opportunities to improve health equity."
13:20 The need to reposition the healthcare workforce to address human pain and suffering
14:20 "Profitability in healthcare has led us astray by ignoring vulnerable communities and creating opportunities to innovate."
16:00 "If we all head a lens of equity, just think about we could do as leaders in healthcare."
17:40 Dr. Dupervahl-Brownlee speaks about how value-based care and emerging payment models can be leveraged to improve health equity
18:20 The leadership of CMS Administrator Chiquita Brooks-LaSure to tackle health equity and better understand the social determinants of health through value-based care
19:30 Understanding how social risk factors and community-based investments to improve population health
20:45 The need for research in patient-reported outcomes to assess how healthcare can help patients thrive
22:40 Referencing her early beginnings practicing medicine in the South side of Chicago and how Social Determinants of Health prevented improvement in patient outcomes
25:00 How structural biases and racism negatively impact health in communities and the need for health policy reforms
26:30 The need for more curiosity and inclusivity in healthcare to know "the rest of the story"
27:45 How we can use data from outside the traditional healthcare system in improving the health of vulnerable populations
30:00 Dr. Dupervahl-Brownlee on the future of hospitals as healthcare moves more towards value and consumerism ("The hospital of today will be extinct in the future")
31:00 The reordering of the healthcare solar system to patient-centeredness
32:00 Referencing her prior work in Patient-Centered Medical Home transformation
35:00 Dr. Dupervahl-Brownlee provides perspective on how our country can achieve better integration of behavioral health in the primary care environment
38:30 The irreparable harm of the pandemic on societal mental health and the use of digital health in integrated care models
41:30 Acknowledging the resilience and fortitude of healthcare heroes during these challenging times
42:30 The importance of physician leadership with a shared and lived experience in practicing medicine to create empowerment within the profession
44:00 Dispersion of leadership to everyone on the interdisciplinary care team
48:00 Strategies for equitable distribution of COVID-19 vaccines and building trust with the "vaccine inquisitive" in vulnerable communities
56:00 Dr. Dupervahl-Brownlee provides parting comments on what success means to her, how to live an authentic life, and importance of following your North Star