Podcast: Play in new window | Download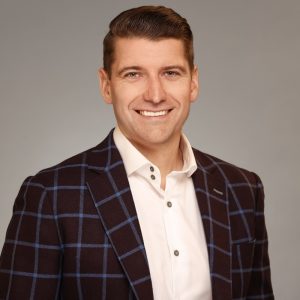 Connecting the health and wellbeing of patients of patients directly to the bottom line isn't just good business; it is a visionary approach that shows how healthier outcomes can actually drive healthier profitability. Continued success in demonstrating the correlation between clinical and financial outcomes will be a catalyst for generating societal wellbeing that paves the way for others to adopt value-based care.  And in doing so, we create a more sustainable and effective healthcare ecosystem. In this Race to Value, the true race isn't about speed; it is about the journey to improved outcomes. Strategic and transformational partnerships guided by an enabling vision to improve population health will ultimately create a healthcare system that we can be proud of.
In this episode, you will hear from Kyle Wailes, the Chief Executive Officer and Board Member of value-based care company, Wellvana.  Kyle Wailes is someone on a mission to demonstrate how fully-capitated models in primary care, empowered by the right partnerships to create enablement, will ultimately drive patient behavior change.  Under his leadership, Wellvana is an industry-leading example of a company that is connecting the healthy outcomes of patients directly to healthier profitability. With the tools, technologies, analytics, and resources for healthcare providers to successfully and seamlessly transition to value-based care, Wellvana is getting outstanding results and growing at an exponential rate for such a young company.  This is highlighted by the recent announcement of their partnership with AdventHealth to revolutionize primary care in the state of Florida.  Don't miss this important interview to learn more about VBC enablement, high-touch primary care and clinical integration, the power of storytelling, patient behavior change, lifestyle medicine, and the current state of private equity investment in healthcare!
Episode Bookmarks:
01:30 Connecting healthy outcomes of patients to healthier profitability.  (A High-Touch Approach for High Performers)
02:00 Introduction to Kyle Wailes, Chief Executive Officer and Board Member at Wellvana.
04:00 Big Announcement — AdventHealth partners with Wellvana to transition its Florida primary care network to VBC
05:00 Wellvana is the first value-based care enablement organization in the country to partner with a multi-state/national health system.
06:00 Kyle provides more details on how Wellvana's recently announced partnership will impact the delivery of healthcare in Florida.
06:30 "Building clinically integrated primary care networks across the country requires flexibility."
07:00 Expanding primary care impact through interdisciplinary roles (e.g. case management, care coordination, pharmacy integration, social work, coding)
07:45 Health systems across the country are extremely distressed with expenses growing 2X as fast as Medicare payments.
09:30 "The pandemic has been an accelerant overall to drive the adoption of value-based care."
09:45 The opportunity to reposition primary care in the health system setting, taking it from loss leader to profit center, as a strategic cornerstone for transformation.
10:00 A health system focused only on fee-for-service can lose up to $200-300K per employed PCP.
10:30 "Clinically integrated primary care networks can drive better clinical outcomes, but they can also drive profit and growth as well."
11:00 Flexibility in growing a PCP network through either an employed or affiliated model.
11:30 Kyle's personal journey as a professional athlete, student of neuroscience, and value-based healthcare executive.
12:30 "The Story of the Chinese Farmer" – a parable that illustrates the idea that events that initially seem bad or good can lead to unexpected outcomes.
14:00 Kyle provides perspective on the highs and lows of life and how that translates to theculture at Wellvana.
15:00 Lessons learned from playing competitive sports (discipline, hard work, and preparation in winning…while also overcoming losses).
16:00 Wellvana has raised $140 million in capital since 2021 and is now in 22 states, reaching more than 100K lives through multiple payers, Medicare Advantage and ACO REACH.
17:30 Building large high-touch primary care networks at scale requires behavior change.
18:15 Aligning a high-quality specialty network with tech-enabled primary care to achieve appropriate procedural utilization and lower costs.
19:00 Merging High-Touch with High-Tech ("Technology as a standalone solution doesn't work well in healthcare today. You have to wrap services around it to drive behavior change.")
19:45 Building Capabilities to Improve Care for High-Risk Patients ("The ability to transition into fully-capitated risk is impossible for a doctor to do on their own.")
20:30 The connection between improved patient outcomes and higher profitability — a patient success story showing how high-touch care management reduced avoidable ED utilization.
22:00 The power of effective storytelling in value-based care transformation.
24:00 Kyle discusses how Wellvana utilizes storytelling to revitalize care teams and provider partners in creating positive change.
26:00 The Challenging Politics of Value-Based Care (differing ideologies, debates about government involvement, conflicting interests and lobbyists, uncertainty about implementation, economic concerns, partisan politics).
27:30 Kyle shares insights from his involvement in advocating for value-based care on Capitol Hill.
28:30 The evidence that fully-capitated models work despite low market penetration in Medicare (e.g. MA <10% full-risk, ACO REACH).
29:00 How Wellvana educates legislators on the importance of frontloading savings payouts and provider aggregation in networks to drive success in fully-capitated risk.
30:00 Advocacy in patient communities is just as important as political advocacy.
31:00 How Wellvana engages and educates patients on the purpose of value-based care and care planning.
32:00 "To win long-term in this industry, you're going to have manage medical spend more effectively. We do this by engaging patients in way that can drive behavior change."
33:30 Wellvana co-founder, Charlie Martin:  "Building a Sustainable Economic Model for Lifestyle Medicine"
34:45 Kyle discusses the importance of Lifestyle Medicine in creating a holistic, patient-centered wellness model.
35:45 Wellvana is conducting a clinical trial study on LM with the goal of applying broader findings that drive behavior change at scale.
37:30 Are investors placing more bets on value-based care enablement?
38:30     The runway for value-based care companies in the current investment landscape and why PCPs relationships are so critical to success.
39:30 Digital health and AI solutions will support primary care value transformation.
40:00 Nashville as the epicenter of healthcare investment.
41:00 ACO REACH as an inflection point for adoption of fully-capitated risk in the primary care setting?
42:00 How fully-capitated models will strengthen the connection between improved SDOH interventions and Health Equity outcomes.
43:45 Kyle discusses the future of Wellvana in terms of continued growth and sustained high performance.
46:00 "Success in value-based care is not about the speed; it is about overall outcomes and finding the right partners to take risk."