Podcast: Play in new window | Download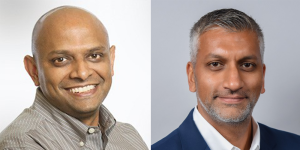 Data interchange and interoperability are the keystones of a united ecosystem for value-based care, where information flows seamlessly, connecting patients, providers, and payers to drive better outcomes, lower costs, and improved patient experience. Overcoming siloed information is the key to breaking down the barriers that fragment care delivery, and in doing so, we unlock the potential for a healthier future for all. While health data interoperability has arguably become an industry buzzword over the past decade, the concept's importance for digital health transformation cannot be understated. The benefits of optimal interoperability in healthcare includes improved care coordination for patients and reduced administrative burden for healthcare payers and providers. Interoperability also supports public health surveillance and population health initiatives that are so critical to value-based care transformation.
In this podcast episode, you will hear from two executives on a mission to unlock greater value in American healthcare by aggregating, normalizing, and unifying data.  Venkat Kavarthapu and Dr. Summerpal Kahlon are the Chief Executive Officer and Chief Medical Officer for Edifecs, a Best in KLAS interoperability platform that serves as the foundation for the solutions that eliminate stakeholder friction to overcome healthcare's biggest challenges. We discuss how interoperability will accelerate value-based payment adoption and help providers obtain more complete and accurate care funding for alternative payment models. We cover such topics as the future of AI, the potential for automated prior authorization, how ACO REACH will drive population health management, and the collaboration that is enabled by technology.
Episode Bookmarks:
01:30 Introduction to Venkat Kavarthapu and Dr. Summerpal Kahlon and their company Edifecs that provides a leading interoperability platform.
04:00 Industry struggles to implement interoperability requirements of the CMS Interoperability and Patient Access Final Rule.
04:30 The benefits of interoperability and how it serves as a foundation for value-based care.
05:30 Venkat discusses how value-based care is the only path forward in creating a sustainable healthcare system.
06:30 The need for data to improve patient experience and quality of care.
07:00  "True value-based care can only be accelerated if information is available to all entities in all three dimensions – clinical, administrative, and financial."
08:00 Exchanging information across organizations and between systems without friction, while ensuring privacy and security.
09:00 How data siloes create healthcare dysfunction.
10:00 Extreme data siloing increases data management costs (25-30% of total cost spent to ensure data accuracy).
10:30 Payer-provider collaboration supports value-based care but is still limited by interoperability adoption.
12:00  "Driving interoperability is not a burden on the industry, but a true competitive advantage for the industry."
12:30 How interoperability reduces administrative burden and the cost of human capital.
13:45 "An interoperability framework can drive a meaningful dialogue, and communication is key to driving good patient outcomes."
14:30 Summer describes how an overly-fragmented healthcare system that still relies on fax machines contributes to data inaccuracy.
16:00 Emphasizing data accuracy within an interoperability framework ensures patient safety.
16:30 How Natural Language Processing and AI can provide context and improve communication at the point-of-care.
19:00 CMS Advancing Interoperability and Improving Prior Authorization Processes Proposed Rule
20:00 The need for fully automated Prior Authorization (PA) enabled by EDI processing, FHIR-based APIs, AI/ML, and NLP.
21:45 Electronic PA will foster payer-provider collaboration and drive clinical decision support.
23:30 PA transactions are only automated 30% of the time at present (compared to 90% or more for claims eligibility, enrollment payment, etc.)
24:30 The value of PA automation in alleviating physician workflow burden.
26:00 Implementing an electronic Prior Authorization system will enhance clinical decision support (without adversely impacting UM metrics).
27:45 Correcting physician perspectives on value-based technology adoption following bad prior experiences in EHR adoption.
29:00 Venkat discusses the challenges facing providers as they look to adopt technology to drive value-based care performance.
31:00 Physicians can only succeed in value-based care when empowered by information at the point-of-care.
33:00 "Providers need systems and technology to participate in the value-based care revolution."
34:45 Summer provides a physician perspective about the friction posed by documentation in EHRs.
36:00 Structured data vs. Unstructured data
36:45 The potential for Natural Language Processing in extracting information from EHR notes to tell a story.
37:30 "As we transition to value and look to enhance communication through technology, NLP is going to be front and center."
38:00 ACO REACH as inflection point for the value movement.
40:00 The transfer of financial risk to ACOs and Risk-Bearing Entities.
42:00 The need for real-time data exchange from payers to providers.
43:00 Making it easier for technology to integrate into the value-based care ecosystem.
45:00 Applying lessons learned in the development of new alternative payment models.
46:00 The evolution towards full risk prospective payment/capitation and disease-specific models.
47:30 Developing a Population Health Management platform that accommodates both existing and new payment models.
49:30 The explosion of ChatGPT and the potential for Generative AI to drive healthcare transformation.
51:00 Venkat shares his optimistic perspective on the future of AI in transforming care delivery.
53:00 "By leveraging interoperability, AI and workflow optimization, the industry has a potential to lower costs and save Medicare from insolvency."
54:45 AI works best when it runs behind the scenes and is invisible to the end user.
56:00 AI has a role to play in eliminating the noise from extremely large, disparate datasets.
58:00 Summer discusses a successful use case for effective AI and NLP in the risk adjustment environment.
60:30 Leveraging AI to mitigate inconsistencies with human-based coding (upwards of 15% observed variance between two coders).
65:00 4 characteristics of Industry transformation: 1) Existential Threat to current model, 2) Regulatory Environment favorable to transformation, 3) Technology advancement, 4) Consumerism
66:00 Why you should be optimistic about the future of value-based care!