Podcast: Play in new window | Download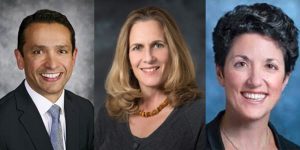 In this thought-provoking episode, we delve into the transformative world of value-based care, exploring the multifaceted facets that are reshaping the future of healthcare. Join us as we dissect the vital components of this paradigm shift, from tackling social determinants of health and championing health equity, to seamlessly integrating behavioral health into patient care.  Discover how population health enablement is empowering communities, while bundled payments revolutionize the healthcare landscape. We'll also uncover the incredible role of technology and patient outreach, enabling unprecedented levels of personalized care and accessibility. And lastly, we navigate the critical importance of physician engagement, a driving force behind the success of value-based care. As we peer into the crystal ball, we envision the future role of hospitals, embracing change and embracing innovation.
Joining us in the discussion this week are three important thought leaders in value-based care transformation:
Dr. Caroline Goldzweig, Chief Medical Officer – Cedars-Sinai Medical Care Foundation
Cynthia Deculus, Vice President and Chief Population Health Officer, Cedars-Sinai
Dr. Michael Conseulos, Vice President Strategy, Growth, and Innovation Consulting at OptumInsight
Get ready to be inspired as we illuminate the path toward a healthier, fairer, and more compassionate healthcare system. The journey starts now!
---
This week's episode is brought to you by Edifecs – an EMR-agnostic, interoperable, and AI-enabled technology helps providers unify and utilize data for a more complete digital portrait of patient populations. The result: better clinical, financial, and compliance outcomes.  To learn how Edifecs' applications can enhance prospective risk adjustment and value-based contract performance, visit edifecs.com today.

Episode Bookmarks:
01:30 To learn how Edifecs' applications can enhance prospective risk adjustment and value-based contract performance, visit www.edifecs.com  today!
02:30 This we ek's episode is all about the VBC paradigm shift –from tackling SDOH and championing health equity, to seamlessly integrating behavioral health into patient care.
03:30 This week's guests are Dr. Caroline Goldzweig (Cedars Sinai Medical Foundation), Cynthia Deculus (Cedars Sinai) and Dr. Michael Consuelos (OptumInsight)
04:30 Support Race to Value by subscribing to our weekly newsletter and leaving a review/rating on Apple Podcasts.
05:15 "The true measure of any society can be found in how it treats its most vulnerable members."  – Mahatma Ghandi
06:45 "We are finally seeing major movement in the direction of healthcare providers addressing social determinants of health."
09:00 "There is so much more to making people healthy than just writing a prescription.  We must begin to impact how patients are living."
11:00 Cynthia discusses how Cedars Sinai is helping patients navigate the totality of health and social needs, especially dual eligible Medicare patients.
14:00 Patients who have a chronic disease have a three to four times higher frequency of behavioral health comorbidities.
14:30 Cedars Sinai Collaborative Care Model – an overview of how Cedars Sinai is integrating behavioral health in the primary care setting.
16:45 How Care Teams at Cedars Sinai coordinate transitions of care and prevent ED overuse for patients dealing with a behavioral health condition.
18:00 Behavioral health provider workforce challenges and the role of technology and education to fill the void in providing whole-person care.
20:00 Depression screenings in primary care and the need for more inpatient psychiatry beds in the acute care setting.
22:00 34% of all deaths from cancer could be prevented if disparities in access to care were eliminated!
22:30 Cedars Sinai identified an opportunity to improve health equity in their treatment of cancer patients.
23:30 The need for personalized screenings and treatment for cancer.
24:45 Ensuring access to clinical trials for underserved patients with cancer.
25:30 The recruitment of peer champions to overcome cancer screening disparities in Cedars Sinai employee population.
27:00 The need to improve healthcare access to cancer screenings and treatment for underserved populations.
29:00 Offering screenings at low or no-cost to underserved patients prior to accessing Medicare! (An absolute imperative!)
30:00 Population Health Enablement (e.g. interoperability, registries, staffing, EMR automation, PAC partnerships, workflow optimization, AI, patent outreach tools, RPM)
31:00 Dr. Consuelos on the importance of balancing VBC maturity and risk tolerance with the development of a population health infrastructure.
33:00 Developing a value-based care roadmap that includes both enablement and partnership strategies to drive growth and margin.
34:00 Identifying and understanding your population (and providers) before developing a population health enablement infrastructure.
36:00 The reality of technology deployment and workflow optimization.
37:30 Obtaining buy-in for a standardization effort is a critical change management process.
38:00 Understanding your value proposition for success in accountable care.
40:30 Engaging clinical champions for success in bundled payments for clinical-defined episodes of care.
42:00 Establishing a CHF post-discharge clinic with interdisciplinary care teams as a model to improve clinical outcomes.
43:00 "When value becomes more about doing the right thing for patients, you can catch the attention of every physician (including specialists)."
44:00 How bundled payments requires a population health perspective (instead of individualized patent transactions).
45:30 Advice for provider organizations that are slow to move to value-based care.
46:30 Specialists are increasingly becoming more and more activated in VBC through the launch and/or redesign of CMS Alternative Payment Models.
49:30 "Addressing healthcare workforce burnout is about reconnecting with purpose at the organizational level."
52:00 Value-based care as an opportunity to address burnout in primary care.
53:00 Transparency and inclusivity as vital components to an organizational culture.
53:30 The power of storytelling in value-based care transformation.