Podcast: Play in new window | Download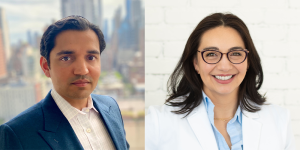 In this week's episode, we embark on a journey into the realm of transforming rheumatology care with tech-driven value-based care. Autoimmune conditions affect millions of people worldwide, causing chronic inflammation, pain, and a host of complex challenges.  These patients often receive substandard care, as it takes almost 2.5 years to receive a diagnosis and patients often wait six months to receive an appointment with a rheumatologist!  This is often a neglected patient population in the movement to value-based care, but what if there was a new frontier of care that leveraged technology and a value-based approach to transform the lives of those living with autoimmune conditions?
This podcast explores how a virtual specialty practice, centered on improving patient outcomes and reducing healthcare costs, is driving the transformation of rheumatology care.  We are joined today by Anuj Patel (Founder) and Dr. Elizabeth Ortiz, the CEO (Chief Medical Officer) from a new startup company called Motto Health. Anuj is a seasoned digital health innovator and operator with over 15 years of experience in the healthcare industry. And Dr. Elizabeth Ortiz is a board-certified rheumatologist with patient care experience ranging from large public medical centers to concierge practices.
Episode Bookmarks:
01:30 Where does rheumatology care intersect with the world of value transformation?
02:45 Introduction to Anuj Patel and Dr. Elizabeth Ortiz, the Founder and Chief Medical Officer respectively for Motto Health.
03:30 Support Race to Value by subscribing to our weekly newsletter and leaving a review/rating on Apple Podcasts.
05:00 The rheumatology workforce faces a deficit of physicians trained to provide high-quality care to patients with rheumatic diseases (only 0.5 rheumatologists per 100,000 people).
06:00 Chronic inflammatory conditions are very expensive to treat (e.g. the average healthcare cost for a patient with Rheumatoid Arthritis is $32k per year).
06:30 Why aren't ACOs and other Risk Bearing Entities actively addressing this patient segment like they do patients with diabetes, CHF, COPD, or even kidney disease?
06:45 The epidemiological fragmentation of chronic diseases across the care delivery landscape.
07:30 Lack of overall marketplace adaptation in rheumatology care and treatment (e.g. specialty pharmacy injectables) to the shift in value-based care.
09:00 The wide breadth of conditions in the specialty of rheumatology and how that creates a "black box" for other physicians to understand.
10:15 Patients waiting so long to see a rheumatologist that it takes, on average, 2.5 years for a patient to receive a confirmatory diagnosis!
10:30 Rheumatology provider shortage worsening (50% of adult and 32% of pediatric rheumatologists projected to retire over the next 10 years).
11:30 The window of opportunity for clinical outcomes improvement if chronic autoimmune and inflammatory diseases are diagnosed early.
12:30 Limited capacity for rheumatologists to see new patients due to long persistence of disease and the shortage of providers.
13:00 How virtual care can increase access by offloading the maintenance burden of managing a large patient panel.
13:30 Enablement of expanded geographic access through a virtual care model.
13:45 "Virtual care delivery can democratize access for patients in need of rheumatological care."
14:00 In Texas, 213 of 254 counties in the state do not have a practicing rheumatologist leading to 5M people without access to care.
14:45 A huge opportunity in value-based rheumatological care is to tackle the exorbitant specialty drug costs for drugs like Remicaid or Humira that have an annual cost of $70k.
15:00 Mark Cuban's online pharmacy announced that it will be selling a biosimiliar of Humira for a steep discount.
15:30 Since 2016, AbbVie has raised the price of Humira 30X from $522 per syringe to $2,984 per syringe.
17:30 Biosimiliar adoption should not be over-indexed in value-based care. We must first prioritize site of care and treatment plan adherence.
18:30 Inpatient hospital settings cost much more for drug infusions. (VBC opportunity to shift infusions to the practice setting.)
19:15 The importance of an integrated Lifestyle Medicine model in managing chronic inflammatory conditions.
20:00 Dr. Ortiz explains how biologics have changed the landscape of rheumatology care.
21:00 The factors to consider when safely titrating a patient off of an expensive biologic drug.
22:00 Sleep and stress management are more important than diet when controlling an autoimmune condition.
23:00 The prevalence of Rheumatoid Arthritis among employees can lead to a substantial burden on employers in terms of productivity loss, absenteeism, and healthcare costs.
25:00 Providing better access to rheumatology care for employers providing health benefits to their workers.
26:30 Treating patients sooner leads to lower healthcare costs and improved workforce productivity for employers.
27:00 Rheumatological care requires more than just the specialist – the need for physical therapy and diet and health coaching.
28:00 Allostatic load (the cumulative physiological wear and tear on the body that occurs in response to chronic stressors) impacts inflammation.
28:30 The connection between allostatic load and inflammation as a contributing factor to health inequities in underserved populations.
29:30 Dr. Ortiz discusses the relationship between stress and autoimmune conditions; however, stress management is underutilized as a treatment tool.
30:00 Allostatic load over time can actually lead to the development of an overactive immune system which then, in turn, leads to an autoimmune disease.
30:30 Adverse childhood events, PTSD, and the stress of discrimination leading to more severe chronic diseases in African American population.
31:00 How do stressful social structures lead to devastating outcomes with Lupus in African American populations?
33:00 "The data shows that diet, stress management, sleep, exercise, and a sense of community all favorably impact clinical outcomes with Rheumatoid Arthritis."
34:00 The benefits of an anti-inflammatory Mediterranean diet and exercise in managing inflammatory conditions.
34:45 The importance of health coaching in implementing lifestyle programs to improve patient engagement and accountability.
36:00 Longer life expectancy in Blue Zone regions due to improve connection with community.
36:45 The psychological impact of social isolation during COVID-19.
37:00 Research shows how chronic inflammation can significantly impact mental health and increase the risk of developing depression and anxiety disorders.
38:30 Dr. Ortiz discusses the bidirectional relationship between inflammation and mental health and how mental health issues complicate patient outcomes.
40:30 How Motto Health's virtual care platform brings additional benefits of team-based care and scalability in rheumatology care and mental health support.
41:30 Combining collaborative and longitudinal care to reach an inflection point in the virtual delivery of behavioral health care.
43:00 Dr. Ortiz on the essential role of rheumatology care and other specialties in understanding and addressing Long COVID.
45:00 Challenges to expand rheumatological capacity – no increases in fellowships in practice and over half of the rheumatologists in practice are experiencing burnout.
45:30 Enhanced partnership between rheumatology and primary care to alleviate lack of rheumatological capacity.
46:00 The need for more integrated services that are reimbursable to improve care of autoimmune patients.
47:00 Medical education costs and high student loan debt burden causes a shortage of rheumatologists.
47:45 Anuj shares his vision for the value-based future for rheumatology care.
48:45 How capitation arrangements and incentives alignment creates a long-lasting, longitudinal care model in rheumatology.
50:45 What is Motto Health and how does it bring VBC and consumerism to rheumatological specialty care?