Podcast: Play in new window | Download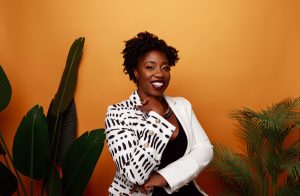 We have Dr. Omolara Thomas Uwemedimo as a guest on this week's Race to Value! She is a healthcare social entrepreneur, board-certified pediatrician, community health equity consultant, career transition and business coach, public health researcher, and health justice advocate. She is currently the CEO and Co-Founder of Strong Children Wellness, a multi-award winning healthcare practice in New York City, providing integrated, physical, mental, and social health services for low-income communities of color.
Back in 2019, Omolara lost her ability to walk. She was diagnosed with Multiple Sclerosis, a chronic autoimmune condition. During her recovery, she became a staunch wellness advocate for women of color who in healthcare often experience disproportionally higher rates of chronic disease due to weathering – the deterioration of one's health due to medical racism and toxic environmental stress in the workplace and in society.  In response, she founded "Melanin and Medicine", a community health equity consulting and social entrepreneurship company that helps women of color thrive by building purposeful careers within healthcare enterprises.  She also has a weekly podcast called "Funding Your Healthcare Vision" that helps visionary leaders of health centers & practices to secure grants, contracts and other funding to strengthen, scale & sustain their vision, mission & impact to support under-resourced communities of color.
With her leadership insights, you too can break the barriers to health justice by building a healthcare social enterprise built on CBO partnerships and social impact innovation!
Episode Bookmarks:
01:30 Introduction to Dr. Omolara Thomas Uwemedimo (CEO and Co-Founder of Strong Children Wellness, founder of Melanin and Medicine, and host of Funding Your Healthcare Vision).
04:00 The intersection of Social Entrepreneurialism and Value-Based Care, where private profit creates public good.
06:30 The difference between "health equity" and "health justice".
07:00 Creating health justice for a psychosocially complex Medicaid patient population dealing with social and mental health challenges.
07:30 Working with grant partners and Community Benefit Organizations (CBOs).
08:30 Closing the loop between physical health and social determinants of health (SDOH).
09:00 Overcoming a flawed business model by moving physical health care delivery into the CBO setting.
09:30 Aligning the public health interest in patient outcomes with economic incentives.
09:45 How healthcare capitation (PMPM reimbursement) merges with philanthropy dollars to drive holistic care delivery.
10:00 "The collective impact of capitation and philanthropy is the precipice of an integration model that makes an impact with payers and patients."
11:00 The majority of healthcare organizations are not conducting place-based interventions to improve health equity and create health justice.
12:30 The fatigue of healthcare providers dealing with under-resourced communities.
13:30 Starting with the patient first by addressing the referral process in addressing social health needs.
14:00 Developing a social navigation workforce as a baseline to deliver primary care to Medicaid populations.
15:00 Funding a healthcare social enterprise through embedded CBO partnerships ("reverse integration").
16:00 "We thought we were dealing with psychosocially complex patients until we integrated our care model with CBOs.  This in where the impact can be made in VBC."
16:30 Identifying the right community organizations (e.g. homeless shelters) in creating a holistic care model.
17:30 Securing over $2 million in grant funding within a community health network and working with other BIPOC, women-led healthcare practices to create sustainable health justice.
19:45 "Human social organizations are an essential leader in health.  We must think beyond the delivery of care when building a mission-driven healthcare social enterprise."
20:00 What is in your arsenal beyond just clinical care? (e.g. community health education, training staff in patient counseling).
21:30 Making the math "work" with your targeted patient population (e.g. underserved youth, undocumented immigrants).
22:30 Using your innovative advance primary care model to pitch potential funders.
24:00 An example of the largest Medicaid payer in New York offering a PMPM for patient navigation services.
26:30 The "interrogation phase" of a healthcare business model to identify strengths, values, virtues, vulnerabilities, and threats.
27:45 Finding operational gaps in the social and cultural responsiveness of staffing to address community needs.
28:45 Evaluation of profit margin and financial burn rate to best understand scale and impact in population health.
29:00 Leveraging technology for virtual care efficiency.
29:30 Progression to the "innovation phase" with verifiable frameworks developed in due diligence.
30:00 Focusing on optimizing one service line at a time (e.g. outsourced clinical delivery, consulting, provider training, decentralizing information).
31:00 The importance of an evidence-basis in developing a fundable community vision.
31:30 The "identification phase" within a community needs assessment to identify the right partners.
32:00 The Five M's:  Market Buy-in, Mission Alignment, Money, Management focused on justice, and Missing services?.
33:00 Connecting with key stakeholders to make an elevator pitch for funding.
33:45 Co-creating a collaborative partnership and implementation of an integrated model.
34:00 Setting up a legal structure and the necessary agreements for a successful CBO partnership.
36:30 Conducting pre-visit screenings and risk assessments for social and behavioral needs to help families navigate the services enrollment process.
38:00 The ethical balance of conducting comprehensive screenings with the capability to actually implement the necessary SDOH interventions.
38:45 Supporting nurse educators and patient navigators in seeing SDOH in the same way as they see vitals.
39:30 "Knowing a BP is just as important as knowing that a patient is positive for a Food Insecurity screen. The navigators are the linchpin, and the care coordinators are the glue."
41:00 Not a single CBO partner can handle everything for a patient. (The importance of having both a referral and a follow-up process.)
43:00 The Medicaid Health Home program in New York as a laboratory to pursue social impact innovation.
45:00 Negotiating a Medicaid PMPM model to deliver population health and subsidize navigation in FFS.
46:30 The New York 1115 Medicaid Waiver to provide subsidies to Regional Health Information Organizations (RHIOs).
47:00 An inflection point in VBC:  The people in clinical care are not always the ones to ensure population health justice.
48:45 Cultural competence as the bedrock of a great patient-provider relationship.
50:00 Referencing a recent study that shows that black patients receiving care from black residents had lower all-cause mortality rates and longer life expectancy.
51:00 How can white-owned or white-led healthcare organizations become more culturally responsive?
52:00 Diversity, Equity, and Inclusion (DEI) to best support patients and families in medical decision-making.
53:00 Preventing burnout with BIPOC Founders as a key to save Primary Care and build Health Justice.
54:00 The recent suicide of Dr. Nakita Mortimer, a black female Anesthesiologist, as a cautionary tale for BIPOC physician burnout.
55:45 A personal patient story that illustrates how social impact funding transformed the life of a child and his family.
60:00 How to reach out to Dr. Omolara to learn more about how to build a healthcare social enterprise.