Podcast: Play in new window | Download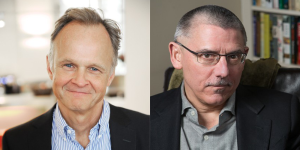 The only way for the health care sector to sustainably contain costs and fulfill its mission is by putting the patient — and the delivery of outcomes that matter to patients — at the center of the industry's efforts. We must align incentives around the continuous improvement of health outcomes in a cost-effective matter. This is what value-based health care is all about – better health outcomes to patients for the money spent. Contrary to traditional approaches to health system reform that emphasize cost containment, value-based health care shifts the focus to continuous improvement in the outcomes delivered to patients.
On the Race to Value this week, we are joined by two of the four authors from the new healthcare book, "The Patient Priority". With this book, they wrote a practical step-by-step guide for clinicians, payers, policymakers, and other industry stakeholders to lead patient-centered, value-based health care innovation. It presents case studies from leading innovators and provides a roadmap for the comprehensive value-based transformation of national health systems. On the show this week is Stefan Larsson, MD, PhD — an independent advisor in health care and life sciences, and a senior advisor to Boston Consulting Group (BCG).  Joining him is Robert Howard, a former senior editor at Harvard Business Review and MIT Technology Review who collaborates with BCG on the topics of value-based care and health system transformation.
Episode Bookmarks:
01:30 Putting patients first is the only way for the health care sector to sustainably contain costs and fulfill its mission.
02:00 Introduction to Stefan Larsson, MD, PhD and Robert Howard and their new book, "The Patient Priority."
03:00 Support Race to Value by subscribing to our weekly newsletter and leaving a review/rating on Apple Podcasts.
04:30 The Triple Crisis:  There is a Crisis of Value, a Crisis of Evidence, and a Crisis of Purpose in American Healthcare!
05:30 How the vicious cycle of how a continued explosion of medical research knowledge drives higher costs due to anxiety and lack of guidance.
07:00 The crisis of outcomes (e.g. obesity, declining life expectancy) have persisted over a long period of time.
07:30 "The health care crisis will only get worse unless there is a fundamental shift in how we lead, define success, and agree on what good looks like."
08:00 The criticality of shifting to an outcomes measurement model that values what matters to patients.
08:30 "Outcomes that matter to patients is the essence of the future of health care."
09:00 Why the value-based care movement should focus more on the system than the individual provider organizations.
09:30 "The only way individual organizations can sustain value-based change is if we transform health systems as a whole – on a regional, national, and even international level."
10:00 Health care is a complex adaptive system, and you don't change it through rules-based policy.
11:00 "Measuring outcomes in accordance to what matters to patients should be the key metric to drive change in health care."
12:30 This importance of clinical registries that collect comprehensive data on health outcomes in a population of patients with the same condition.
13:00 How a fragmented specialty-dominated healthcare system limits our ability to develop consensus standards for measuring outcomes that matter to patients.
15:00 "By measuring the outcomes that matter to patients, we take a holistic view of health care.  We can then integrate all the different professional capabilities in the most ultimate way."
15:45 The important work of the International Consortium for Health Outcomes Measurement (ICHOM).
16:00 How Sweden is a driving force for the international adoption of patient-centered outcomes measures and clinical registries.
17:30 Why a health care comparison of Sweden to the United States is relevant. (Patient needs are the same!)
18:00 Stefan discusses how his partnership with Michael Porter led to the development of global standards for health outcomes measures through ICHOM.
18:45 A health system's scientific approach for improving patient outcomes with acute myocardial infarction.
19:30 Outcomes measurement as a holistic approach to team-based, value-based care.
20:00 A decade of ICHOM's work in leading a global movement for the adoption of standardized patient reported outcome measures.
21:30 "Patient registries are so much more than databases.  They are systems for continuous improvement and accelerate learning for professional communities."
23:00 How the Cystic Fibrosis Foundation and Kaiser Permanente are excellent examples of how patient registries can be utilized in the U.S for continuous improvement.
24:00 The work that Blue Cross Blue Shield of Michigan is doing to propagate best practices in outcomes measurement.
26:00 Three leading exemplars that have a patient-focused approach to care delivery: Martini Kiinic (Germany), Oak Street Health, and Kaiser Permanente.
27:00 What can value-based care leaders learn from a prostate cancer clinic in Germany?
28:45 How incumbent healthcare organizations can utilize patient segmentation, accountability, and expert consensus in establishing outcome measurement goals.
29:30 Examples of how Cleveland Clinic and the Karolinska University Hospital (Sweden) completely reengineered healthcare delivery around specific patient groups.
30:00 "Defining success in outcomes measurement provides more autonomy to clinical care teams and allows them to organize around patients instead of specialties."
30:30 Bridging fragmentation by coordinating care delivery along the provider chain.
31:00 How Martini Kiinic (Germany), Oak Street Health, and Kaiser Permanente are different but the same (e.g. focus on population segments, team-based care, data-driven).
33:45 A deeper exploration into patient-focused outcomes measurement and the team-based culture at Oak Street Health.
35:30 How Kaiser Permanente started a bus line to help unemployed patients access transportation so they can find employment.
37:30 Four examples of value-based change management:  Santeon, Erasmus MC (both in the Netherlands), Karolinska University Hospital, Intermountain Healthcare.
38:30 Visionary Leadership in value-based care transformation.
39:00 Martini-Klinik's founder, Hartwig Huland, made the decision to focus narrowly on one field, prostate surgery, to lead the organization in VBC transformation.
41:30 An example of the transformational leadership of Marc Harrison (former Cleveland Clinic Abu Dhabi and Intermountain CEO).
42:30 Defining the strategy in value-based health care and navigating change management during system transformation.
43:00 Accepting responsibility beyond your own institution to improve the overall health system.
44:00 How Toby Cosgrove led both system-level and national health care transformation.
44:30 "Value-based health care can't be done in isolation. It can only happen at scale when all stakeholders are aligned. Leaders must transform beyond the borders of their institution."
46:00 Transformation VBHC can also happen from leadership in the middle of the organization.
50:00 The evolution of value-based payment innovation – from Medicare Advantage in the U.S. to experimentation with bundled payments in health systems around the world.
51:30 What does the transition from volume to value really mean?  (It won't work unless it is holistic with payment focused on outcomes.)
53:45 The correlation between outcomes measurement reporting and payment models like Medicare Advantage capitation and episode of care bundles.
56:30 "In the U.S., value-based health care is all too often reduced to risk-based contracting.  Our view is that this is an oversimplification."
57:30 "Medicare Advantage is a stimulus to value-based care innovation, but it still needs to become more connected to systematic outcomes measurement."
58:30 The testing of payment models by CMMI shows mixed results.  The Innovation Center Strategy Refresh emphasizes an increased focus on outcomes measures.
61:00 Continued challenges in healthcare with data siloing and limited interoperability.
62:00 The need for data sharing to overcome health care complexity necessitates public-private investments in data security.
63:00 Additional investments in interoperability and health care informatics.
64:00 Artificial Intelligence and Machine Learning in patient outcomes for improved population health.
65:00 The ubiquitous use of outcomes measures through digital learning platforms will transform the health of the world.
66:00 CORAL:  Community in Oncology for Rapid Learning (an example of a leading AI-based digital learning platform at a global level).
67:00 The moonshot opportunity for value-based health care is not unlike John F. Kennedy's 1962 decision to land a man on the moon b the end of the decade.
68:00 "The beauty of a patient-centric and outcomes-focused approach to health care is the alleviation of human suffering for all citizens across the world."
69:00 The global approach to health care reform is not overly optimistic – it can be achieved.
71:00 COVID-19 has broken down pathways to international collaboration, yet there are countless examples of local innovation.
72:00 Imagining a world where heroic clinicians unite to form a better health care system.