Podcast: Play in new window | Download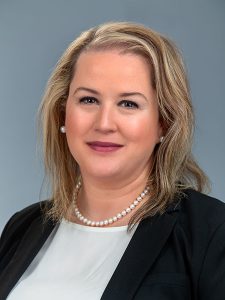 In value-based care, we have both an economic and a moral imperative.  What's at stake is so much more than saving our healthcare system. It is about ensuring the continued prosperity of our nation to ensure that we leave it better for future generations. The best indicator of whether our country is on the right path is the assurance that healthy mothers can give birth to healthy children. And those children, in turn, must be assured of good care and a sound education that will enable them to face the challenges of a changing world. If we could have but one generation of properly born, educated, and healthy children, many of the insurmountable problems in our country would vanish in our lifetimes.
This week on the Race to Value, you are going to hear from a value-based care leader who is boldly moving beyond with a call to action to serve our nation's youth. Karen Wilding, the Chief Value Officer at Nemours, is on a passionate pursuit of the Quadruple Aim, and her health system is redefining children's health in our country. Nemours Children's Health is truly "leaning in" to the promise of population health by transforming the very definition of what it means for children to be healthy. And their value journey reflects a bold vision to create the healthiest generations of children that will take us beyond medicine by ultimately impacting the world. If you are looking for an example of inspirational leadership in value-based care, look no further than Karen Wilding and the Nemours Children's Health System!
Episode Bookmarks:
01:30 "If we could have but one generation of properly born, educated, and healthy children, many of the insurmountable problems in our country would vanish in our lifetimes."
02:30 Introduction to Karen Wilding, the Chief Value Officer at Nemours Children's Health
03:00 Support Race to  Value by subscribing to our weekly newsletter and leaving a review/rating on Apple Podcasts.
05:45 Karen describes the whole-person care orientation at Nemours and how the mission of "Well Beyond Medicine" guides their value-based care journey.
06:45 Social Determinants of Health (SDOH) screening in underserved populations to expand care network and create community partnerships.
07:45 Driving "macro-system impact" as an anchor institution (e.g. best practice clinical research, cross-sector partnerships, health equity investments)
08:30 Health Equity opportunities in pediatric whole-person care (e.g. teen birth rates, preventative care access, infant mortality rates…and even household income).
09:00 "Well Beyond Medicine is a commitment to not just care for the medical aspects of children – we also care for the larger health ecosystem to create whole-child health and healthier generations."
11:45 "Payment transformation is foundational to being able to create sustainability in value-based care."
12:30 Karen explains how the fee-for-service infrastructure does not align incentives for healthy outcomes (e.g. asthma exacerbations with children in Delaware).
13:30 "Investing in children's health is the single most important thing we can do as a society." (balancing present-day economics vs. future economics).
14:45 Partnering with payers to pursue health equity transformation and the importance of community-based investments.
16:45 Nemours has been utilizing Community Health Workers to conduct SDOH screenings and individualized interventions through a culturally competent care model.
17:45 Karen explains how the interdisciplinary care team at Nemours works together to capture, assess, and address SDOH barriers.
18:45 The importance of enterprise-level buy-in when launching a SDOH population health strategy.
20:30 Overcoming fears and concerns of families in sharing personal information about their social barriers.
21:00 The creation of a national toolkit on whole-child population health and how Nemours is collaborating with policy stakeholders at the federal level.
23:30 "We want to be where children live, learn, play, and grow.  In order to address health in communities, you need partnerships."
24:00 The role of virtual care and home health in a community-based ecosystem.
25:00 Karen describes how Nemours provides physical and behavioral health services in partnership with elementary schools.
26:00 Working with CBOs and faith-based organizations to address SDOH barriers in communities.
27:00 Partnering with government agencies (e.g. juvenile justice, CPS) to elevate the health of vulnerable children.
28:30 The focus of Nemours leadership in technology innovation to develop the system's EHR infrastructure and digital, consumer-centric strategy.
30:45 Karen discusses the importance of technology enablement to drive population health through an omni-channel patient experience.
32:00 EHR optimization to drive clinical decision support at the point-of-care.
32:30 Leveraging analytics to bridge the clinical and claims data experience.
33:00 How the MSSP empowered healthcare organizations through the provision of claims data. (Medicaid data in children's health is not the same.)
34:00 The need for national data standards to have consistency with all payers in the country.
35:45 1 of 6 children between the ages of 6 and 17 has a treatable mental health disorder, yet only around half ever receive treatment.
36:45 The pandemic created an increase in childhood Emergency Department utilization (25% increase in children 5-11, 30% increase in adolescents 12-17).
37:00 40% of children are living with anxiety and 45% are living with behavioral health disorders.
37:45 How Nemours is handling the pediatric behavioral health crisis through clinical integration, telepsychiatry, and digital mental health tools.
38:45 Behavioral health diagnoses is 17% more prevalent in a Medicaid population.
40:00 Referencing Daniel Dawes ("The Political Determinants of Health"): We would save over $300 billion per year if we were to eliminate American racial health disparities in our healthcare system.
40:30 Black children are 3X more likely to die in infancy than white children, 7X more likely to die from asthma attacks, and more than 3X more likely to die after elective outpatient surgery than white children.
41:00 Disparities in household income based on race and how that contributes to teen birth rates and health inequities.
42:00 Nemours commitment to equity through program development to ensure education and access.
43:00 The Chief Health Equity Officer role supports health equity transformation, community partnerships, and workflow process changes.
45:00 How payment disparities and demographical attributes between Medicaid and commercially-insured pediatric populations may contribute to health disparities (ex: asthma).
45:45 Designing a whole-person care model to ensure every child is given optimal treatment regardless of their health insurance status.
47:00 Integrated behavioral health in the primary care setting needed to make timely interventions.
49:30 Parting thoughts on the meaningful and impactful work of value-based care transformation and how that provides the passion for service-oriented leadership.