Podcast: Play in new window | Download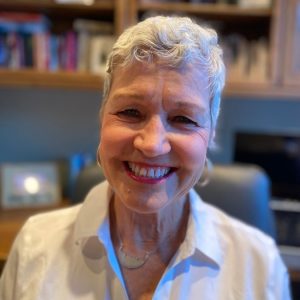 Are you ready to climb the mountain and reach new heights for a transformative future?
In the "race to value", the mountain climber must not be intimidated by the steep terrain of a broken healthcare system. Instead we must look within ourselves, while also finding inspiration from others, to keep climbing! The ultimate summit of value transformation is what drives us, but the climb itself is what matters. If you are looking for inspiration in your value journey, look no further than our guest this week, Debbie Welle-Powell. Debbie is a healthcare thought leader, educator, national speaker, and content expert in delivery systems, clinical models of care, population health, and digital care. She is also an avid mountain climber, having attempted three of the Seven Summits while also reaching the summit of all 58 of Colorado's 14,000 peaks. She has also climbed Mt. Rainer in in Washington and Grand Teton in Wyoming and, she has climbed peaks in Bolivia, Mexico, France, Argentina, and Mt. McKinley in Alaska. In this podcast, you will learn how taking the path least travelled is when you learn the most about yourself and why value transformation is a most noble journey to undertake in healthcare.
As the former Chief Population Health Officer at Essentia Health – an integrated delivery system with 14 hospitals, and 1,500 provider health system spanning the states of Minnesota, North Dakota, and Wisconsin – Debbie Welle-Powell designed, built, and operationalized Essentia's $2.5 billion dollar transition from a primarily fee-for-service model of care to one that focused on value. She oversaw risk-based contracting with payers and care delivery transformation, resulting in forty-five percent of the system's fee-for-service revenue tied to financial and clinical performance which produced record earnings on shared savings. Debbie's exceptional experience and background in multi-state, large integrated delivery systems, coupled with industry involvement and insights into emerging opportunities, trends, and challenges, have been valuable to health systems and purchasers seeking to grow, diversity, and promote expertise in the development and implementation of data-driven strategies and solutions in population health and value-based care.
Episode Bookmarks:
01:30 Introduction to Debbie Welle-Powell, a nationally-recognized leader in value-based care transformation.
03:30 Support Race to Value by subscribing to our weekly newsletter and leaving a review/rating on Apple Podcasts.
04:00 The grim statistics of American healthcare and the moral and economic imperative to reform it!
05:00 Recent article from Don Berwick about the excess profiteering and greed in healthcare: "Salve Lucrum: The Existential Threat of Greed in US Health Care"
06:30 Debbie discusses the current state of the healthcare industry and how she spent her career moving healthcare delivery to full-risk and globally capitated payments.
07:30 A leadership commitment to test models of care that address the moral imperative for improved outcomes.
08:30 Reflections on Dr. Berwick's article and the need to expand the conversation by focusing on solutions.
11:00 The Innovation Center Strategy Refresh is a stake in the ground for 100% of Medicare beneficiaries to be in an accountable care relationship.
12:00 The need for innovation in specialty care and new risk models that improve health equity.
13:00 "Medicare is a laboratory for change." (e.g. alignment of quality measures, multi-payer approaches to improvement, expansion of access in rural areas)
13:45 Two-thirds of those in Medicare Shared Savings contracts are now taking risk.
14:00 Balancing the need to move fast while not being too aggressive ("people are exhausted!")
15:00 In the last year, hospitals have seen their operating costs increase upwards of 10%, and their bottom lines are now hemorrhaging to the tune of billions of dollars.
16:00 Pay inequity with nonprofit hospital CEOs making on average 8X the rate of hospital workers without advanced degrees (while the highest paid receiving 60X the hourly pay of general workers).
17:30 How do we better align hospitals and health systems with VBC? How should they be rethinking their approach to investment in delivery assets and organizational culture?
18:00 "Value-based care and the ACO movement has significant opportunities to create more affordability and better outcomes for our patients."
18:15 The need for a federal framework that provides a groundswell of support to move in the direction of value.
18:30 Leveraging the CMMI Strategic Framework to move 150 million Americans into value-based payment models.
19:30 Debbie describes how she led her health system towards the acceptance of downside risk in 2015. (Learn more about Essentia's Population Health Strategy)
20:30 When Debbie left Essentia Health, 42% of health system revenue was flowing through value-based contracts (upside and downside).
21:30 The importance of leadership, organizational culture, and data in a health system's value journey.
22:30 Referencing Debbie's recent article on "The Future of Integrated Virtual Care."
23:30 Essentia Health's integrated virtual care generated higher patient satisfaction scores, eliminated many SDOH barriers, prevented ED visits, and saved approximately $2.5M in healthcare costs.
24:00 Debbie discusses the Essentia Health integrated virtual care journey and how they navigated the challenges of COVID-19.
26:00 How remote patient monitoring and a Personal Health Record (Epic MyChart) lowered healthcare costs and utilization for specific chronic conditions.
27:00 Implementing a Hospital-at-Home program – lessons learned in testing a different model of care.
28:00 What is the permanent nature of virtual care in the post-pandemic era?
29:00 The need for Telehealth ROI and the demands of younger patients for virtual care.
31:00 Unlike in a fee-for-service model, payer contract negotiations in value do not always have to be a zero-sum game.
32:30 Debbie explains how to cultivate meaningful payer-provider partnerships to improve population health outcomes and reduce health disparities.
34:00 Strategies for engaging payers to get "must have" value-based contract terms and meaningful data to deliver on care model transformation.
37:00 "The willingness to solve problems in partnership with payers is the true test of the commitment to deliver better care for communities."
38:45 The importance of data, governance, and strategy to guide the fluidity of ever-evolving payer-provider relationships.
41:00 Debbie elaborates on her success in planning targeted SDOH interventions to eliminate health disparities using the ADKAR® Model for change.
42:00 Recognizing the health divide between North and South Minnesota and how Essentia Health addressed gaps in care and health inequities.
43:30 Conducting health risk assessment screenings on all patients and how that data drove community-based interventions.
44:30 Using community benefit funding within the health system to support CBOs taking care of patients' social needs (e.g. food, transportation, housing).
47:00 In 2023, 10.9 million beneficiaries are being cared for in MSSP ACOs, while 2.1 million are being cared for by REACH ACOs.
48:30 Debbie provides her leadership perspective on CMS payment model innovation.
49:30 Improving alignment and consistency between MSSP, REACH, MA, and Medicaid payment models.
50:30 "If you are not in risk, take the first step in an upside-only value-based arrangement. The benefit is knowing your performance against your peer groups."
51:00 The inevitability of mandated bundled payments.
52:00 The lack of payer alignment in the commercial market creates a challenge for them to lead in value transformation.
52:45 Expect to see significant growth in the value movement by 2025.
54:00 How important is it that we teach emerging healthcare leaders about value-based care? Do we need a new kind of leader to disrupt legacy thinking in healthcare?
56:00 "Be involved and willing to take risks. That is what it is going to take to challenge the status quo and push our stakeholders to be better."
57:30 As an avid mountain climber, Debbie has attempted three of the Seven Summits and climbed all 58 of Colorado's 14,000 peaks, as well as Mt. Rainer in in Washington and Grand Teton in Wyoming. Additionally, she has climbed peaks in Bolivia, Mexico, France, Argentina, and Mt. McKinley in Alaska.
58:00 Parting thoughts of inspiration on what it means to reach the summit and how mountain climbing relates to the value journey.
58:45 "When you take the path least travelled, that is when you learn the most about yourself. People deserve this race to value."