Podcast: Play in new window | Download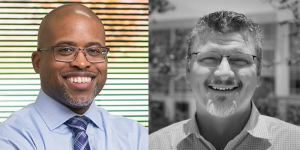 Nearly 75% of Americans are overweight, including 42% who have obesity. The pandemic has heightened the problem, since many of us find comfort in food, and delivery services like Door Dash and Uber Eats make it easier than ever to consume calories while barely getting off the couch to answer the door.  This obesity epidemic has huge implications on value-based care due to the impact it has on chronic morbidity, increased mortality, and unrelenting demands on the utilization of limited healthcare resources. Chronic conditions associated with obesity include, but are not limited to, type-2 diabetes, hypertension, hypercholesterolemia, and heart disease. These diseases have a destructive effect on the US healthcare system, and leaders in value-based care must start thinking about lifestyle medicine and evidence-based nutrition interventions.  While there are many apps and tools for consumers or patients to use to lose weight on their own, programs that incorporate medically-assisted weight management and obesity care yield the best outcomes.
Rather than weight loss as a sidebar suggestion once a disease state is diagnosed, weight loss can be a potent catalyst for disease prevention within value-based care. Dr. Jamy Ard is the Co-Director of the Weight Management Center at Atrium Health Wake Forest Baptist. Joining him this week in the Race to Value is Rich Steinle, CEO of Carium – a technology company that partners with clinicians to offer a complete, virtual care platform ensuring every person – regardless of location, demographic or disease state – has access to quality, personalized care, education, and tools to support health and wellness goals. In this episode, we discuss the importance of partnerships between healthcare providers and technology companies to empower clinicians, patients, and their caregivers. Do you want to learn more about how real-time, aggregated health data and analytics can guide clinical decision-making in obesity? Well, this is an interview that you will not want to miss. Within a platform-enabled, virtual care ecosystem, weight management care teams can achieve positive outcomes that deliver on the promise of value-based care!
Episode Bookmarks:
01:30 An introduction to the concept of Virtual Weight Loss Management in Value-Based Care
02:00 Background on Dr. Jamy Ard (Atrium Health Wake Forest Baptist) and Rich Steinle(Carium)
03:30 Subscribe to our newsletter and leave us a Review and Rating on Apple Podcasts!
04:00 Chronic conditions associated with obesity include type-2 diabetes, hypertension, hypercholesterolemia, and heart disease.
04:45 Direct medical costs attributed to obesity account for $147 billion. Lost productivity due to obesity cost $303 billion. Adding chronic diseases make obesity a $1 Trillion problem!
06:00 Dr. Ard speaks to the economic challenges of obesity – "Obesity is a multifocal chronic relapsing disorder. It is a disease epidemic that can be addressed through patient engagement."
07:00 The limitations of medical education in training doctors on nutrition and how to effectively treat and manage patient obesity.
08:30 Dr. Ard discusses the Weight Management Center at Atrium Health Wake Forest Baptist and the challenges with patient engagement in an obesogenic environment.
09:00 The impact of the COVID-19 pandemic on societal obesity and how technology empowers an effective patient engagement strategy.
10:00 Rich discusses the diametrically opposed reality that treating obesity is typically conducted as a prescription upon the onset of chronic disease (instead of as a prevention).
11:30 How technology can extend team-based care to provide a conduit for meaning patient engagement and treatment interventions.
12:00 Technology can be leveraged to address community health and equity, especially for patients living in food deserts.
13:00 How can a trusting business partnership between a care delivery organization and a technology company embolden relationship-based care for value transformation?
14:30 Dr. Ard on how technology can identify care gaps and then inform the agile development of intervention solutions.
15:00 "Technology doesn't replace providers. It instead enables the provider to do more than what they can do alone."
15:30 "A data-assisted approach to obesity care (e.g. patient-reported outcomes, physiologic monitoring) can enable personalized medicine."
17:00 Rich outlines the tenets of relationship-based care – a common vision, trust, and innovation.
19:45 Demonstrating results with innovation can create expanded scale and reach in clinical efficacy.
21:00 How can research into the science of behavior change improve our understanding of how to influence health-related behaviors, such as diet, exercise, and medication adherence.
22:30 Lifestyle medicine as the starting point for any treatment strategy.
23:30 Uncontrollable variables in an obesogenic environment (i.e. Social Determinants of Health) determine the development of a personalized treatment strategy.
25:00 Having a trusted resource provided real-time feedback and guidance can guide better lifestyle choices.
26:30 Tailored feedback provides the opportunity for more sustainable changes (versus self-monitoring)
26:45 How automation of a "one-to-many" engagement strategy can be reinforced with individualized feedback.
27:30 The saturation of DIY health applications and how it differences from a patient-centered care model that emphasizes trusting relationships.
28:30 The real-time continuous learning of engagement algorithms used in weight management programs.
29:30 Incorporating biometric data from wearables to care management programs capturing self-reported data.
31:30 Rich on how the founders of Carium had a vision for data-enabled predictive analytics in healthcare (based on prior experience with telecommunications industry).
33:00 Creating data visualizations and actionable insights to drive value-based care outcomes.
35:00 In the conventional treatment of obesity, we often rely on a "one-size-fits-all" approach despite significant pathophysiological heterogeneity among people with obesity.
36:45 Dr. Ard provides perspective on the opportunity for precision medicine and individualized care planning in the personalized treatment of obesity.
38:00 The heterogeneity of treatment response for obesity allows for much faster realization of patient outcomes (i.e. a short-term ROI opportunity for medical cost savings)
39:30 Precision medicine and individualized care planning allows for a more effective utilization of healthcare workforce.
40:30 Rich discusses how virtual care delivery and remote patient monitoring can provide the enablement to help clinicians "deliver care at the point of life."
41:30 White labeling or co-branding of technology supports the curation of a trusted engagement platform.
42:30 An example of how the technology relationship between Carium and Dr. Ard helped improve data capture and integrity.
43:30 The importance of shared goals between providers and technology companies.
45:00 Healthcare needs a renaissance of human experience design in technology solutions.
46:30 Moving medicine from an episodic, fee-for-service paradigm will require patient-centered technology design.
50:00 Approximately 13-percent of US households report food insecurity, meaning that they lack consistent, dependable access to enough food for active, healthy living.
51:45 Dr. Ard on how tech-enabled VBC can support the elimination of health disparities related to obesity with low-income and minoritized populations.
56:00 Rich describes how the proliferation of obesity-specific patient engagement can extend to other areas of medicine (e.g. fetal maternal health, oncology).
56:45 Technological scarcity is a social determinant of health and we must "bridge the digital divide" if it exists.
57:30 Does income fragility mean that people do not have access to smart phones and broadband access?
60:00 Are we in the beginning of a 4th Industrial Revolution where scalable disruption of our current care delivery model will occur through digital transformation?
60:45 Why hasn't the Internet transformed healthcare like it has all other industries?
62:00 Rich discusses what the future look like in the next few years with emerging advancements in AI, internet of things, 5G, wearables, and gamification of consumer health apps.
63:00 Dr. Ard on how providers will eventually prescribe technology applications to their patients and provide automated meal planning based on context and geolocation.