Podcast: Play in new window | Download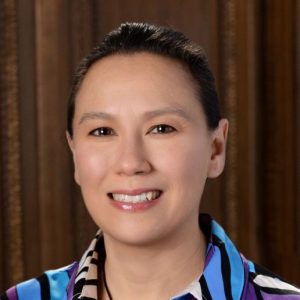 As it is entering its second decade, the Center for Medicare and Medicaid Innovation (CMMI) has launched a bold new strategy for achieving equitable outcomes through high quality, affordable, person-centered care. To achieve this vision, the Innovation Center has organized around five objectives: Drive Accountable Care, Advance Health Equity, Support Innovation, Address Affordability, and Partner to Achieve System Transformation.  Over the last decade, CMMI has been the driving force for value-based care at the federal level and launched more than 50 alternative payment models.  In the next decade, CMMI will apply lessons learned in establishing this strong foundation to lead the way towards broadened and more equitable health system transformation in our country. The ultimate goal is to have all Medicare beneficiaries in a care relationship with accountability for quality and total cost of care by 2030.
Our guest this week is Liz Fowler, J.D., Ph.D., the director of the Center for Medicare and Medicaid Innovation (CMMI) and deputy administrator of the Centers for Medicare and Medicaid Services at the U.S. Department of Health and Human Services. She is leading CMMI in an effort to streamline the model portfolio and reduce complexity and overlap, and to help scale what works. From reengineering payment policies, to overcoming the complexities of model design that impede scalable transformation, and considering equity in all stages of model development – it is clear that health value remains a top priority for the Biden administration. Join us this week as we explore model design, equity, benchmarking, capital investment, beneficiary engagement and more. Dr. Fowler is truly leading the charge in the race to value!
Read the transcript here.
Read the CMS Innovation Center Strategy Refresh here.
Episode Bookmarks:
02:00 An introduction to Liz Fowler's background in health policy leadership and industry transformation
03:00 Referencing the Innovation Center Strategy Refresh, a bold new strategy with the goal of achieving equitable outcomes through VBC
04:00 The need to reexamine the CMMI portfolio of APMs
06:40 Applying lessons learned over the last decade of CMMI to inform future payment models
07:00 "We have to have a cohesive articulation of a model portfolio, and explain how all the CMMI payment models fit together. That's what we're trying to do with our new strategy."
07:30 Do the models support objectives? (i.e. drive accountable care, advance health equity, support innovation, address affordability, or achieve system transformation)
08:50 Healthy People 2030 defines health equity as "the attainment of the highest level of health for all people."
10:15 Dr. Fowler describes how CMMI is embedding health equity into all aspects of payment model design ("Advancing health equity has become one of the most important areas of focus for the Innovation Center, and for CMS and HHS more broadly.")
12:50 Dr. Fowler discusses how CMMI's strategy to focus on equity to promote accountable care extends to Medicaid.
14:15 Referencing the CMMI Health Equity Roundtable last month (download slides here)
14:30 Conducting focus groups with providers and patients to better understand what equity means to them
16:40 Dr. Fowler discusses how CMMI will moving more Medicaid and Medicare Advantage beneficiaries into accountable care relationships (CMMI's 2030 Goal)
18:20 Engaging local leaders to provide more care at the community level in addressing social needs (Accountable Health Communities Model)
19:30 The importance of creating the right incentives to address social determinants of health and the right tools to remove them as well
19:50 Data collection and measurement to assess health equity performance in value-based payment
22:10 Dr. Fowler discusses the importance of capital investment for providers to succeed in taking downside risk.
24:00 Lessons learned from the ACO Investment Model (AIM Model)
25:40 Eric outlines an extensive list of challenges with current CMS benchmarking methodologies
28:00 Dr. Fowler on the work CMMI is doing to refine financial benchmark methodologies
29:00 Dr. Fowler discusses how CMMI is exploring opportunities to improve or replace current risk adjustment methodology and the importance of multi-payer alignment
30:40 Risk adjustment and risk score gaming and the negative consequences of inappropriate risk score growth
31:10 Dr. Fowler discusses Direct Contracting financial specifications related to risk adjustment (Coding Intensity Factor and Symmetric 3% Cap)
34:00 DCE Risk Score Growth associated with Voluntarily-Aligned Beneficiaries
35:00 How risk score growth constraints protect the Medicare Trust Fund, while simultaneously allowing DCEs to benefit with Voluntarily-Aligned Beneficiaries
38:00 CMMI's strategy to align specialty care with primary care and how integrated value-based specialty care will be complimentary (not competitive) to primary care
43:00 Dr. Fowler provides comprehensive overview of the Global and Professional Direct Contracting (GPDC) Model and potential plans to expand the program in 2023
46:30 The power of peer learning in value-based care (the Accountable Care Learning Collaborative and the Health Care Payment Learning & Action Network)
52:00 Dr. Fowler provides closing thoughts on CMMI's 2030 Goal and the importance to reinstate the sense of inevitability that we're moving towards value
54:00 The use of mandatory payment models in CMMI's future value transformation strategy