Podcast: Play in new window | Download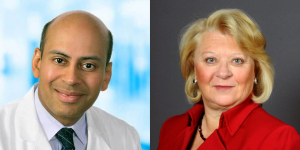 Democratization of value can only happen through the replication of full-risk APM adoption in primary care.  As a country, we must accelerate primary care progression towards fully-capitated risk by thoughtful health policy and payment model redesign.  Change is underway — primary care is already moving to a capitated model of reimbursement, and ACO REACH is our first real test of realigning financial incentives to improve care of patients living with chronic conditions.  Furthermore, this inflection point in the value movement is finally bringing much needed emphasis to those living in underserved communities facing health inequities.  So how do we operationalize primary care transformation at scale?  Is it possible to replicate a 'clinical flywheel' that provides RN care coordination, home-based care, embedded pharmacists, and floating health concierges to close care gaps and addressing health inequities?
This week we are joined by two executives from UpStream, a billion-dollar, full-risk health services organization that embeds clinicians into participating doctors' offices as an advanced, full-risk Medicare program for network physicians.  By focusing on patients living with chronic conditions, and physically embedding highly trained prescribing pharmacists and coordination nurses at each primary care physician office, UpStream partners with its client practices to create the right infrastructure and resources for the whole-person care experience. Their approach has been to fully invest in primary care delivery models accountable for Total Cost of Care, whereby reducing care fragmentation for chronically ill patients while also achieving the best clinical and financial outcomes.
Dr. Sanjay Doddamani (CEO and Co-Founder of Upstream) and Valinda Rutledge (Chief Corporate Affairs Officer of Upstream) are two of the biggest thought leaders in the value movement. In this episode, they talk about the transformation opportunity of massively powerful primary care, the impact of COVID-19 on the value movement, technology innovation, health equity, capital investment in primary care infrastructure, collaborative care models, and the new ACO REACH payment model. Together they are leading one of the most innovative companies out there supporting primary care physicians in the Race to Value!
Episode Bookmarks:
01:30 Upstream – the fastest-growing healthcare solution provider in the country
02:30 Introduction to Dr. Sanjay Doddamani and Valinda Rutledge
04:00 The transformation opportunity of massively powerful primary care within a value-based purchasing construct
05:00 Can we reach a "Win-Win-Win" for patients, primary care physicians, and patients?
06:00 Valinda on the impact of the pandemic on the value-based care movement and how it unleashed tech-enabled consumerism in primary care
08:00 Payment reforms and looming insolvency of Medicare and how it will impact the independent Primary Care landscape
09:00 The development of ACO REACH as a model for capitated primary care reimbursement
09:30 Sanjay speaks to the challenges of the post-pandemic environment and the 'Great Resignation' on physician networks
10:00 "Primary Care physicians influence 90% of all medical costs."
11:00 PCP burnout and recent findings on how family medicine is one of the five most stressful specialties
13:00 "If you continue to practice in a fee-for-service environment, it is like being on a hamster wheel with no way to get off."
13:30 Sanjay speaks about the need to reallocate investment dollars to build primary care infrastructure for the 21st century
15:00 Critical Success Factors: Pharmacy integration, home-based primary care, and advanced data science capabilities
16:00 Valinda speaks to the challenges of decreasing PCP panel size when there are access barriers in underserved communities
18:00 Population health infrastructure requirements as the table stakes needed to play the game of value-based care
19:00 How Upstream supports partner practices with the capital needed to move to fully-capitated risk
20:00 Valinda provides distinction between capital requirement needs in independent vs. health system-owned/employed PCP practices
21:30 An overview of the Upstream "Guaranteed Advanced Payments for Quality" (GAP-Q) advanced payments for quality performance
22:30 "As you shift off of the fee-for-service chassis, something needs to replace it.  And that to me is a floor incentive that is tied to quality."
25:00 Sanjay's previous work with Keystone ACO and Geisinger that built the health system's first home-based care program
25:30 Recent McKinsey & Company study estimating that up to $265 billion worth of care in Medicare/MA (25 percent of the total cost of care) could shift to the home by 2025
26:00 Sanjay speaks about Upstream's 'clinical flywheel' of home-based care and disease management for the chronically ill
29:00 The practice of forensic listening, behavioral psychology, and shared decision-making to engage patients in care management
31:00 Will collaborative care be more common than what we see now where pharmacists, physicians, and other clinicians address health disparities separately?
32:00 Valinda speaks about the importance of culture and interprofessional collegiality to build successful integrated team-based care models
33:00 Building partnerships with community benefit organizations to resolve health inequities in underserved communities
34:30 Sanjay provides clinical examples reaffirming the importance of workforce integration to build cohesive multidisciplinary team-based care models
37:30 Technology to implement specific individualized interventions to mitigate the risk of costly complications that have a significant impact on the quality of care
39:00 Sanjay speaks about the physician workflow challenges of the 'measurement industrial complex'
40:30 Valinda counters the technology transformation imperative by emphasizing the need for deep interpersonal patient-provider relationships
43:00 Sanjay on the use of Artificial Intelligence and Machine Learning in value-based primary care in partnership with ClosedLoop.ai
44:30 How will the move toward value-based care with prospective payment models upend the way we've historically defined primary care delivery?
47:00 Sanjay questions the feasibility of the CMS goal for 100% of Medicare beneficiaries in accountable care models since physicians are getting left behind
47:30 "We must bring all physicians along in value by enabling them to participate in risk models, indemnifying their downside, creating upside opportunities, and reallocating dollars to primary care."
48:00 Valinda outlines the 3 Barriers to Value-Based Care adoption (i.e. Benchmarking methodology, Risk Adjustment, lack of Value-Based Care awareness with beneficiaries)
51:30 "We need to change the language of value-based care."
53:00 Sanjay on how the current Administration is redefining the value movement through payment model redesign to include equity as a centerpiece
54:30 Valinda addresses the need for multistakeholder input to develop health policies that drive equity transformation
57:30 Valinda provides an comprehensive overview of the new ACO REACH payment model
61:00 Sanjay provides parting thoughts on the future of Upstream and how it will replicate its' primary care model across the country