Podcast: Play in new window | Download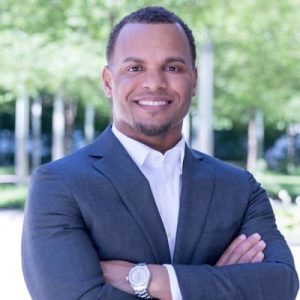 Our guest this week is driven by an inner purpose to alleviate suffering for those in the poorest of communities, recognizing that health care can only truly be transformative in providing superior health outcomes if it advances health equity.  Over the years, he has used his voice to advocate for underserved communities in the belief that the equitable attainment to health is a human right.
Dr. Derek J. Robinson is Vice President and Chief Medical Officer for Blue Cross and Blue Shield of Illinois (BCBSIL) and is responsible for care management operations, clinical leadership and strategic oversight in providing high value health care to more than 8 million members. Dr. Robinson is also the founding chair of the Health Equity Steering Committee, which was established to develop health equity strategies across markets and lines of business.
For nearly two decades, Dr. Robinson has led community efforts to promote diversity and inclusion in undergraduate and post-graduate education at the local, state, and national level. He is a member of the Office of Diversity and Inclusion advisory committee at the Accreditation Council for Graduate Medical Education. Additionally, Dr. Robinson is vice-chairman of the board of trustees at Xavier University of Louisiana.
His deep experience in health care and education give him a unique and meaningful perspective, one that we will all do well to regard as we endeavor to advance in the race to value!
Episode Bookmarks:
04:30 Dr. Robinson discusses his journey in emergency medicine and what now drives him as a value-based care leader
06:15 Creating "impact at scale" in his work in clinical leadership and strategy at the health plan level
07:30 In 5 years, life expectancy fell for everyone except for non-Hispanic white Chicagoans (3,500 excess deaths for Black people in Chicago every year)
09:00 The impact of COVID-19 on highlighting disparities among racial lines and national trends in life expectancy amongst African Americans
09:30 Dr. Robinson discusses the root causes of social determinants of health (e.g. housing policies, racial segregation) that lead to racial disparities in care
10:45 Chicago has ~30-year life expectancy gap between neighboring communities (larger than any other American city)
11:00 Housing policies also impact infant and maternal mortality, elevated lead in children, etc.
11:15 "Your zip code is more important than your genetic code."
11:45 Dr. Robinson explains how investments in community infrastructure and resultant economic development creates public health
13:30 Referencing landmark reports confirming the presence of racial and ethnic disparities within the care delivery system
14:00 "Opportunities for focus" by governments, corporations, philanthropic partners, and the healthcare community
16:30 Dr. Robinson describes the Blue Door Neighborhood Center to provide a community-based hub for health and wellness
18:00 Creating a social impact fund to help small businesses impact health in communities
18:30 Providing housing stability for those dealing with chronic conditions
19:00 BCBSIL investments in community benefit organizations and social services to improve health equity and SDOH in Chicago
22:10 Health disparities persisted prior to COVID-19, but the spotlight from the pandemic has served as an accelerant to addressing them
23:00 That health equity journey that BCBSIL is focused on through partnerships with 24 provider-led ACOs and 44 IPAs/PHOs
23:30 Dr. Robinson explains the $100M investment by BCBSIL in the Health Equity Hospital Quality Incentive Pilot
24:30 The importance of hospitals collecting data on race, ethnicity, language, sexual orientation, and gender identity to assess disparities
26:00 Expanding telehealth and bridging the digital divide amongst underserved patients
26:30 Addressing the underrepresentation of diversity in the physician workforce
29:00 Partnering with institutions in physician workforce diversity and implicit bias training
30:30 Creating an annual report on Health Equity to ensure visibility of information by key stakeholders
31:00 Worsening under-representation of minorities in tenured clinical faculty positions at academic institutions
32:30 "Having a more racially and ethnically diverse physician workforce will lead to increased access of care for the underserved."
34:30 KFF survey reporting that only 35% of African Americans stated they definitely or probably would not get the vaccine
35:00 Generational trauma and current distrust of African Americans in the healthcare system
36:30 Building trust in African American communities in vaccine efforts to ensure a more equitable distribution
41:30 Partnership with the American Hospital Association's Institute for Diversity and Health Equity to support hospitals in eliminating disparities with specific conditions
43:30 Referencing the groundbreaking report, titled Missing Persons: Minorities in the Health Professions that stated physician workforce DEI is more important than access to care
45:00 Dr. Robinson discusses the moral imperative to systemic change and how racially segregated hospitals were eliminated by Medicare payment policy
46:00 Dr. Robinson reaffirms the importance of high quality, culturally competent, linguistically concordant care to eliminate health disparities
50:00 Dr. Robinson on how bridging the digital divide in communities to address connectivity to the internet will improve health and wellbeing in communities