Podcast: Play in new window | Download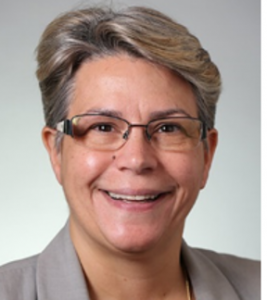 Many industry insiders believe that health system-led ACOs are inherently disadvantaged to demonstrate value-based care in an environment where most revenue is still generated in fee-for-service. In moving to value, hospitals must contend with demand destruction on their fee-for-service lines of business as they reduce admissions, emergency department visits, and procedures. Physician-led ACOs, they argue, simply do not have this dichotomy; therefore, they have a clearer pathway to financial benefits from reducing hospital costs outside of the physician practice. This premise often appears correct as we often see "low-revenue" ACOs, typically led by physicians who mostly provide outpatient services, have better results than "high-revenue" ACOs, generally led by hospitals that provide both inpatient and outpatient services.
Lisa M. Trumble, President and Chief Executive Officer at Southern New England Healthcare Organization (SOHO Health) respectfully disagrees. She believes that "Clinical Integration is the Answer" in this race to value, and she has the results to prove it!  As one of the leading CIN executives in the country, Lisa Trumble has shown how clinical integration can enhance communication between providers and improve on the outcomes and excessive costs that are commonly seen in an uncoordinated care delivery model.
This week's episode features Lisa M. Trumble, the President and CEO of SOHO Health, a new ACO and CIN that is a partnership between Saint Francis Healthcare Partners and Trinity Health of New England. With 30 years of experience in health care leadership, Lisa shares powerful insights on clinical integration and challenges healthcare executives to "buckle up" on this race to value.
Bookmarks:
3:45 Lisa comments on what it was like to start a new job as CEO right when the pandemic started!
6:30 Leading change during an important inflection point in the industry as it shifts towards value
6:45 The fragility of the FFS model during the throes of a pandemic
7:08 Lisa reflects on prior work in value-based transformation in Massachusetts and how that state differs from Connecticut in its commitment to health value
7:42 SOHO Health and Trinity Health of New England are committed to (and invested in) this transition to value-based care
8:15 Remaining on a FFS chassis is not sustainable.  Negotiating increases in FFS will not be tolerated in the future. ("Buckle up and look out!")
8:45 Direct-to-Employer contracting
9:03 Partnering with physicians and creating JVs for Centers of Excellence and Bundled Payments
10:50 Hospitals needing to evaluate core business and how to reduce infrastructure cost to create a "survive-able" margin
11:09 Reducing utilization for unnecessary services and preventing leakage within a CIN
12:00 Despite reductions in inpatient services in VBC models, utilization is still growing in ambulatory surgery
12:20 Developing a bundled payment model with physicians in ASCs where financial incentives are aligned
12:50 Employers will no longer tolerate paying for surgeries that cost twice as much when performed in an inpatient setting
13:15 Value-based care is a difficult situation for health systems. At the same time you are losing business, you also have to transform and make key investments.
13:25 "If you don't commit to value-based care, you will slowly work your way out of the market and be uncompetitive. The market will find a way to figure it out with others."
15:15 PHOs, IPAs, ACOs, and CINs all are struggling to figure out the best way pursue clinical integration
16:00 The beauty of a design of a Clinically Integrated Network is that it isn't limiting you to only one area of care delivery — "Clinical Integration is the answer to how to perform well in a value-based environment."
17:30 Multidisciplinary collaboration is important to providing the appropriate level of care
19:25 Lisa explains how SOHO is approaching collaboration with employers
20:40 Employers are finally willing to consider benefit redesign due to economic pressure
21:35 The challenge with payer partners developing chronic disease programs
25:00 Proven evidence of more standardization and higher repetition of procedures per provider creates better outcomes
25:50 Hysterectomy complications between neighboring states (Example to justify Center of Excellence strategy)
26:20 Delivering Value can't be done in "every setting, everywhere, with every option available" (COEs for Episodes of Care needed)
28:00 Disengagement of specialists in a conventional value-based care model (Bundles and COEs can overcome this challenge)
30:20 Incentive Alignment for Providers and structuring a Physician Compensation Formula
35:14 Rewarding citizenship and physician engagement in a physician comp model
37:14 Minimum performance expectations for care delivery
41:01 Shared decision-making with patients (must understand the values and beliefs of the patients you are serving)
42:08 Measuring success for transitions of care
45:50 Strategies for making capital allocation decisions for value-based transformation
47:20 Payers should step up in the provision of capital to fund infrastructure
48:45 Budget-based risk models are not viable in the long-term because of diminishing returns
52:30 The challenges of EHR fragmentation in delivering a longitudinal health record
55:39 Demonstrating ROI for EHR investments are difficult
58:15 The impact of the pandemic on telehealth implementation
1:02 Other digital health strategies and creating a virtual home ICU
1:04 Development of workforce skills within a clinically integrated network
1:11 The future state of hospitals as care is shifted to ambulatory settings