Podcast: Play in new window | Download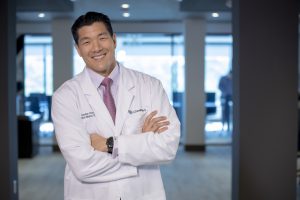 ChenMed was created with a mission to provide care in such a way that it could alleviate suffering for those seniors in the poorest of communities, recognizing that full-risk primary care can truly be transformative in providing superior health outcomes. This strong sense of purpose is what guides the physicians at ChenMed and serves as a moral compass in caring for patients. It is born out of an idea that ChenMed is a ministry that allows those in the organization to glorify God by spreading more love and promoting better health to those they serve.
ChenMed is a family-owned, primary-care physician run organization that serves a challenging population: 75% have five or more chronic diseases, 70% are racial minorities, the average age of patients is 73 years old, 95% of patients within 300% of the Federal Poverty Level. But the success speaks volumes: patients use hospital emergency rooms at a rate 34% below the national average,  have 50% fewer admissions than the average primary care practice, and have close to 30% lower cost. ChenMed's scalable and successful approach has already reached 60 practices, and it is no wonder that they are poised to grow 4 times larger over the next 3 years.
Dr. Gordon Chen, CMO, along with his brother Christopher Chen, CEO, and other great leaders throughout the organization are proving that full-risk primary care is a solid and necessary foundation for winning the race to value!
Episode Bookmarks:
4:45 ChenMed named to Fortune Magazine's "2020 Change the World List" for measurable social impact, business results, innovation, and corporate integration
5:30 Dr. Chen discusses the spiritual underpinnings of his family-run organization and the Chen family's suffering during his father's cancer misdiagnosis
10:13 The ChenMed ministry in glorifying God, spreading love, and promoting health in underserved communities that are suffering
11:20 A scalable approach that has resulted in 50% fewer hospitals admissions, a 75% reduction in ED visits, and 28% lower per-member costs
13:35 "The traditional, fee-for-service primary care model handcuffs PCPs to see more and more patient volume without being able to optimize outcomes."
14:14 A Medicare Advantage full-risk business model allows ChenMed to see shrink the PCP panel size so they can focus on cultivating trusting relationships with deeper connectedness
15:50 How a full-risk model enables Primary Care Physician empowerment
16:55 The shift from a reactive approach (e.g. ER and preventable hospitalizations) to a more proactive, preventative model that supports health value
17:45 Having "Stockholm Syndrome" for a broken fee-for-service model that has held PCPs captive from practicing medicine in the way they thought they would when dreaming of becoming a doctor
18:05 COVID-19 as a tipping point for full-risk primary care models, struggling primary care, and PCP moral injury
20:40 Consistency of revenue within a capitated model
21:16 "Fee-for-service primary care is going to end. It is too challenging to make it work, and PCPs don't like a purely transactional model that doesn't value relationships."
22:45 Dr. Chen discusses the fulfilling purpose of full-risk primary care and how it makes a deep impact in communities
24:55 Supporting high-risk patients through high touch telephonic "love calls" and telehealth
26:11 How ChenMed adjusted its care delivery model during the COVID pandemic ("flipping to 90% virtual in less than a week")
29:05 Realizing the need for the ChenMed model is far greater than could have ever been imagined during a period of pandemic uncertainty and civil unrest
29:50 Finding the right balance between in-person and virtual visits during the COVID pandemic
30:34 "Telehealth is here to stay."
31:05 Increased Net Promoter Scores when serving patients during the pandemic
31:30 Health inequities, racial disparities in care, and the plight of racial injustice in our society
33:30 Closing gaps in life expectancy within African American and Hispanic communities
35:30 Dr. Chen discusses his personal experience living homeless and without financial means to live comfortably
36:45 Populations with high chronic disease burden is the greatest opportunity to succeed in a full-risk model
37:25 "Full-risk primary care that spreads love and promotes health can create a beautiful, virtuous cycle where savings (earnings) can be reinvested into even more needy communities."
38:15 ChenMed's expansion from 76 centers in 2020 to 100+ centers in 2021 made possible by reinvesting earnings
39:00 Christopher Chen's (Gordon's brother) harrowing ordeal as a patient with a COVID-19 infection
40:45 "Every day is a precious gift from God." (Dr. Chen discusses how both his father's past suffering and his brother's COVID-19 infection served as a call to action to make every day count.)
41:30 Dr. Chen's reignited commitment to accelerate the scalability of ChenMed's model following Christopher's COVID diagnosis
43:25 Research showing that high-touch preventive care delivered by ChenMed can effectively prevent and manage cardiovascular disease
47:04 Since most EHRs are designed for fee-for-service, ChenMed decided to build its own.
48:21 How ChenMed's homegrown EHR system provides enhances outcomes by integrating data
50:00 How ChenMed approaches physician and executive leadership development and interdisciplinary care team workforce development
52:50 "For ChenMed to be able to scale across America, we'll need to train and empower leaders to transform care in communities."
53:41 The "humble healer" approach to physician peer-to-peer learning
55:30 ChenMed's hyper-accelerated your growth strategy by looking to quadruple over 3 years!
56:38 The moral imperative to grow ChenMed to serve as many needy communities as possible
59:55 "If we can have physicians, health care leaders, and team members share in the mission, vision, and passion for what we are doing at ChenMed, we believe we can change the world."
1:01:00 "If we can accelerate this move to value-based care, and empower more people to go into primary care, then we are on the right track.  That is what America needs."