Podcast: Play in new window | Download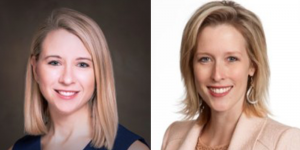 Sydney Townsend was diagnosed with cancer in June 2018, three months after giving birth to her first child.  As a former boxer, she realized she was in the fight of her life and never gave up.  After surviving her bout with cancer, her healing journey came full circle by joining the staff of Texas Oncology in 2021 (the practice that treated her cancer) as their Director of Virtual Care so she can provide care to others in the fight.
Joining Sydney in this episode is Dr. Kathryn Hudson, her hematologist and oncologist. Dr. Hudson is also the Director of Survivorship for the practice which allows her to extend the impact she makes as a clinician by improving supportive care models for cancer patients and survivors. When you hear from Dr. Hudson in this interview, you will immediately realize the power of the relationship she had with Sydney and how important this is in value-based oncology care.
Value-based care always starts with a deep and trusting relationship between a patient and provider.  There is no stronger of an example of this than Sydney and Dr. Hudson.  Together in this very special episode they discuss "Cancer Survivorship and the Power of Relationship-Based Care."  This is an interview that conveys triumph and inspiration for those either fighting cancer or seeking to provide truly patient-centered care!
Bookmarks:
01:40 An introduction to Sydney Townsend and her story of cancer survivorship
02:45 An introduction to Dr. Kathryn Hudson – hematologist, oncologist, and Director of Survivorship at Texas Oncology
04:30 Dr. Hudson provides a brief overview of the patient-centered model of care at Texas Oncology
05:30 Sydney explains how "telemedicine is more than just a tool for episodic care" and discusses how cancer survivorship is a "superpower"
07:00 Dr. Hudson discusses how her work as an oncologist and survivorship leader connects to her personal "Why"
08:15 Dr. Hudson provides a comprehensive overview of TXO's cancer survivorship program
10:00 Sydney's shares her heartfelt and deeply personal story of her cancer fight and healing journey over the last three years
15:20 The beautiful connection of motherhood between Sydney and Dr. Hudson and how that cultivated a deep and trusting relationship
17:30 Dr. Hudson discusses the deep empathy and personal connection she has for Sydney and how that informed her treatment decisions
20:30 Sydney describes the initial difficulties in establishing trust and how she eventually overcame her fear and suffering in the early stages
22:45 "Trust is something that takes time to build between a physician and a patient."
25:15 Dr. Hudson discusses the importance of involving a patient's family during cancer treatment
28:15 Sydney draws parallels between her bout with cancer with her prior experiences as a boxer
29:40 Dr. Hudson shares how inspired she was by Sydney's mental fortitude during cancer treatment and survivorship
30:20 Sydney's goal of getting back to the boxing gym in her "path to a new life"
31:30 Sydney describes her "ultimate Zen training" experience during chemotherapy and how mindfulness and meditation helped her to heal
33:15 How "being in the present moment" taught Sydney how to carry on through her survivorship ("I've been forged in fire, and it feels good!")
35:20 Malnutrition during cancer is a main reason for avoidable ED visits and hospital admissions, and cause 1 in 5 cancer-related deaths
36:20 Dr. Hudson discusses the role that nutrition care plays in cancer treatment and how it lowers total cost of care and improves outcomes
39:10 Sydney discusses what she learned about nutrition during her cancer journey
41:45 Sydney explains how changes in telemedicine payment rules catalyzed adoption
42:45 How virtual care can be utilized to improve health equity and provide care in underserved areas
43:10 The challenges of "the digital divide" in the deployment of virtual care and how government and communities are solving for it
44:10 The deployment of telemedicine at TXO during the pandemic and how that transformed care
46:30 Dr. Hudson on building a patient community that promotes survivorship skills and wellness for cancer survivors and loved ones
50:00 Dr. Hudson provides additional information on the importance of virtual care during survivorship
50:45 Sydney describes how telemedicine and telehealth is related to value-based oncology care
52:10 Dr. Hudson explains the importance of using telemedicine to treat patients who are immunocompromised or have transportation issues
53:35 Parting thoughts from Sydney: Leaning in to your care team, family, and friends to create a universe of support.
54:40 Parting thoughts from Dr. Hudson and how to find out more about Texas Oncology