Podcast: Play in new window | Download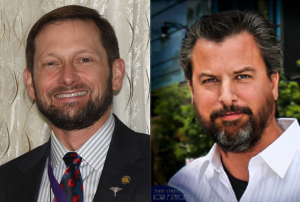 A guiding principle of Cumberland Center for Healthcare Innovation, CCHI, is that communities and the state benefit from healthier families, and it's not just about cost savings or longer lives. Better health means a more productive workforce and greater opportunity for economic development. CCHI is focused on a structured approach to build economic strength in the community. And their approach is working – since being established in 2012, CCHI has saved CMS over $43 million and achieved a 98.48% quality score! In PY 2019 CCHI was one of the top performing ACOs in the nation, without any adjustment for benchmark.
In this episode, Dr. Brent Staton, CEO, and Dr. Ty Webb, CMO, share important insights into the challenges and successes of rural primary care. With a very lean team, they work with providers across more than 80% of Tennessee to provide personalized care at the practice-level. They truly fulfill their mission to demonstrate the value of rural independent primary care physicians in communities throughout Tennessee. Their model gives value-minded professionals nationwide an effective example for succeeding in the race to value.
Episode Bookmarks:
04:48 "Rural healthcare is personal" – having a deep personal awareness of each patient's needs, values and preferences
06:58 Dr. Webb speaks about the challenge of getting physicians to practice medicine in rural areas
08:11 Dr. Staton on how the roots of family and growing up on a farm led him to a career in rural medicine
09:30 Dr. Staton on how hauling hay and stripping tobacco instilled the Rural American values of hard work in his life
10:50 The health and socioeconomic challenges in rural Tennessee and the opioid epidemic
12:22 "The depth of the challenges in rural health care is as deep as the sea." (Staton)
12:40 The impact of the opioid epidemic, poverty, SDOH, and lack of health care resources in rural communities
14:05 High-touch approach to primary care and how ideas and best practices spread across various counties in the ACO
16:30 The mission of the ACO and how improving health will build economic strength in the community
17:20 "We saw that if we had healthier students, we could improve education.  We saw that if we had a healthier workforce, we could improve productivity and attract new businesses and job opportunities to our communities." (Staton)
18:30 "Rural communities grow and develop over time, in much the same way as a field or a meadow in the study of natural history and biology. The same pattern of strength, complexity, and diversity is there." (Webb)
19:05 Education and Health care are important foundations for rural communities to grow, develop, and progress." (Webb)
19:30 Hospital closures in rural communities
20:11 The economic contribution of physician practices and hospitals to rural communities
20:45 "Hanging on by a thread really isn't enough – whether it is your health or your economic solvency as a family or company." (Webb)
21:10 Practice stabilization through communication of best practices, standardized care delivery, and revenue stabilization
24:02 Dr. Staton on how a large physician-led ACO can collaborate with hospitals
25:17 "Acuity of care for a hospital is more important that 'heads in beds'. Our goal is not to prevent a necessary hospitalization or preventing emergency care when it is needed. Our goal is to make sure that patients get appropriate care and early interventions that they need and deserve.  (Staton)
29:00 The resiliency of CCHI's primary care practices during COVID-19
31:12 Telehealth implementation and the benefits of telemedicine in rural communities
35:50 The lack of access to broadband internet access in rural communities and the need for additional infrastructure
37:37 CCHI's COVID Task Force to prevent the spread of the virus
41:20 CCHI's Shared Savings Success: $43 million in the Medicare ACO program (positive in corridor every year of ACO existence)
48:52 CCHI's focus on Quality Reporting Performance and how the ACO had improved its quality scores over the years
49:51 CCHI's expansion of its multipayer contract portfolio and how it learned to analyze data to identify cost containment opportunities
53:30 "We're not in it for the dollars.  My grandfather always told me – whether it is pumping gas, washing windows, or hauling hay – if you do the right thing, the money will come." (Staton)
54:44 Applying high touch primary care across the entire contract portfolio (not just risk-based contracts)
57:38 The relationship between quality and cost
58:00 The correlation between happier doctors and better patient outcomes (The Quadruple Aim)
1:00:00 Approaching the presentation of data and analytics to physicians with the art of simplicity
1:04 Decentralizing care coordination by activating practice-level staff to support ACO needs
1:11 Trust and teamwork in leading a Rural ACO ("Trust goes to the core of what we do.")