Podcast: Play in new window | Download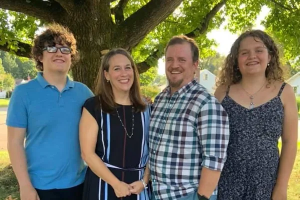 The fight over access to gender-affirming medical care for trans youths — like the fight over abortion rights and other issues at the intersection of health, politics, gender, culture and race — is impacting where Americans live, work and raise families. And it's grown particularly acute over the past year, as conservative governors and legislators have restricted access to medical care for gender dysphoria, a condition that stems from one's lived experience of gender being different from the sex assigned at birth. The rhetoric is leading to violence and hate, and it must be overcome through education and understanding if we are ever to regain civility in our country.
This is a special bonus episode about authentic truth, love, and compassion demonstrated with a family's journey in gender-affirming care.  Eric interviews Melissa McLaren and her transgender daughter Conner just a few days after the horrific mass shooting at a nightclub in Colorado that targeted LGBTQ individuals.  Conner is a 17-year-old transgender woman, and her mother Melissa has been supportive of her gender transition since Conner expressed her preference to be a girl as a toddler.  Through the support of loving parents and a health system that provided gender-affirming care, Conner was able to find her truest self and live a life of authenticity.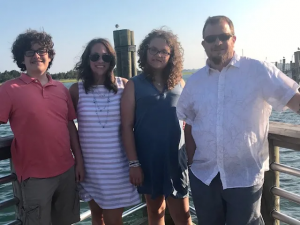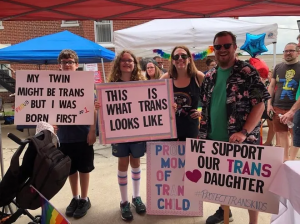 Episode Bookmarks:
01:30 An introduction to Melissa and Conner and their family's journey in seeking gender-affirming care
02:30 The recent mass shooting tragedy at Club Q targeting LGBTQ individuals on the same day as Transgender Day of Remembrance (Nov. 20)
02:45 The conservative rhetoric against gender-affirming care that engenders hate and violence.
04:00 An overview of Conner's gender transition and how Conner "would be dead today" had she not received gender-affirming care in her childhood.
05:00 Conner discusses the challenges she faced during her transition (most of it was "smooth sailing except for politicians")
05:15 Melissa describes Conner's gender transition since the age of 4 (she is now 17). Conner began expressing her female identity as early as 18-months old.
08:30 How a babysitter traumatized Conner as a 4-year old, stating that changing her gender was "against the Will of God" and that she would be "sent to Hell."
09:00 Melissa begins her search for medical support to help her child overcome the emotional distress of gender dysphoria.
10:30 Gender-affirming care began with a social transition related to clothing choices.
11:30 Conner's insistence at the age of 4 that she be identified by She/Her pronouns.
14:00 The team of medical providers that helped the McLaren family navigate the journey in age-appropriate gender-affirming care.
16:00 How mainstream media misleads the public about gender-affirming care.
16:45 The use and efficacy of puberty-blockers in pediatric gender-affirming care.
18:00 Conner describes what it was like to receive her first puberty-blocker shot (a big needle with thick serum)
19:00 The constant clinical monitoring and lab testing that coincides with puberty suppression treatment.
20:00 The patient-centeredness and family support provided in gender-affirming care. (Isn't this what value-based care is all about?)
21:00 Patient-centered gender-affirming care is not about corralling patients into choices. It is about collaboration between the family and the medical team.
22:00 "We feel so well protected, understand the goals and how to safely get there, and what the offramps are."
23:00 Approximately 300,000 teenagers identify as transgender, which adds up to 1-2 percent of the nation's population within that age.
23:30 Referencing the prior Race to Value podcast, "The Truth and Beauty of Gender-Affirming Care, with Dallas Ducar"
24:00 Conservative political opposition to gender-affirming care, especially for the pediatric population, with some states saying this constitutes child abuse.
24:30 There have been hundreds of anti-trans laws restricting gender-affirming care (340 anti-LGBTG bills filed in the last year alone!)
26:00 Conner on how "Gender-approving care doesn't start at hospitals and doctor's offices.  It starts at home and in classrooms."
27:30 Conner discusses what it would be like if Ohio passes a stricter version of the "Don't Say Gay or Trans" law (HB 616).
28:00 Melissa on how banning LGBTQ conversation creates shame and forces people like Conner to live in secret.
28:30 "Conner is amazing just as she is, as her authentic self."
29:15 Conner discusses what will happen to her if Ohio bans gender-affirming care for people like her. (HB 454).
30:15 Banning gender-affirming care is bad for healthcare providers, especially for those specializing in pediatric primary care and mental health care.
31:30 Melissa and Conner met with the Congressional LGBTQ Equality Caucusadvocating for transgender rights (picture of them with Speaker Nancy Pelosi).
32:30 The opportunity to meet Admiral Rachel Levine, the Assistant Secretary of Health and one of the first openly transgender government officials in the U.S.
33:00 "It takes a lot to worry about school and grades…and also worry if you will be able to use the bathroom the same day."
33:30 Conner on her bouts with depression resulting from the hateful LGBTQ rhetoric at the state and national levels.
34:00 The need for compassion, empathy, love, and acceptance and how we can learn (and become inspired) from the McLaren Family story.
35:00 The recent murders at Club Q and the orchestrated, increasingly violent, right-wing campaign led by those who believe LGBTQ community shouldn't be allowed to exist.
36:30 Melissa reflects on the heartbreaking news that LGTBQ safe places are under attack.
37:45 Melissa has been called a "child abuser" and a "groomer" in recent times since hateful rhetoric has escalated.
38:00 Melissa on the escalation of violence, bomb threats, and death threats juxtaposed to the love she sees in the LGBTQ community.
38:45 "For those who think that gender-affirming care is the wrong decision.  I wish you could see the smile on my daughter's face."
39:15 Seeing children blossom and thrive when they receive love and access to mental health and healthcare services.
40:30 "Keep your mind open.  Don't close yourself off to new ideas."