Podcast: Play in new window | Download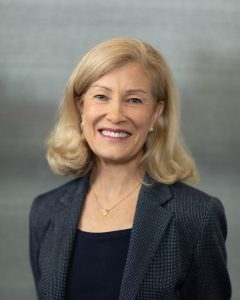 Dr. Elizabeth Teisberg is a leading figure in the value-based health care strategy movement and is the executive director of the Value Institute for Health and Care as well as a Professor at the Dell Medical School at the University of Texas at Austin. With her deep background in strategy and innovation, and with special attention to the health care sector, she collaborates closely with Michael Porter, renowned authority on competitive strategy. Together they co-authored "Redefining Health Care: Creating Value-Based Competition on Results" (Harvard Business Review Press, 2006), which received the American College of Healthcare Executives' 2007 James A. Hamilton book of the year award. Teisberg's forthcoming book, "Capability, Comfort and Calm: Designing Health Care Services for Excellence and Empathy" is co-authored with Scott Wallace, who also recently joined the Dell Medical School faculty.
While her definition of value in health care, "the measured improvement in a patient's health outcomes for the cost of achieving that improvement," has largely been adopted by the industry, the VBHC movement continues to move at a glacial pace in juxtaposition with the moral and economic imperative to make it happen. We struggle with how to operationalize it as we often conflate value-based health care with operational programs that focus on cost reduction, quality improvement, or patient satisfaction. Those efforts – while important – are not the same as value, which focuses primarily on improving patient health outcomes. We are not pursuing more treatment, we are pursuing more health and more caring.
Value Institute For Health and Care Website
Value Institute For Health and Care Annual Report 2020
Episode Bookmarks:
03:05 Dr. Eric Weaver shares with Dr. Teisberg how "Redefining Health Care" impacted his life and career
05:08 Revisiting Value-Based Health Care In the 15 years since Dr. Teisberg wrote Redefining Health Care (Current State of the VBHC movement)
07:07 Dr. Teisberg explains the difference between "healthcare" (one word) versus "health care" (two words)
07:59 Patients want to choose better health which doesn't mean they always want more "healthcare"
08:41 The purpose of health care is to improve the health outcomes for the people we serve (instead of just measuring profits)
09:25 Dr. Teisberg shares her perspective on why the diffusion of innovation in value-based health care delivery takes so long
09:50 Strategy, Culture, and Measurement must be woven together for the transformation to occur ("braid of change")
11:05 How the pandemic will accelerate the Value Based Health Care movement (COVID as an inflection point)
14:25 Improving health outcomes through clinically integrated care (Integrated Practice Units)
15:51 Identifying gaps to inform the development of human-centered solutions that can be delivered through IPUs
17:52 Dr. Teisberg shares an example of a new IPU at Dell Med (The Texas Center for Pediatric and Congenital Heart Disease)
20:00 Patient-Reported Outcomes as a core component of IPUs
21:50 "When we talk about value, we mean value for patients" (not to enable health plans)
22:48 Collaborating with Scott Wallace in working with patients to understand the outcomes that matter to them
23:33 Person-centered measurement through Capability, Comfort, Calm
27:05 "Health care is drowning in measures… And what needs to be reported externally is a relatively small set of important outcomes. Outcomes that matter to patients and families."
31:43 The Musculoskeletal Institute at Dell Med and UT Health Austin as a success story in condition-based, bundled payment innovation
34:43 Alignment of the interdisciplinary team within condition-based, bundled payment models
35:30 "Payment change doesn't need to precede change in care delivery".
37:30 VBHC Lessons Learned from Other Countries (New Zealand Ministry of Health, King's Health Partners, Santeon, and the Martini-Klinic)
39:48 How the Value Institute for Health and Care is approaching collaboration at an international level
41:26 An example from Victoria, Australia on how to restructure health care payments for vehicular accidents (full-cycle care with longitudinal consistency of payment over a patient's life)
42:54 An example of a Dutch cooperative of teaching hospitals (Santeon) collaborating on research to improve health outcomes
43:24 An example of a specialist prostate cancer clinic in Germany (Martini Klinik) that excels in patient-centered outcomes measurement
44:45 An example of a dental clinic in Australia (Dental Health Services of Victoria) that ensures good dental health outcomes for underserved populations
45:12 An example of an inpatient psychiatric hospital that is focused on VBHC by redirecting goals based on patient outcomes
46:21 An example of an eye clinic in India (Aravind Eye Clinic) that is a national destination for extremely high-value care
47:07 "One of the tricks for developing high-value health care is to not reinvent wheels when the wheels are rolling well, but to look at other places."
51:00 Experience group methodology at the Value Institute for Health and Care
52:20 An example of a breast cancer experience group identifying unarticulated needs related to cognitive impairment
53:30 An example of a diabetes experience group identifying unarticulated needs related to neuropathy and erectile dysfunction
55:00 How Dell Medical School is integrating Value Based Health Care into its curriculum for medical education
56:55 The Health Care Transformation Master's Program that is designed to teach physicians and other health care leaders how to implement VBHC
60:00 The vision for the development of a new innovation district in Austin, TX to incubate VBHC ideas and solutions