Podcast: Play in new window | Download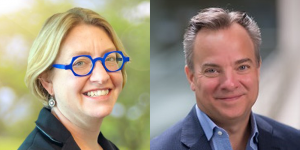 The Health Care Payment Learning & Action Network (HCP LAN or LAN) is an active group of public and private health care leaders dedicated to providing thought leadership, strategic direction, and ongoing support to accelerate our care system's adoption of alternative payment models (APMs). The LAN mobilizes payers, providers, purchasers, patients, product manufacturers, policymakers, and others in a shared mission to lower care costs, improve patient experiences and outcomes, reduce the barriers to APM participation, and promote shared accountability.
Last month the LAN held their 2022 Summit, and this year's event featured appearances by CMS and CMS Innovation Center leadership, the release of the 2022 APM Measurement Effort results, a discussion on the HEAT's Social Risk Adjustment Guidance for APMs, and the announcement of the LAN's 2030 APM Adoption Goals for Medicare, Medicaid, and commercial plans.  Joining us this week in the Race to Value are LAN Executive Forum Co-Chairs, Dr. Judy Zerzan-Thul and Dr. Mark McClellan.  They discuss the overall goal of the LAN and the LAN Summit is to collaborate and act on strategies that will accelerate the transition to innovative, patient-centered payment models by focusing on equity, access to high-quality and affordable care, engagement of patients, and reduced provider burden.
Visit the Institute for Advancing Health Value's website.
Download their recently released Intelligence Brief summarizing the 2022 LAN Summit.
Episode Bookmarks:
01:30 The purpose of the Health Care Payment Learning & Action Network (HCP LAN)
03:00 Introduction to Dr. Mark McClellan and Dr. Judy Zerzan-Thul
05:45 Dr. Mark McClellan speaks to the impact of the pandemic on value-based health reforms
06:45 "Payment flexibilities are one of the unsung heroes in the pandemic when it comes to value transformation."
07:15 How capitation enabled some to navigate the pandemic favorably, while others struggled with FFS revenue disruption, team-based care, and telehealth deployment.
08:45 CMS payment flexibilities will soon go away so prepare for continued focus on patient-longitudinal well-being and outcomes tracking.
09:45 The especially challenging times of high inflation and workforce resilience and how value transformation is a strategy for sustainability.
12:00 Dr. Zerzan-Thul speaks about the Accountable Care Commitment Curve and how that can guide organizations to advancements in Health Equity.
13:30 The LAN's Health Equity Advisory Team (HEAT) and its recommendations for developing a Health Equity action plan.
14:30 Measuring equity outcomes through an enhanced data infrastructure and community partnerships.
15:45 Dr. McClellan speaks to how Social Risk Adjustment (SRA) can advance health equity through APMs (starting with ACO REACH)
17:30 The challenges of implicit biases in individual measures of social risk.
18:15 "Risk factors like food insecurity and transportation will eventually get more built in to our approach to health care."
19:00 The additional considerations of community engagement, peer transformation, and other payment incentives to advance health equity.
20:30 The recent release of the APM Measurement Effort (survey data compiled the HCP LAN).
21:30 Dr. McClellan discusses the current status of 2022 APM adoption (see interactive graphic showing that nearly 20% of payments flowing through Category 3B-4 models.)
24:30 Dr. Zerzan-Thul comments on trajectory of APM adoption and current status of Medicaid transformation in population-based payment.
27:00 Dr. McClellan discusses the Accountable Care Commitment Curve more at length.
29:00 "You can't get to a critical mass of value transformation in the U.S. healthcare system without multistakeholder alignment."
30:00 Dr. Zerzan-Thul speaks to what state agencies like the Washington State Health Care Authority can do to move healthcare organizations along the Commitment Curve.
31:00 Examples of legislative tools in Washington State that are advancing value-based payment and collaboration.
33:00 Data and transparency – how do we measure progress in health equity and value transformation?
34:30 Dr. Zerzan-Thul speaks about the work LAN is doing with State Transformation Collaboratives (STCs) (see Summit video on State Transformation)
35:00 Primary care transformation and multi-payer alignment as the starting points to transform healthcare at the state-level.
36:00 The impact of the economic downturn and Medicaid transformation in states moving to value.
37:00 Dr. McClellan on the importance of state leaders (e.g. policymakers, employers) to reform healthcare.
38:30 The STC pilot states (Arkansas, Colorado, California, North Carolina) are working closely with CMS in reaching their value-based care goals.
39:30 Key directional alignment between CMS and states will reshape health policy at the federal level.
41:45 Dr. Zerzan-Thul discusses the importance of FQHCs as "safety net" providers and how they can transition to APMs.
42:45 Oregon, Colorado, and Washington are leading states in FQHC adoption of APMs.
43:30 Dr. McClellan on how Medicaid payment shifts in Washington State are bringing more affordable and accountable care to patients.
46:00 Dr. McClellan discusses the strategic importance of multi-payer alignment in the national movement to value-based care.
49:00 Reducing care variation and supporting more efficient processes in delivering care across disparate populations.
50:00 Dr. Zerzan-Thul on how multi-payer alignment of quality measures can lead state-level value transformation efforts.
51:00 "We are asking payers to align on paying primary care at a Level 4 level, and we have commitments from payers to do that."
52:00 Data aggregation and exchange at the state-level.
52:30 Certifying advanced primary care at a centralized level as a means to direct payment transformation.
53:15 Engaging health plans in various states to adopt and scale APMs in the transition away from FFS.
55:00 How the LAN, in partnership with states, are engaging purchasers in the commercial market.
56:30 Dr. McClellan on how to get patients to understand "accountable care" or "value-based care" by delivering on our goals.
58:00 "Value-based care is not a privatization plot of Traditional Medicare."
59:00 Paying for "health" can help with the reduction of chronic diseases.
59:30 The political pressures of disrupting the status quo in healthcare.
60:00 The importance of effective storytelling in value-based care success as a way to inform legislators.
61:30 Dr. Zerzan-Thul on how the U.S. is 4% of the world's population but spends half of the $8T global spend on healthcare services.
62:30 How do we measure whether people are getting person-centered care? (We need patient-reported outcomes in addition to CAHPs.)
65:00 Dr. McClellan on the imbalances of healthcare worker supply and demand.
63:30 Capital investments in value-based care are going towards digital transformation and upskilling of the workforce.
65:30 "The biggest challenge in the movement to value-based care is the workforce."
67:30 Dr. Zerzan-Thul speaks about the challenging demands of managing the workforce pipeline for behavioral health professionals.
68:00 The importance of team-based care (everyone) in guiding us to the health care that we want.
69:20 APMs and the work of the LAN is key to building a better workforce and improving health care!