Podcast: Play in new window | Download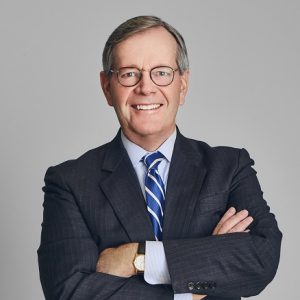 This week we have the great honor of hosting one of the most respected American political leaders over the last few decades, a visionary who ushered in a new era of value-based care in our country during his tenure at HHS. Someone who is known for a strong track record of building collaborative relationships that achieve measurable results, who also is an entrepreneur at heart.  Of course, we are talking about no other than the legendary Michael O. Leavitt!
As the former Secretary of Health & Human Services and a three-time Governor of Utah, Michael Leavitt earned a reputation for leading change through collaboration. He is one of the most influential leaders in the value movement because he sees how it can balance human compassion with the need for global economic leadership.  Michael Leavitt is also an early pioneer in competency-based education and co-founded Western Governors University – the leading nonprofit online university in the country, serving over 100,000 students with over 250,000 alumni.  This week marks the 25th Anniversary of WGU's Founding, and we spend considerable time honoring Michael Leavitt's legacy by discussing both his leadership in value-based care and his vision for competency-based education to drive workforce development in health value transformation.
Additional resources on the future of workforce development for value-based care:
Episode Bookmarks:
01:40 An introduction to the legendary Michael O. Leavitt and his storied leadership in value-based care
03:10 Balancing human compassion and Global Economic Leadership to ensure compassionate delivery of healthcare
04:00 Gov. Leavitt's cofounding of Western Governors University on January 15th, 1997 (this week marks the 25th anniversary!)
05:05 "The language of health is heard by the heart. The richest and poorest of us are bound together by the uncertainty of our mortality, the health conditions of those we love and, in some cases, the desperation of our pain."
06:30 Michael Leavitt provides an extensive history of the U.S. healthcare system and how poor system design led to high cost, low value care
10:40 How high healthcare costs (as a percent of GDP) compromises global competitiveness for the United States
11:30 "Value-Based Care" entered into the healthcare lexicon during Leavitt's tenure as HHS Secretary
12:40 "We are in a race to make value work. If we can, we'll have the kind of compassionate care we want to provide and maintain our economic leadership."
14:20 "Health is going to be one of the fields of competition between economic competitors, and getting our health system right will be critical to that. And value will be the means by which that can occur."
15:30 Leavitt explains how the adoption of value-based contracts has been impacted by the COVID-19 pandemic
17:20 Leavitt describes his proactive leadership during the H5N1 pandemic as HHS Secretary and the influence of "The Great Influenza: The Story of the Deadliest Pandemic in History"
19:20 The failure of human beings to realize that pandemics as a part of natural history and how that leads to lack of preparedness.
22:00 "When it comes to pandemics, anything you say in advance sounds alarmist. Anything that you have done after it starts is inadequate."
24:20 "Moving to value will require us to learn and change. You can fight this change and lose, you can accept this change and survive, or you can lead this change and prosper."
26:10 Solving complex problems through collaboration and how cooperation only seems to come about in times of great exigency.
28:50 Referencing his book, "Finding Allies, Building Alliances: 8 Elements that Bring—and Keep—People Together"
29:45 Building an alliance of 19 U.S. Governors twenty-five years ago led to the founding of Western Governors University (read more about WGU's History)
31:30 Governor Leavitt discusses how the founding of WGU originated by recognizing the problem that higher education needed to be disrupted
33:50 The visionary concept of delivering competency-based education over the Internet
35:20 The influence of Clayton Christensen's "The Innovator's Dilemma" on the founding of WGU
36:30 Overcoming challenges to succeed at delivering high-quality, low-cost education
38:30 Michael Leavitt discusses the founding of the Accountable Care Learning Collaborative and why it was important to have it housed at WGU
40:30 Establishing the "DNA of Value-Based Care" through an expansive network of peer learning and collaboration
41:10 "The ACLC and WGU is of such importance to the value movement. They provide learning to make this part of the American ethic, and I think that's the way the race to value is going to be won."
43:00 Governor Leavitt explains how competency-based education provides the opportunity for persistent, lifelong learning in the new skills-based economy
46:40 How nondegree credentials that "move beyond the degree" will be the future for Workforce Development in Value-Based Care
48:00 The philanthropic support and vision of Dr. Richard Merkin to build new learning pathways to reskill and upskill the healthcare workforce for value
50:30 Mike Leavitt discusses the importance of "rapid, repeated, retraining of healthcare professionals" with the Value-Based Care certificate program at WGU
51:30 Equity in health cannot happen without equity in access and attainment of education for underserved learner populations in the health professions
53:20 How we can improve access and outcomes in healthcare by employing workers from underserved communities, and how WGU is solving for that through higher education
55:00 "Stackable certificates are a key part of a national strategy for both value-based care and making progress in social inequities in health."
56:30 Retraining an entire healthcare workforce to address health disparities and the capacity that WGU has to make a successful contribution
57:45 Mike Leavitt explains why the movement to value-based care is taking so long by telling a story of a cattle stampede and how to best "nudge forward"