Podcast: Play in new window | Download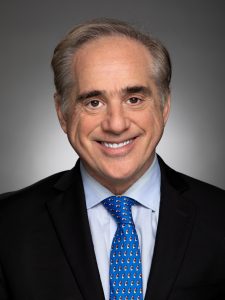 This month is National Military Appreciation Month and with this week's episode we take  opportunity to offer our solemn regard and deep gratitude to the brave men, women, and their families who have served our nation with selflessness, gallantry, and sacrifice in upholding our foremost ideals of liberty. We are grateful for their nobility, for their duty, and for their sacrifice and that they "loved country more than self" so that we may live in a nation that is free. We are grateful that our liberty and our pursuits of virtue, equity, and happiness continue to be protected by those who now serve. As we express our gratitude for all of those who have served and now serve to preserve our country, our security, and our liberty, we have invited a veterans advocate unlike any other.
Our guest this week is The Honorable David Shulkin, M.D., former U.S. Secretary of Veterans Affairs, and one of the most courageous leaders in the value movement that we have had on our podcast! As Secretary, Dr. Shulkin represented the 21 million American veterans and was responsible for the nation's largest integrated health care system with over 1,200 sites of care, serving over 9 million Veterans. VA is also the nation's largest provider of graduate medical education and major contributor of medical research and provides veterans with disability payments, education through the GI bill, home loans, and runs a national cemetery system.
Episode Bookmarks:
01:45 A Special Message from Race to Value regarding Military Appreciation Month
03:15 Brief Background on The Honorable David Shulkin, M.D., the former U.S. Secretary of Veterans Affairs
05:10 Examples showing that the VA System is an exemplar of innovation
06:30 Dr. Shulkin on how the VA is a leader in behavioral health integration, use of non-traditional therapies, and addressing social determinants of health
07:45 How the VA is entirely unconflicted with fee-for-service reimbursement and why we should learn from it as we build a more value-based delivery system in the private sector
08:45 The national scandal that rocked the VA and how Dr. Shulkin was called to serve by President Obama to address the crisis
11:30 As the newly appointed Undersecretary, Dr. Shulkin describes how he addressed access issues for urgent care in the VA system, while also improving delivery of same-day services and publishing wait times for all to see
16:00 Speaking out against the Trump Administration during his time as a cabinet member (e.g. Charlottesville violence, Agent Orange benefits, privatization of the VA system)
17:45 "It Shouldn't Be This Hard to Serve Your Country": the dual meaning of Dr. Shulkin's book title
19:30 Accepting the consequences of staying true to your principles which means even losing your job
23:10 Dr. Shulkin reflects on the government's response to COVID-19 and how it felt to be on the sideline due to his firing by President Trump
24:30 Self-inflicted and avoidable failures in bio-surveillance, testing, and communication strategies and how we can overcome them in the Biden Administration
27:45 Dr. Shulkin explains the Whole Health Model of Care at the VA that includes self-care, peer counseling, and team-based interdisciplinary care
29:20 Results of the Whole Health Model, e.g. decreased opioid use, lower utilization, better patient outcomes
30:30 Dr. Shulkin's awakening to the effectiveness of non-traditional therapies when he visited the VA Winter Sports Clinic with 400 veterans who were paralyzed or had spinal cord injuries, lost limbs and prostheses
33:30 Veteran Suicide as the top priority for the VA health system and how technology and behavioral health integration can improve care delivery
37:15 Dr. Shulkin speaks about the need for private citizens to enter into public service and how we can restore trust in our government.
40:00 Dr. Shulkin provides parting thoughts of gratitude for our military and their families in helping us keep our democracy strong and robust.