Podcast: Play in new window | Download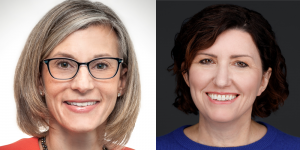 Former President of South Africa, Nelson Mandela, made an important observation when he said, "There can be no keener revelation of a society's soul than the way in which it treats its children." Our children are wholly dependent upon us, their parents, teachers, and society for their education, their safety and their health. It is with this mindset that we proclaim, high-value pediatric care is critical for winning the race to value.
Our guests this week are Ginger Hines, Executive Director, Seattle Children's Care Network and Dr. Sheryl Morelli, Medical Director for Seattle Children's Care Network, and Clinical Professor of Pediatrics, University of Washington School of Medicine. Seattle Children's Care Network (SCCN) is a pediatric clinically integrated network comprised of Seattle Children's Hospital, 600 specialists in Children's University Medical Group, and 20 primary care pediatric practices comprising more than 200 providers and 6 specialty clinics. Member practices in the CIN support the health of 50,000 pediatric lives in value-based contracts.
Episode Bookmarks:
03:20 Background on Seattle Children's Care Network (SCCN) and Seattle Children's Hospital
04:45 Pediatric value-based care being driven by employers and how SCCN formed direct-to-employer contracts
05:30 The movement to value-based care in Washington State's Medicaid program
06:00 How SCCN engages with physicians to build trusting relationships and a shared vision
09:00 The long-term societal benefits to investing in children's health
10:30 Children with high BMIs that become adults with diabetes, CHF, and depression
12:00 Parents missing work to take care of unhealthy children and how employers investing in children's health care lead to productive employees
12:40 Leveraging data and analytics in the CIN and how vaccinations and well child visits are key to disease prevention
15:00 How pediatric value-based care is different than adult value-based care
15:30 Data integration within SCCN and how the HIT infrastructure is foundation to success in population health
17:20 The validation of data accuracy as a critical success factor to building trust and supporting evidence-based quality improvement
19:30 Operational efficiencies within the CIN as a more effective way to provide actionable insights to providers
21:00 Developing consistent pediatric quality metrics and standardizing care within the CIN
24:00 Benchmarking quality performance at both the regional and national level
25:00 Recognizing the opportunity in pediatric value-based care and how you have to look for cost savings and improvements in different areas
27:30 Establishing a secure intranet to provide resources and reports to providers in the CIN
29:30 Focusing on the full panel of patients in the presentation of data and how that leads to success in population health
30:00 Transitioning to telemedicine during the pandemic and how that will impact pediatric care delivery in the future
34:00 Financial results from value-based contracts by focusing on ED utilization, asthma management, well visit completion rates, transitions of care, and quality measures
36:00 Capitalizing on quality improvement projects to decrease exacerbations within asthmatic pediatric population
42:00 Expanding value-based contracts with payers, employers, and Medicaid to prepare for full capitation
44:00 Mental health of children nationally is more important than grades in school (mental health-related pediatric emergency department visits on the rise)
45:00 Integrating behavioral health within primary care and addressing social determinants of health through innovative partnerships
49:30 Food insecurity with children as a national problem (14 million children living with food insecurity, almost 6 times as many as in all of 2018)
50:00 How SCCN is looking to build a scalable, community-based approach to addressing SDOH and food insecurity
52:00 Health policy solutions for value-based care all too often treat kids as an afterthought and how SCCN approaches advocacy on behalf of children
57:00 "There can be no keener revelation of a society's soul than the way in which it treats its children." – Nelson Mandela
58:00 "If we helped all of our kids live the healthiest lives possible, what would the long-term value impacts be?"