Podcast: Play in new window | Download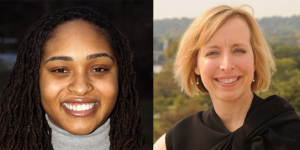 This week on Race to Value, we are excited to celebrate Pharmacy Week – it is a time to recognize the invaluable contributions pharmacists and technicians make to patient care in hospitals, outpatient clinics, and other healthcare settings, and to raise patients' and colleagues' awareness about the vital role pharmacists play on the healthcare team. Our guests this week are mavens in aligning pharmacy and value-based care. In this episode, we discuss the importance of women in leadership, the impact of drug prices on minoritized communities, vaccine equity, the relationship between SDOH and medication adherence, pharmacy integration, and vaccine science and effectiveness research.
Melissa Murer Corrigan was founding Executive Director and CEO of the Pharmacy Technician Certification Board (PTCB) in Washington, D.C. from 1994-2011. Melissa's leadership launched the PTCB program that has now certified over 600,000 pharmacy technicians working across the United States. Murer Corrigan embraced ambition, took risks, and was the only woman on the PTCB Board of Governors during her 17-year tenure as CEO.
In 2012 Melissa joined the ACT as Vice President of Social Impact and sits on the Board of Directors for the American Institute for the History of Pharmacy. Melissa has served as adjunct faculty with the University of Iowa College of Pharmacy since 2013. She has been named a Fellow of both the American Society of Health-System Pharmacists Association and the American Pharmacists Association.
Jacinda Abdul-Mutakabbir, also known as "JAM," is an Assistant Professor of Pharmacy Practice at Loma Linda University, School of Pharmacy and a Critical Care Infectious Disease pharmacist, and an Infectious Disease Pharmacokinetics/ Pharmacodynamics (PK/PD) Research Fellow at Wayne State University under the tutelage of Dr. Michael J. Rybak PharmD, MPH, PhD. Her dedication to improving public health has been recognized by the United States Public Health Services, as she was the 2017 recipient of the USPHS Outstanding Service Award. Additionally, her research has led her to be recognized by the European Congress of Clinical Microbiology and Infectious Diseases one of their 30 under 30 outstanding young scientists, for their ECCMID 2021 31st annual meeting.
Episode Bookmarks:
02:00 Introduction to Melissa Murer Corrigan and Dr. Jacinda Abdul-Mutakabbir (Dr.JAM)
04:00 The importance of National Pharmacy Week
05:30 Overcoming the dominant idea of patriarchy in business and medicine and honoring strong women by allowing them to lead
07:30 Melissa on the celebration of women in leadership and how men can serve as allies and advocates
08:30 Reflecting on women in pharmacy leadership (e.g. Rosalind Brewer, the CEO of Walgreens Boots Alliance)
09:20 Overcoming Imposter Syndrome to create a "growth mindset" within women
10:30 Dr. JAM on the steps taken to towards improving gender equity within the pharmaceutical workforce
12:00 Prescription drugs are the fastest growing healthcare expenditure and consistently outpace other health spending
13:00 Biden administration support for legislation to empower the government to negotiate Medicare drug prices with Big Pharma
14:00 Melissa on providing patients with the access to medications they need so they are "not making choices between treatment and buying groceries"
14:30 Dr. JAM on how drug prices impact individuals in minoritized communities
15:30 Utilizing the approach to equitable distribution of COVID-19 vaccines to the provision of lifesaving medications to underserved communities
17:00 The role that pharmacies have to positively impact and address the systemic health disparities in communities of color and low-income neighborhoods
17:30 Referencing AJMC research showing that Black individuals who received medication therapy management services from a pharmacist significantly improved their diabetes
18:30 Dr. JAM: "Pharmacists are the most accessible healthcare professional and have a role to play in improving health equity."
19:50 Minoritized individuals are less likely to have a primary care physician
20:20 Dr. JAM on how she applies her specialty training in infectious disease to provide education to patients during the COVID-19 pandemic
21:40 Dr. JAM: "Pharmacists are drug information experts, and that knowledge needs to be utilized to improve the health of communities."
22:00 Melissa on recent events of racial injustice and social unrest and how Dr. Lakeesha Butler(President of the National Pharmaceutical Association) provided leadership during this time
24:30 Melissa on how the pharmacy profession is dealing with systemic racism and the realization that there is "still so much to do"
25:30 Melissa: "The pharmacy profession is taking action to become better patient advocates in order to address health equity and social justice."
27:30 Dr. JAM on the underrepresentation of minorities in the pharmacy profession and the importance of diversity in culturally competent care
29:30 Dr. JAM: "Racial concordance equates to better patient outcomes."
30:30 Melissa on the action-oriented work of national pharmacy associations to provide more diversity and inclusion to re-shape the profession
33:00 Dr. JAM on the importance of a multi-modal approach that includes different types of interdisciplinary stakeholders (including faith leaders) to co-develop strategies for equity
36:30 The role that pharmacy integration plays in value-based care and the medication adherence impact on costs through reduced inpatient hospital stays and emergency visits
38:00 Melissa: "A team-based multidisciplinary approach to care is needed.  We need to move away from silos and into integration, with the patient at the center."
38:45 Broadening our thinking to a community-based approach to healthcare (e.g. churches and beauty shops)
40:00 Medication non-adherence most commonly among low-income, uninsured patients initiating therapy for chronic conditions
40:45 Dr. JAM reflects on the impact of social determinants of health on medication adherence and how minoritized communities are adversely impacted
43:45 Melissa on pharmacy practice transformation by adopting a holistic view of the patient to address SDOH in community-based pharmacies
44:45 Melissa on the role of pharmacists in supporting improvement of behavioral health for patients in need
48:00 Dr. JAM explains mRNA vaccine technology vs. the traditional viral vector-based vaccine technology to provide guidance to those experiencing vaccine hesitancy
50:00 Dr. JAM provides a research-based overview and scientific explanation of the effectiveness of COVID-19 vaccines, including those within populations disproportionately affected by COVID-19
54:00 "You are more likely to be protected should you be vaccinated. 95-99% in this hospital and on ventilators are those that are not vaccinated."
55:30 Dr. JAM speaks about her work with Faith-based organizations to boost vaccine equity in minoritized communities
60:00 Parting thoughts from Melissa and Dr. JAM on the pharmacy profession during National Pharmacy Week