Podcast: Play in new window | Download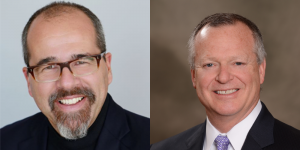 The all-too-common visualization of balancing between the two canoes of fee-for-service (FFS) and value-based care (VBC) is an appropriate illustration of the pressure that providers feel, but maintaining balance is clearly focused on staying upright, on survival. The challenge is that the FFS canoe has a motor, and the paddle for the VBC canoe is not enough to change direction – clearly the tools used to optimize reimbursement in the two worlds are oftentimes diametrically opposed. The mission behind VBC (lower cost, better outcomes, better care) has not been sufficient for many to overcome the momentum of the status quo, the requirement for margin that is the focus of FFS. This week's episode features two leaders in the race to value who have vital insights focused on achieving margin in risk, giving provider leaders more clarity to make the best decisions for their organizations in positioning for the future.
François de Brantes serves as Senior Vice President of Commercial Business Development at Signify Health. He leads customer development of the Medicare Advantage, Self-Insured Employer, and Commercial Payer markets. He has spent close to two decades working to transform the U.S. healthcare system by improving incentives for providers and consumers in order to encourage value-based decisions.  He is the foremost expert on designing and implementing episodes of care programs for employers, providers and health plans.
Joe Fifer is president and CEO of the Healthcare Financial Management Association. HFMA's mission is to lead the financial management of health care. With more than 50,000 members, HFMA is the nation's leading membership organization of healthcare finance executives and leaders. Prior to assuming this position in 2012, Joe spent 11 years as vice president of hospital finance at Spectrum Health in Grand Rapids, Mich. He also spent time with McLaren Health Care Corporation, Ingham Regional Medical Center and Ernst & Young.
Episode Bookmarks:
02:00 Introduction to our Mission-Oriented Expert on Value-Based Care, François de Brantes (SVP, Signify Health)
02:20 Introduction to our Margin-Focused Healthcare Finance Executive, Joe Fifer (President & CEO, HFMA)
03:40 Healthcare organizations must position themselves for value-based payment without going bankrupt in the process!
05:00 The recently released report entitled, "The Future of Value-Based Payment: A Road Map to 2030"
07:00 François provides his perspective on the current state of value-based care and the current track record of CMS and CMMI payment models
11:30 Joe explains how excessive healthcare spending has forced the U.S. under-invested in infrastructure
13:00 Moving from payment model experimentation to a more focused set a models with the right incentives to move the industry forward
14:30 Performance Results of the Bundled Payments for Care Improvement (BPCI) initiative
16:00 How François and Joe initially met 10+ years ago while working on a bundled payment program
17:45 François explains how making better decisions in post-acute care when managing an episode of care can generate margin at the patient-level
21:00 Joe on why CFOs are leery of value-based payment because of the variation and uncertainty of the financial model, and how to create an attitudinal change
23:30 CMMI needs to develop a core set of APMs that show evidence in helping the delivery system make the right decisions around resource allocation to optimize their organizational structures.
25:00 Is there an organizational tipping point for value-based care based on the percentage of their revenue portfolio at risk?
26:00 François explains the "CFO's Dilemma" (i.e. shifting a portion of FFS revenue to risk with increased associated margin per patient that can offset the decrease in the overall margin from the loss of incremental hospitalization revenue in FFS)
27:40 The "CFO's Dilemma" is all about reaching a tipping point in risk-based payment that can shift how margin exists in your system and how you can allocate that on a fixed asset base."
29:00 Joe on how to reach economies of scale by convincing payers to offer the same types of incentives in their risk contracts
30:30 François on the "free rider effect" when payers in FFS contracts vicariously benefit from the risk-based contracts of other payers
32:00 Joe on the need for employers to boldly address the need for employee plan benefit plan redesign
35:00 Joe on the power of market forces impacting employer approaches to health benefits
36:00 Rosen Hotels is a leading example of how a business can succeed in taking control of their healthcare spend
37:40 François discusses how reference-based pricing and the shift of costs to employees affects the differential fee schedule comparison between public pay and commercial insurance
39:15 Joe explains how health systems calculate actual yield on a payer-specific basis
41:00 Joe comments on the importance of attitude in the C-Suite and the importance of behavioral economics in value-based care
42:30 François discusses the inherently flawed design of many APMs and how that causes underperformance in many risk-bearing organizations
44:00 Joe raises concerns for the lack of transparency in risk-based payment models and how there is a 'black box' in understanding how incentives are calculated or how the risk is determined
47:40 Joe shares his passionate position on Hospital Price Transparency and provides his perspective on the new CMS transparency rule that just went into effect
50:30 François discusses specifics with the new CMS rule and outlines the current challenges in creating true pricing transparency to consumers
55:00 Joe comments on the absurdity of both payers and hospitals refusing to provide cost and price transparency
60:00 Joe and François spend the last 10 minutes of the interview debating Medicare Advantage For All as a possible policy option for the future of public financing of healthcare!