Podcast: Play in new window | Download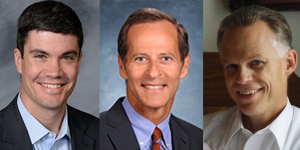 In recent years, the role of retail in health care has grown beyond the co-location of clinics and pharmacies, with many large retailers now expanding their care delivery practices to include full-service health centers, telehealth offerings, and home delivery of pharmaceuticals. Retailers like Walmart, CVS, Amazon, Walgreens, and Target are all pursuing a healthcare strategy. The opportunity to bring consumerism to the forefront in healthcare has never been more promising, and these retail companies are looking to deliver consumer-centric innovation in a way that the traditional healthcare system has been unable to. In addition to the provision of a high-touch, technology-enabled primary care delivered in existing brick-and-mortar facilities that are highly convenient and familiar to patients, these companies have begun to leverage other assets, including online platforms, robust supply chain and delivery infrastructures, and access to capital to grow their health care offerings.
In this episode, you are going to hear from three thought leaders with unique perspectives on this important topic. We have Dr. David Nash (Founding Dean Emeritus at Jefferson College of Population Health), Marcus Osborne (Senior Vice President of Walmart Health), and Darrell Moon (the Founder and CEO of Orriant).
Episode Bookmarks:
02:00 Retail companies (e.g. Walmart, CVS, Amazon, Walgreens) are bringing consumer-centric innovation to healthcare
03:15 Introductions to Marcus Osborne (SVP, Walmart Health), Dr. David Nash (Dean Emeritus, Jefferson College of Population Health), and Darrell Moon (CEO, Orriant)
04:30 The traditional American healthcare is one of the least consumer-centric models ever developed in a capitalist economy
06:25 Dr. Nash describes the current socioeconomic challenges of Philadelphia as a construct for how poverty contributes to adverse health outcomes
08:50 Dr. Nash reference the seminal article by Dr. David Kindig, "What is Population Health?" and how population health relates to SDOH and institutional racism
11:30 Is retail-based primary care the answer to improved population health through more effective patient engagement?
13:00 Referencing Fred Lee's book, "If Disney Ran Your Hospital" in thinking about how we can optimize the patient experience and deliver personalized service
14:40 Marcus describes how supply and demand challenges of primary care in the effective management of chronic disease
16:30 "The biggest issue we face in healthcare is variation in care delivery."
18:00 Technology, innovation, and interdisciplinary care teams as the ultimate solution to address population health challenges
19:00 The role of the "Professionally Nice Person" in consumer-centric care delivery and how Community Health Workers can be used to improve outcomes
20:00 Our challenge is getting the system comfortable with the reimagining of team-based care (not the patients!)
23:00 Darrell describes the importance of "massively powerful primary care" and the power of relationships
25:00 Nuka System of Care – Southcentral Foundation as a leading example of the "best healthcare system in the world" and how it emphasizes relationships, trust, and patient convenience
30:00 Marcus describes the absurdity of the "balanced interest" model in designing healthcare reforms (the interests of the consumers are all that matters!)
34:00 Dr. Nash on how unexplained clinical variation supersedes SDOH in importance when it comes to population health
35:00 Keeping only the wealthy healthy in a retail-based care model will perpetuate health inequities
37:00 Life expectancy is determined primarily by the zip code to which you live (e.g. SDOH disparities contributing to a 20-year variance in adjacent zip codes)
39:00 For-profit, private-equity backed SDOH companies are a driving force to community-based interventions
40:30 Marcus describes how Walmart Health is addressing social determinants of health as both a healthcare provider and an employer
42:00 The Walmart ZP ("Zero Pressure") platform to share stories with peers and how that contributed to massive weight loss among Walmart associates
45:30 Darrell describes the power of behavior, influence, and storytelling in improving population health
47:00 Storytelling is the primary way to change consumer behavior and reorient them to innovative models of care delivery
48:00 Subscription-based primary care as a foundation to relationship-based primary care, community support models, and realignment of incentives
54:00 Marcus describes the Walmart philosophy of "save money, live better" and how it applies to its price transparency model for consumer-driven healthcare
58:00 Darrell discusses how we will see retail power-players expand beyond massively powerful primary care models, telemedicine, and virtual care to build individual insurance plans in a public marketplace
60:00 The inevitable migration away from employer-sponsored group insurance to employer-sponsored individual insurance!
62:00 Marcus explains the confluence of an emerging new individual insurance products and the focus on improved employee health and productivity
62:30 Marcus on why we should view the Haven as a unbelievably massive success and how the industry mischaracterized the experiment.
64:00 Darrell explains how Europe can be viewed as a model for how employers can support the health of their employers (once the group insurance market goes away)
65:00 Dr. Nash describes how improving employee vaccination rates should be viewed as the #1 priority for employers
66:00 Marcus provides thoughts on post-pandemic healthcare and the integration of omnichannel consumer environments to redefine healthcare