Podcast: Play in new window | Download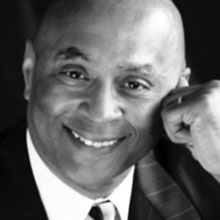 It's no secret that the Black community tops the list of groups afflicted by hypertension, stroke, diabetes, heart disease, kidney failure, and cancer. What the statistics do not show is the pain, misery, and despair that these conditions create—not only for the individual, but also for family and friends. As an African-American doctor, Dr. Richard Walker has studied these conditions among his patients for many years. Now, in his new book, "Black Health Matters", Dr. Walker offers a number of commonsense ways to prevent, manage, and possibly eliminate these killers, turning the tide of African-American health. And he not only provides us with a construct for thought leadership in population health equity, he practices this type of care at his home-based primary care practice TVP-Care in Houston, Texas.
Dr. Walker has spent considerable time in researching the health and healthcare journey of African captives into slavery and understands what current African Americans now to need to do to survive nutritionally and culturally. He is truly on a mission to overcome the chronic ill health and early death that is so pervasive in Black communities. Most importantly, however, Dr. Walker is a leader in the value movement that believes traditional medicine should be merged with lifestyle medicine. He understands that African Americans can turn their health around by understanding and incorporating better nutrition, nutritional supplements, exercise, and regular healthcare checkups into their lives. In this important podcast discussion, we you will learn from a leading clinician and entrepreneur how we should go about improving Population Health Equity within African American communities in this Race to Value!
Episode Bookmarks:
01:30 Introduction to "Black Health Matters" and the work of Dr. Richard Walker in the health value movement
03:30 What does the use of the word "value" mean when it comes to community health?
05:00 Dr. Walker discusses his upbringing in Spanish Harlem and how that experience led him to become a physician leader seeking to advance health equity
07:00 The "mystery" of excessive hospitalizations due to sugar consumption and how that led to an epidemic of Type 2 Diabetes in the African American community
09:00 The misperception in the African American community that most common chronic diseases are genetic (instead of caused by environmental of lifestyle factors)
10:00 Dismantling the informational disadvantage that leads to a misunderstanding of Social Determinants of Health
12:00 The impact of the murder of George Floyd and the BLM social justice movement and how that inspired Dr. Walker to write "Black Health Matters"
14:30 How the collective experience of African Americans over the last 400+ years has been based on "waiting" (e.g. slavery, citizenship, civil rights)
16:00 "Taking care of your own life is all about taking charge of the environment by understanding the root causes that lead to disease."
16:30 How poor nutrition in the African American community stems from the slavery era and persists to this day
17:30 The inadequate training of the healthcare workforce further exacerbates preexisting issues of poor health among African Americans
18:30 "Black Health Matters" is all about understanding the progenitors of chronic disease that are not genetic, and how to mitigate them in African American communities.
19:00 Environmental hazards and chemical toxicities are more common in underserved, minoritized communities
20:30 Research that confirms the presence of systemic issues in the healthcare industry related to institutional racism
22:00 "The concept of value-based care is transformational because it has the potential of changing the course in healthcare by recognizing the true value of the individual."
23:30 Will value-based care bring us to the "Quintuple Aim" that includes health equity?
24:30 How the founding vision of Dr. Walker's value-based, patient-centered medical practice has been informed by emerging payment models from CMS
27:20 Recent McKinsey & Company study estimating that up to $265 billion worth of care (representing up to 25 percent of the total cost of care) could shift to the home by 2025
28:30 Dr. Walker provides an overview of his MSO and primary care medical practice business model
31:30 Going upstream with patient-centered, reengineered primary care through an enabled access model that provides care in the home
32:30 Fostering trust and creating meaningful relationships between patients and providers through home-based care delivery
34:00 The enablement of remote patient monitoring, chronic care management, and telehealth to enhance home-based, primary care
34:30 Care coordination and chronic care management delivered by interdisciplinary teams supporting a primary care provider
35:30 "Smaller primary care patient panel sizes leads to better patient outcomes and providers with a better quality of life."
36:30 "Micro" Social Determinants of Health that can be managed by the medical practice
39:30 Improving care for the 5% of the population driving healthcare expenditures is an economic opportunity for our country
41:00 Recent research showing significantly lower levels of telemedicine usage among Black patients, particularly those over age 65, as compared with white patients
42:00 "21st century care technologies – RPM, telehealth – are a gamechanger for primary care."
44:00 The human-to-human relationship as the driving force of patient-centered, reimagined primary care (ex: the interaction of having tea with a patient in their home)
46:30 Dr. Walker describes the use of remote patient monitoring technology in his medical practice
47:30 The challenges of ethnogeriatric care focused on African Americans and the Aging Process can be overcome by addressing SDOH
50:00 The importance of workforce sufficiency and education to provide culturally-competent care
52:00 How concerns about implicit bias in care delivery may limit the progress of transformation (balancing the need to deliver the best care you can under the circumstances)
54:30 The role of the "Community Organizer" in bridging the gap in trust between patients and the healthcare system
56:30 The words of Dr. Martin Luther King, Jr: "Of all the forms of inequality, injustice in health is the most shocking and inhumane."
58:00 Functional medicine as a more holistic approach to delivering whole-person care to the individual
60:00 Healthcare providers must recognize the need for human connection, love, and trusting relationships to ensure equity in health
62:30 WGU and the Institute for Advancing Health Value as an example "as a lighthouse for the rest of the academic world and the healthcare industry"